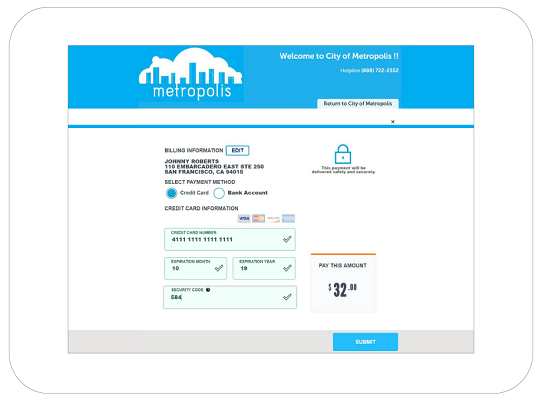 After a focused development cycle, Accela is making CivicPay available to customers starting today. Accela CivicPay is a secure, online and in-person modern payment platform created for government's unique requirements. While other processors understand consumer and private sector requirements, they simply don't communicate or understand government's needs.
The product addresses gaps in the market that other products currently don't – namely, out-of-the-box integration with the Civic Platform solution stack.
While CivicPay is packed with features, here are the top three things we think will be a welcome addition to your agency and most importantly your citizens' experience:
1. Manage your payment reconciliation process and enable citizens to make and view payments in real time
When looking at the current marketplace, we don't see any straightforward solutions. Solving the challenge is a central tenet of CivicPay – we've made it simple for you to reconcile payments through our integrated Merchant Center. This means you no longer need to spend countless hours reconciling payments to ensure that your money is in the bank. A process that takes 2-14 days is now instantaneous.
That's because CivicPay payment reconciliation and other processes take place in real time. When citizens make a payment, it shows up now rather than hours later.
Other advantages to performing activities in real time is that it promotes transparency. When citizens make payments, they will have complete visibility and be able to see the completed transaction. And, if a citizen calls in to make a change, that change can also be processed in real time.
2. Reduce manual payment processing and save time by offering online payments from any device
CivicPay enables citizens to pay online anytime, anywhere: mobile or desktop. Offering online payment options not only makes it more convenient for citizens when transacting with your agency, but it also saves your staff time. You can still take payments in person. And, when you do, the process will be quicker and more transparent when you can verify your payment while they are there.
Even more exciting, we will be offering the ability to integrate with card terminals, which also integrate with your back office. The terminals are EMV- and P2PE-encrypted for security at the highest level, so you can be sure your citizens' sensitive information is protected.
3. Enjoy real-time integration with your Accela solution from the very beginning
Another key differentiator for CivicPay is that it is integrated to the Civic Platform in a robust, secure manner. While other companies require APIs to deploy their payment software, CivicPay already works seamlessly with Civic Platform.
CivicPay also works seamlessly with Accela Citizen Access from the start so your citizens can instantly begin making payments online. And of course, you can rest assured that credit card information is safe and secure because CivicPay is PCI-compliant and features point-to-point encryption.
Please find out more about the product on our website, or contact us to schedule a demo and see what it can do first-hand.