On October 17, 1989, the Loma Prieta earthquake struck the San Francisco Bay Area, killing 63 people and injuring nearly 4,000 residents. The quake also caused an estimated $6 billion in damage and displaced over 12,000 people. This year marks the 25th anniversary of the earthquake, and though we don't know for sure when the next "big one" will hit, we now have access to resources and tools to better prepare and recover from disasters like these.
At the White House last week, Appallicious unveiled one of these new tools during a disaster technology event — the Disaster Assessment and Assistance Dashboard, or DAAD. This new online tool creates a "shareable economy" to aid in economic stability post-disaster. DAAD utilizes open data to assess community resiliency and promote pre-disaster preparedness, allowing for more resilient economic recovery in the wake of a disaster by creating a more robust and locally driven effort.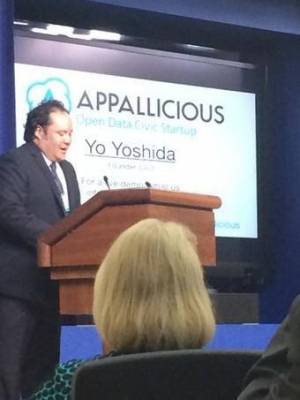 Presenting the Disaster Assessment and Assistance Dashboard (DAAD) at the White House.
DAAD enables local citizens, businesses and governments to meet and share resources. The dashboard allows individuals to help better prepare their own community by listing their specific resources that could be vital in a disaster. Construction companies can list heavy machinery that could be used to clear debris in order to rescue survivors or clear roads for emergency services after a catastrophe, allowing a community to hire from within. Even a local resident who owns something as simple as a chainsaw can help to create a "shareable marketplace" through DAAD.
Appallicious is also working on another product, which promotes community resiliency and safety. The Code Enforcement and Assessment Dashboard (CEAD) is a data visualization and reporting toolkit for government inspectors across all agencies. CEAD collects and shows reports from all city department inspections and complaints pertaining to a property, providing inspectors with a more thorough understanding of the location.
Both DAAD and CEAD rely on open government data to inform citizens and government officials. Access to this public data is a civil right, and the movement to make it easily accessible is growing, but there is much more work to be done. That's why I'm thrilled to be participating in an upcoming panel with other open data advocates at Accela Engage. Many of us on the panel have been participating in the ongoing California Open Data Roadshow, a diplomatic envoy of open government leaders traversing the state to promote open data efforts.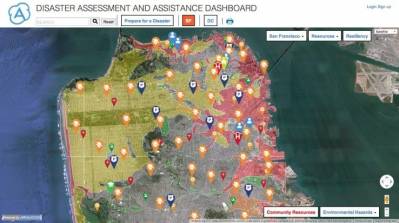 The Disaster Assessment and Assistance Dashboard enables local citizens, businesses and governments to meet and share resources that are vital during a disaster.
Americans want a more transparent and open government that brings their interactions with City Hall into the 21st century. It's time to enact comprehensive open data legislation both in California and on the national level.
Accela Engage is a great opportunity for open data supporters to come together and push for much needed reforms.