The Former U.S. Chief Technology Officer Urges Governments to Innovate with Each Other and the Private Sector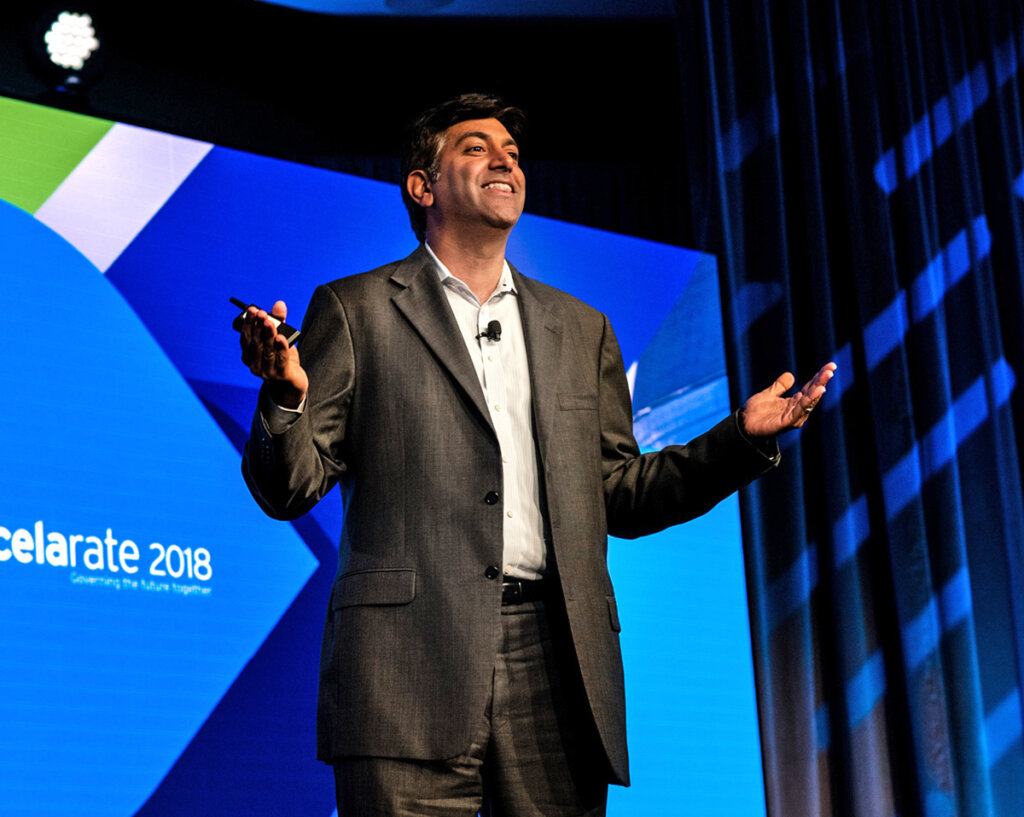 Open innovation will become the next major catalyst to modernize government.
That was the message of Aneesh Chopra Thursday as he spoke at day two of Accelarate 2018, an industry conference for Accela customers and partners. The former U.S. chief technology officer, and current president of the open data medical care company CareJourney, said for governments to be effective in the future, they need to look beyond their own backyards — political parties and industries — and become sharers and borrowers of ideas.
"There is a generational consensus that we should open up our government and apply and harness the full power and potential of technology, data and innovation to improve people's lives," Chopra said.
Spotlighting the Trump administration, Chopra said the federal government's continued support of digital innovation is an example. The administration continues to allow funding for popular Obama era IT innovation groups like 18F and the U.S. Digital Service — two organizations that advance technology best practices at the federal and local levels. Further, in December of 2017, Trump signed the Modernizing Government Technology Act, legislation that will enable agencies to move systems to the cloud and upgrade legacy IT.
"The role I played for the president, and the role that continues to be played by the Trump administration, accepts the notion that we can embrace ideas from the outside and incorporate them with what we do internally, a spirit of private and public cooperation to solve problems, or what I like to call 'public sector open innovation.'"
Chopra said open innovation offers advantages to businesses and government, highlighting research initiatives at Proctor & Gamble (P&G) and development work at Facebook.
At P&G, the company was able to take open source software from the federal government — typically used in nuclear weapons production — to improve its diaper manufacturing process. Chopra said this move generated more than $1 billion in cashflow for P&G's shareholders and saved about 600 U.S. jobs in the process.
At Facebook, Chopra said the company's open developer platform has helped governments design better services for residents. The platform provides coding resources for anyone interested in developing Facebook apps and tools, and cities have used this to create tools that assist with everything from citizen service requests to emergency alert notifications.
Open data played a central to Chropra's call for open innovation. During his time as CTO in the Obama administration, from 2009 to 2012, Chopra rallied for better public-private collaboration through open data, shared information that is free to use and offers mutual benefits. With Vivek Kundra, the first U.S. chief information officer, Chopra helped launch Data.gov, the nation's first modern open data portal designed to share information online, through APIs, and in downloadable content.
Chopra said his support of open data, then and now, is meant to fuel services that drive real value and told Accelarate's more than 600-plus government industry attendees that good governance should not be limited to incremental improvement, but prompt a "material change in people's lives."
"This is the opportunity that we are in, to harness these new computing capabilities, to bring them to light, and not just for the 'haves' to be further rewarded, but to allow every citizen access to help…," Chopra said. "If we digitize, we have an opportunity to rebuild this whole machine."
Accelarate Day 2 Recap
The ethos of open innovation echoed throughout Accelarate's theme of Governing the future together. It carried over into keynotes, sessions, coffee breaks and hallway conversations as attendees met to trade advice, share struggles and get a glimpse into the next trends and tech.
Big updates on the way
In the morning keynotes, Accela Executive Chairman Mark Jung was joined by speakers from Accela's executive team including company CTO Srini Kakkera, Chief Customer Officer Jonathan "J.K." Knight and Chief Product Officer Troy Coggiola to give customers a small peek into Accela's direction, as well as a major advancement to be announced soon for the company's solutions and platform.
Jung said the advances would assist governments to be more agile in the face of seismic industry changes coming technologies like mobile, the sharing economy, big data and other shifts. He also expressed Accela's renewed commitment to customer service, and effective implementation of Accela's new technologies.
El Paso Reports Big Gains from Mobile
In a breakout session the Environmental Services Department in El Paso, Texas, reports that it has realized a significant amount of staff time and money through mobile. The department's Project Manager Astrid Bunner and its Solid Waste Operations Manager Jesus Yamaguchi said that with Accela's APIs and the CityGov mobile app. In 2017, the two said the city's field crew were drowning in a backlog of service requests for trash bin repairs and replacements.
Paper work orders were piling up from El Paso's 311 service, and route planning had tied up field crews for four-hours per day. Using the mobile app, that automatically relayed information and communicated routes, the team shrunk the route planning time from four hours to 15 minutes, eliminated the paper backlog, saved the city $75,000 in equipment costs per year, and enabled the eight-person crew — that services all trash bins of El Paso's 680,000-plus residents — to cut response times from 20-30 days to less than 24 hours. And sometimes Yamaguchi said response times are even faster.
"Now my team is doing proactive workorders, we're fixing or replacing your trash bin even before you call us."
Other benefits include a decrease in work related accidents, since crews have extra time to provide service, and greater visibility of operations. Bunner said the mobile app was relatively quick to launch, at only five to six weeks.
Seamless implementation: Manatee County offers a blueprint
In the breakout session titled "Our Recipe for Implementation Success," Manatee County, Florida, offered tips on how to effectively deploy Accela's Civic Solutions for planning, building, business licenses and service request management. Manatee County Business Services Manager and Project Sponsor Glenna Campana said the county contracted Byrne Software to perform the implementation that was spread through multiple departments and has completely rethought and improved many county business processes. The project began in December 2015, and all solutions went live in February of this year, since then, the county has issued 250-plus licenses and has about 9,000 users on Accela's platform.
Previously, Campana said that the county struggled with antiquated systems and needed solutions that could support regulatory needs and the Florida's Sunshine Law, a law that ensures government transparency. The recipe focused on key planning and testing processes and was built around the acronym of SUCCESS, with ingredients that included having the following:
Strategic plan
Unwavering support
Constant communication
Critical process analysis
Evaluative testing
Staff and customer training
Symbiotic Team