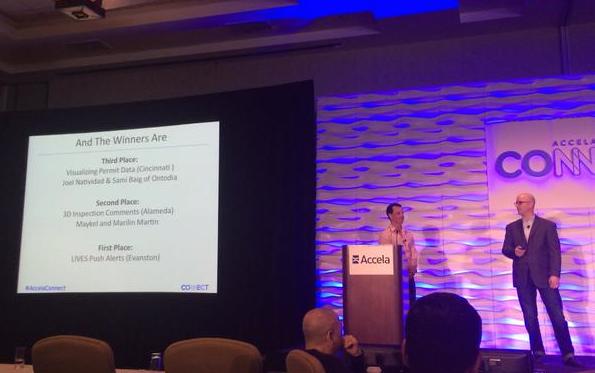 The Accela Connect Conference – held from March 1st through 4th at the Squaw Valley Resort in Olympic Valley, California – brought together Accela staff, partners and developers for four great days of networking, training and discussions. And, of course, we found some time to do some civic hacking.
We kicked off our annual partner conference with a one-day hackathon! Civic technologists, developers and Accela staff worked together to build new solutions using government open data hosted on CivicData. Almost 30 developers signed up to participate in the event.
By the end of the day, we received nine inspiring submissions, including: data visualizations and analytics, custom CivicData agencies, a restaurant score alert system and a 3D building inspection app. These solutions were developed using open data from Alameda, California; Evanston, Illinois; Newark, New Jersey; and Cincinnati, Ohio.
A team of judges, which included Accela President and CEO Maury Blackman and a group of government representatives, selected the top three winners:
First Place
LIVES Push Alerts
Select your favorite restaurants and get notified when a new health inspection is completed
Josh Levine from Truckee, CA
Second Place
3D Inspection Comments
Enables marked-up 3D models for inspectors and construction firms
Maykel and Marilin Martin with Aecosoft
Third Place
Visualizing Permit Data
Data visualizations from Cincinnati using Tableau and CartoDB
Joel Natividad & Sami Baig with Ontodia
Our winners were announced during the keynote session on the main stage at Accela Connect. The Hackathon winners received cash prizes ranging from $500 to $1,250, and everyone who participated got the opportunity to ski the slopes at the Squaw Valley resort or relax in its world-class spa.
This was a great way to demonstrate the power of the Civic Platform and how to use open data to easily create useful tools and applications for government agencies. Later this year, Accela will run its annual civic app challenge leading up to our Accela Engage conference in Los Angeles.
Stay tuned for more opportunities from Accela to build cool apps with open data!