Like test driving a car along a pre-approved route or laying on a mattress under the fluorescent lights of a showroom, we are sometimes expected to make critically important recommendations with just a sliver of information. This experience can also occur in your office when your team joins a meeting in which a potential vendor demonstrates (demos) its software. Eventually you're asked, "What did you think?"
I've attended hundreds of such meetings and for the most part, all participants are keenly interested in matching a health department's needs to the product's capabilities. The demo is a "good one" when the features match your needs and interest is raised. If the vendor can also spotlight some new sexy technology — the wow factor — even better.
We know intuitively and by experience that the software demo serves to set expectations and convey the promise of some possible future state. Perhaps that's fine, but let's do even better!
Before the Demo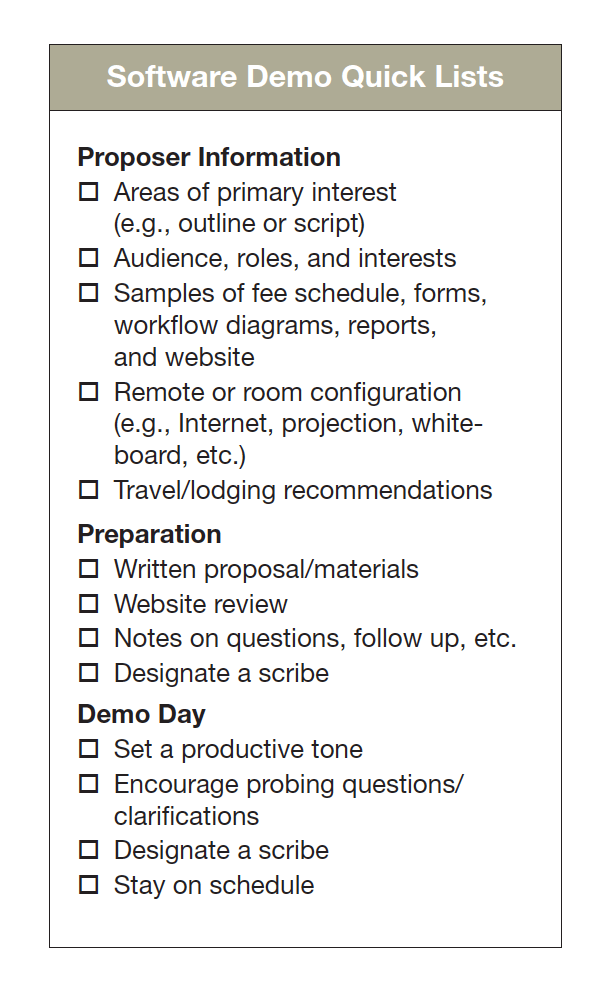 Start by preparing the demonstrator. Let it be known what you want to focus and spend the most time on. Declare who will be in the room and their various interests. In your proposed demo outline or script, emphasize the underlying business need and not the exact process.
It's very useful to share fee schedules, forms, workflow diagrams, and reports in advance. Please don't expect, however, a tailored presentation that shows exactly how the final system will be configured. That level of preparation can take weeks or months. Applied evenly, such practices normalize competing software solutions. Finally, confirm what environment you'll provide. An Internet connection and projection system (e.g., screen or large monitors) is normally expected.
A quick note on remote (web-based) demos. If the health department is in its decision-making phase, a face-to-face demo is appropriate. When the health department is just in discovery mode, feel free to suggest a remote demo. There are 2,500 health departments in the U.S. and face-to-face visits are not always practical or responsible options.
If your presenter is traveling to be with you in person, it's appropriate to share recommendations for travel and lodging.
Commit to Prepare
If you're part of a selection committee, you've already studied and scored the vendor's written proposals. Those pages should be open and cross-referenced to the presenter's content. Follow along the script or outline.
Don't trust your memory and plan on taking notes. Notes might include follow-up questions, scores, and deliverables. For follow-up (and to avoid going off schedule), it's a good practice to designate a scribe. The scribe will capture follow-up items and details to be delivered after the meeting.
Visit the proposer's website and LinkedIn pages. Read a few relevant social media and blog posts. Get the flavor of the organization's values.
Demo Day
If you are leading the demo, show your leadership by setting a productive tone before introductions. For example, leaders can start the demo by saying, "A product demonstration can be stress inducing. Let's agree that we're here today to learn through active listening and by asking intelligent questions. Some items will require follow up. That's okay as our scribe will capture those deliverables and share the notes with all in attendance."
Ask your presenter if the demo is live. Is the actual proposed software being used? If so, keep an eye on performance, keeping in mind that a good demo will use a fast computer with all the bells and whistles.
It should be acceptable for the presenter to explain that a certain suggested feature is not available. Overreaching engineering solutions on the fly should be avoided.
Also, it's okay for the health department to learn about alternate ways to conduct their business. Use your scribe to keep things moving along.
To see an Accela demo for yourself, click here to learn more. 
Editor's Note: This article was originally published in the National Environmental Health Association's Journal of Environmental Health.