Throughout Accelarate 2019, Accela's annual customer and partner conference, keynote speeches and breakout sessions have explored the profound ways engaged citizens and strong partnerships make up the backbone of a thriving community. Day two of the conference focused on the partnership component of this equation with attendees hearing from industry leaders shaping the govtech of tomorrow. Dana Barnes, Vice President of Microsoft's State and Local Government group; Christian Carlson, Director of State, Local and Provincial Government at ESRI and Accela Chief Operating Officer Tom Nieto, discussed how Accela is working with its ecosystem of industry partners to drive digital service transformation in communities across the country.
Alison Levine, the First American Everest Expedition Team Captain, helped close the conference Tuesday evening with a message of  elevated leadership and the role that perseverance, willpower and a willingness to fail in order to learn and adapt can have in producing better outcomes in the future — a theme vital to civic leaders today. The evening wrapped with a ceremony acknowledging this year's Accela Trendsetter Award winners.
Better Together: The Importance of Strong Public-Private Partnerships
Accela Chief Operating Officer Tom Nieto kicked off the day by highlighting why partnerships are essential to improving citizen services. With new business models and technologies like the cloud, achieving success now requires leveraging a breadth of different technologies. The average Accela customer has six technical integrations! And it is no wonder why — integrating technologies and leveraging partners helps achieve faster innovation, increases access to best-in-class services, and extends platforms without intensive legwork. Nieto's message focused on the importance of today's agencies and departments no longer viewing themselves as the provider of every service. Instead, they can act as service brokers, managing services instead of supplying them to drive innovation, expertise and increased value.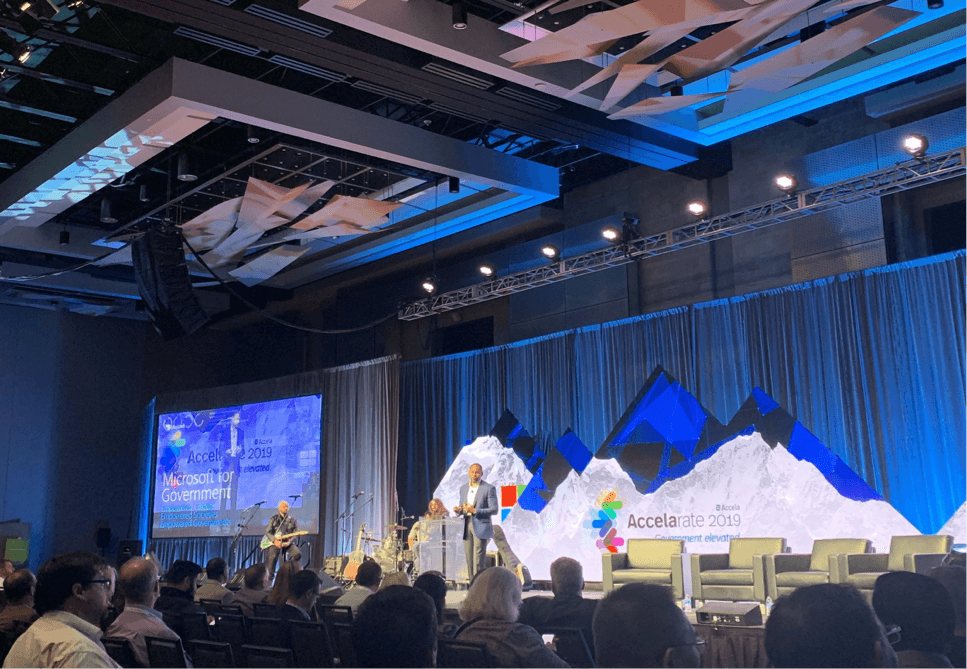 6 Trends Driving Empowered Citizens, Societies and Government
Next, Dana Barnes, Vice President of Microsoft's State and Local Government Operating Unit, took the stage to discuss Accela's partnership with Microsoft, and how the collaboration helps elevate government to enhance citizen experience. Dana focused on six trends driving empowered government: 
–   Deliver effective services and eliminate labor-intensive, manual processes – There is a 58% increase in citizen likelihood to trust government institutions if they provide a great digital experience.
–   Do more with less to ease budget constraints – 62% of leaders list budget as a top barrier to technology adoption.
–   Meet complex regulatory requirements and ensure security – 14% of all cyberattacks are on government agencies.
–   Modernize IT to increase collaboration and eliminate costly legacy technology – 96.7 million federal hours annually can be saved with AI and automation.
–   Provide secure anytime, anywhere access to services – 1 in 4 people want to use mobile devices to access government services.
–   Increase revenue and take action with advanced data analytics – Governments see up to 3% potential increase in total revenues due to data analytics capabilities alone.
To be effective and efficient, government agencies need to embrace digital transformation andredesign their structures and processes to capitalize on a new set of actors and tools. For example, when the State of Michigan's Licensing and Regulatory Affairs moved to Accela, they were able to reduce the cost to host IT infrastructure and increased agency effectiveness and agility.
"It helps me because I no longer have to be concerned with applying updates and patches to applications and infrastructure. It also minimizes my dependence on our internal IT agency which can be backlogged with requests," said Tim Gajda, IT Manager, Dept. of Tech Management and Budget, State of Michigan.
The New Triple Threat: Accela, ESRI and Microsoft Debut Proof of Concept Leveraging Spacial Data and Cloud Analytics
To underscore the morning's spirit of partnership, Accela's Vice Presidents of Product Management Amber D'Ottavio and Cathy Grossi, and Senior Product Manager Jason Plaisted shared an onstage demo of a possible new Accela, ESRI, and Microsoft integration. The demo showcased how customers could  use the three systems together in one seamless experience to leverage cloud and spatial data in order to surface insights that help governments make more accurate and proactive decisions. In doing so, agencies can offer new capabilities for a more user-friendly experience, save employee time and resources, and boost the value of their existing investments.
In a fireside chat following the demo and moderated by Tom Nieto, Dana Barnes, Christian Carlson, ESRI's Director of State, Local and Provincial Government, and Troy Coggiola, Accela's Chief Product Officer discussed what the new trifecta means for customers and the future of government technology. By combining their collective experience and expertise, Accela, ESRI, and Microsoft are moving forward together in a common goal: to help governments drive better outcomes for their communities.
2019 Trendsetter Awards Winners

[metaslider id=11065]

To close the conference, conference emcee Jonathan "J.K." Knight, Accela's Chief Customer Officer announced the winners of this year's "Trendsetter Awards," which highlight agencies and individuals who are leveraging technology to re-imagine citizen experience and more private-sector like operations.
Congratulations to all of the Trendsetters below!
Agency Winners:
●   Ultimate Citizen Experience, Town of Queen Creek, AZ
●   Emerging Regulation, City of Seattle, WA
●   Digital Service Transformation, Tennessee Alcoholic Beverage Commission
●   Next Gen Economic Development, City of Charlotte, NC
●   Government in the Cloud, State of Michigan LARA
●   Government Elevated, City of Tacoma, WA
Individual Winners:
●   Civic Hero: Building Communities, Claire Jubb, Community Development Director, Charlotte County, FL
●   Civic Hero: Growing Businesses, Domenic Vaiana, Deputy Director of Operations, City and County of Denver, CO
●   Civic Hero: Protecting Citizens, Anthony Sanders, Captain, City of Oakland, CA Fire Dept.
Accelarate 2019 may have wrapped up, but there is still more to come on the Accela Insights Blog! Keep an eye out for our upcoming blog asking leaders at the conference what elevated government means to them, as well as a Q&A from our CIO panel discussion featured on Day One of the conference. For details on Accela's latest technologies, visit our solutions page here.