Under the growing existential threat of climate change, municipalities across the globe are transitioning to green energy to build more resilient, environmentally conscious communities. Solar power, one of the most widely used renewable energies, is paramount to curbing the most dire impacts and meeting our climate goals.
While the motivation is there, implementing solar power hasn't been easy. Residents and businesses looking to adopt solar power need specialized permitting, and traditional bureaucratic red tape has delayed approvals — prolonging timelines and adding costs. The government processes of the past don't align with our climate goals of the future.
Luckily, cities and counties throughout the United States are turning to the latest digital government tools to expedite their solar permitting processes and reach their community's clean energy goals. In some states, new legislation is actually requiring communities to adopt these tools. Given their success, it would be wise for additional states to follow their lead and build digital infrastructure that prioritizes green energy solutions.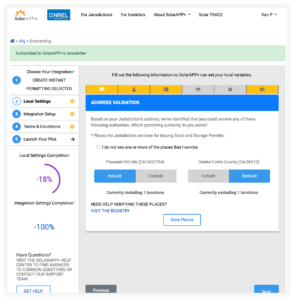 SolarAPP+, the solar permitting platform from the U.S. Department of Energy's National Renewable Energy Lab (NREL), has become the pinnacle, go-to tool for automated solar permitting for residential rooftop solar and energy storage. The platform integrates with Accela and other government technology building software solutions to automate plan reviews, permit approvals and project tracking. Permits can be issued as quickly as the same day they are submitted, so installation can begin immediately.
Since the launch of SolarAPP+ two years ago, it has been adopted in 32 communities across the United States to issue 15,000 permits, approve 100,000 kilowatts of energy and save 15,000 hours in agency review time.
States around the country are recognizing its power and promise, and are writing the platform directly into new legislation. Most recently, California required every city and county to adopt SolarAPP+ or a similar automated permitting tool, and Colorado now provides nearly $1,000,000 to aid local governments in adopting the software.
These new laws ensure the solar permitting process is completely digitized, eliminating project delays and unnecessary costs to make widespread residential access to solar the most accessible and convenient it has ever been. Growing legislative backing for SolarAPP+ calls on municipalities to seek out automated solar permitting platforms, integrate them into their government agencies and advance their climate resiliency goals.
As statewide support increases, new programs are also emerging to help incentivize and fund solar permitting adoption, such as California's non-competitive CalAPP grants. These grants help cover the cost of staff time and other resources spent on already-minimal SolarAPP+ implementation. I've heard from government agencies these grants have been some of the easiest money they've applied for. When communities can tap strong, stable and readily available funds to integrate automated permitting tools into their resident services, solar adoption increases as a result.
Other states, like Arizona, offer state tax breaks on top of the 30% federal tax credit, a one-time deduction on a resident's or business's tax return for installing a solar energy system. These incentives — and year-round sunny weather to boot — have helped make Arizona one of the Top 5 solar energy generating states in the nation.
Considering the state's solar successes, it begs the question of how new legislation would continue to grow Arizona's solar energy footprint and existing success with SolarAPP+. Pima County, an early adopter of SolarAPP+, serves as an example. As of February 2023, a total of 2,754 permits have been issued using the platform, approving 21,561 kilowatts of energy and saving 2,865 hours on reviews.
Large-scale adoption of automated solar permitting ensures state-wide consistency and ease of compliance for the installer. Instead of an installer having to acquaint themselves with various permitting processes across city or county lines, the permitting process becomes the same no matter where they work.
Statewide integration of SolarAPP+ creates immediate economic benefits, improving the on-the-ground experience for solar installers. This not only saves solar installers time and money, but also removes the logistical barriers that previously slowed the solar market. Statewide automated permitting tools create the economic landscape for installers to meet the growing appetite for clean energy.
Solar power is the energy of the future. With cost reductions, supportive policies and large-scale electrification, solar could account for as much as 40% of the nation's electricity supply by 2035 and 45% by 2050. In order to incentivize solar adoption and advance our clean energy goals, states must pave a runway that allows for its widespread adoption.
Permitting is essential to achieving these ambitions — a family cannot install solar panels without proper permitting; a business cannot transition to solar energy storage without agency approval. Statewide adoption of automatic solar permitting tools like SolarAPP+ create greater consistency and efficiency across jurisdictions, streamlining the process. As communities across the United States look to usher in a new era of renewable energy and advance their environmental goals, legislation for digital solar permitting infrastructure will serve as a key element to their success.
This article was originally published in Solar Power World here.