Note from the Author: As we together turn attention to safely re-opening our businesses, we are mindful of the personal suffering experienced by so many over the last several months. We laud the dedication to service demonstrated by so many leaders and workers. Thank you.



As leaders and citizens call for restarting the economy, municipalities are evaluating their communities' readiness to re-open COVID-19-impacted businesses based on two primary measures: 1) can their healthcare system manage a potential uptick in cases; and 2) can they ensure businesses re-open in a manner that will protect the safety of its workers and customers? In all considerations one thing is certain, re-opening businesses impacted by COVID-19 will require a careful, phased approach with new shared obligations. At risk is a resurgence of the public health emergency.
Accela possesses a unique position in the efforts to re-open businesses shuttered by shelter-in-place and other orders. The Accela lens collects insights spanning all levels of government (customers), technology/industry associations, media and professional experience.
Over a year ago, Accela's CEO framed his business strategy along "horizons". Horizons, I think, are an extremely effective framework for focus and to acknowledge that more distant horizons are predicated upon reliable, but fluid, projections.
Horizon 0 – Planning to Re-Open
This is where we are today. Leaders are evaluating when and how to ease rules and re-open shops, restaurants, salons, schools and all public places. This horizon is characterized by pressure for timeframes and criterium – a plan, all the while balancing evolving recommendations and assertions by health, business, and government leaders. In tandem, many regions are marked by public unrest over isolation policies and concern for their losses of livelihood and "normal" life.
Horizon 0 mandates purposeful communications with residents and businesses. This means updating website information, broadcasting informative email content, virtual town halls and more. It also means partnerships and systems as part of the navigation plan.
In March, Accela delivered a series of COVID-19 Response Solutions which help agencies manage high volumes of needed services in a time of crisis. From Virtual Inspections to Online Citizen Services to a new Business Re-Open Management solution just announced this week, each can be rapidly implemented, include necessary training and are available to all government agencies, not just Accela customers. I really get excited when I see our technology leveraged so quickly in support of our customers and their customers, citizen and businesses.
Horizon 1 – Cautious Re-Opening (Mid-2020)
This week, some regions moved into Horizon 1, a cautious re-opening of some public spaces, such as beaches and parks. This phase will be characterized by external pressures, debate on pace (many will want acceleration while others will urge braking), benchmarking against neighboring cities and towns and rapid iteration of policies, systems and processes. All the while, public health officials will monitor for a resurgence, sometimes called a "second wave," in advance of comprehensive testing and an effective vaccine.
During this period, cities should "bucket" business and public places by gauging readiness, risk, and relative essentialness. The following model is from New York Governor Cuomo's April 16 briefing. Businesses in each quadrant will follow a different roadmap to re-open.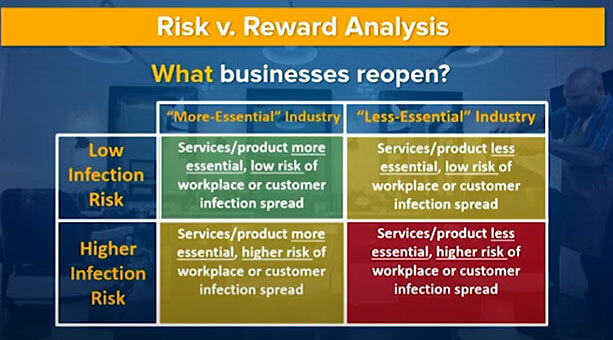 In Horizon 1, local government may feel pressure to make overt "We're Open" signals to coincide with mayors' and governors' messaging. Each office will turn its attention to implementing new protective measures for workers, customers and public such as touchless payments, appointments instead of walk-in, limited office hours, etc.
Note that many workers will still rotate through the office and work remotely. Inspections will remain focused on commercial projects and environmental health complaints, both of which never really stopped, but were curtailed/prioritized. Virtual inspections will remain important. Enforcement activities may slowly increase, and individual agencies may choose to waive penalties or discount fees.
A playbook for this stage will address a new business function, registration to re-open. The service will be a primary source of instruction to the business (their individualized roadmap) and a declaration of intent to the city/county which individually have regulatory responsibility over licensed/permitted facilities.
For example, the County Health Department needs to know when a pool or restaurant will again welcome the public. The Fire Department needs to know that a building is occupied, and  when (potentially hazardous) manufacturing activities resume. Even parking, traffic, and code enforcement will need a view of the city's increasing vigor.
I believe that registering businesses early, as they plan to re-open, serves all stakeholders. Businesses get an authoritative assessment of their risk and their new obligations. City/county officials get visibility for planning and policymaking.
Horizon 2 – A Redefined Normal (Estimated 2020-2021)
Once public places cautiously and safely re-open, the rules that ensure healthful operations will be most important, codified in new permit conditions, orders, and ordinance. Note that multi-jurisdictional businesses (read corporate and franchise operations) will need and expect consistency from city to city and department to department. Regional, national, and industry standards will emerge and propagate.
By this time stimulus programs will have a visible impact marked by new/repair infrastructure projects, updated systems (with a focus on cloud, security, and flexibility). We expect many projects advancing digital services, election security, distance learning, justice, transit, homelessness, public health, and much more.
Horizon 3 – Municipal Uncertainty (Estimated 2022-2025)
We know that in all scenarios, governments will still be managing budgets, nurturing staff, and working to deliver services in meaningful ways. The added reality is that some departments may also face reduced revenue/budgets, as a lagging indicator of the economic impact we're all working so hard to minimize. The fact is that where a department's budget is a simple function of business fees collected, the departments will have to focus on essential duties and new shared responsibilities for all workers.


So, we call for new efficiencies (e.g., back-filling for a potentially reduced workforce) through technology and a renewed focus on training as staff take on new duties. Flexibility and adaptability will be crucial.
Horizon 4 – Full Recovery (Estimated 2025)
It's perhaps trite to say, "Never again," but we collectively aspire to be better prepared for the next international crisis of this scope. Cloud, digital services, work-from-home practices, and flexible policies will be at the foundation of our readiness. By this horizon, we hope that the suffering caused by this pandemic is just a memory. Be healthy.
On Friday, April 24th at 10 AM PT, join us for a 30-minute webinar on Accela's new Business Re-Opening Management solution to see how it can help agencies navigate the re-opening process to ensure the safety of business owners and residents in the community. Register here.