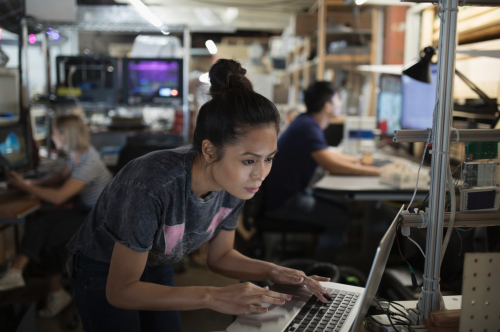 This is a guest post by Kimberly Nelson, Executive Director of the U.S. Public Sector's State and Local Government Solutions, Microsoft Corporation and Troy Coggiola, Chief Product Officer, Accela. It was originally published by the National League of Cities blog, CitiesSpeak. 
Government agencies strive to improve the quality of life for their citizens, ensuring equitable access to services and desired businesses, smart community development and overall public health and safety.
According to a 2018 survey conducted by Bain Research, by 2022, 78 percent of government entities will be predominantly buying software-as-a-service (SaaS) to focus their resources on activities that more directly serve their citizens.
Cloud hosted solutions represent much more than offloading datacenter functions and costs — the cloud can transform how agencies are run and communities are served, and can open new doors to elevate your agency's performance in three important ways:
1. Modernize Interactions with Citizens
With cloud-based software, agencies can deploy systems that take advantage of connected, intelligent cloud services that take citizen engagement to the level of consumer engagement. Citizens expect "consumer-like" experiences with online access to government services and information, as well as self-service options available 24/7. Whether applying for a building permit, requesting a business license, reporting an issue on their street or checking an application's status, citizens expect real-time engagement with agencies.
Modern technology solutions help streamline processes to make starting, expanding or relocating a business within the city easy. For example, today's innovative technology can enable users to explore where different business types are permitted throughout the city and understand the associated license, permit, and zoning processes. Once the citizen initiates the process by applying online, she/he can track the progress from start to finish, similar to tracking a package from a warehouse to her/his front door.
Cloud-based software allows for this aggregate view of project information across agency lines. It also adds scalability, high throughput, security and cross-agency data sharing to fuel increased service levels for citizens.
2. Centralize Data to Optimize Agency Efficiency
Comprehensive cloud-based workflow orchestration software allows all parties to work together while reducing manual handoffs and interactions — tasks that have historically caused delays and gaps in serving communities. Integrating large volumes of process data with the proper tools gives agency managers the insight needed to spot bottlenecks and backlogs within internal and external functions and make process improvements that help them better serve their community. The cloud helps centralize data from single agencies or across agencies, for details on citizens, parcels, cases, investigations, citations, licenses and a number of other entities. The cloud enhances the availability of data so process owners can spot ways to improve turnaround times and overall productivity.
3. Re-imagining Governance with the Cloud
The cloud enables transformative technologies so you can re-envision governance models and embrace an improved way of bringing together people, data and processes to create value for those you serve. This is more than just removing paper and digitizing existing processes and programs. It is about allowing agencies to re-think and re-architect how they perform internal agency functions and automate citizen-facing functions together. The future includes improved citizen interaction, tightly connected government agencies that collaborate as a single entity, advanced use of data and analytics to forecast the impact of policy decisions and to identify policy compliance leakage — all facilitated by cloud technology. The result is the consumer-level experience and functionality that citizens demand, and highly-functional process automation for employees.
Cloud software also enables the development of applications that provide access to the right functions on the right devices for the specific work that is performed. Importantly, these cloud apps are simply different views into a single ecosystem, allowing for a single, consistent source of agency data. Employees can complete tasks and projects from anywhere, resulting in happy and productive staff, and satisfied citizens.
Accela's best-of-breed software-as-a-service (SaaS) solutions are designed for state and local governments. While specific needs may vary from town to town and county to county, SaaS offerings level the playing field for small and medium government and enable small agencies to use the same software as the big cities. Powered by Microsoft Azure, this open and flexible technology can help you address your specific needs and aspirations today, while ensuring you are prepared for any emerging or complicated challenges in the future.
Learn more in a Microsoft/Accela co-sponsored webinar on June 13, 2018: Register Here