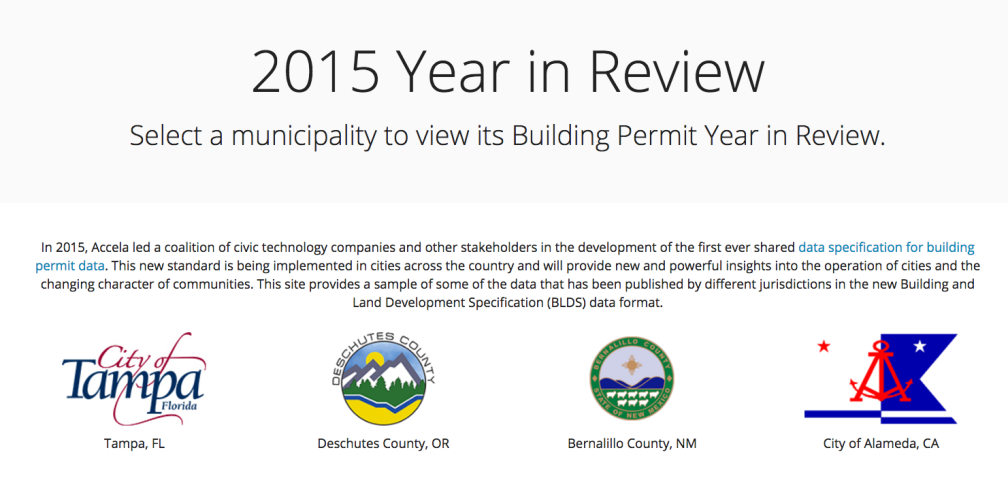 2015 was a big year for building permits.
This year, Accela led a coalition of civic technology companies and other stakeholders in the development of the first ever shared data specification for building permit data. This new standard is being implemented in cities across the country and will provide new and powerful insights into the operation of cities and the changing character of communities.
To demonstrate the power of this new standard, we're updating our year-end building permit review web app from last year to showcase four jurisdictions that are now publishing data in the new Building and Land Development Specification (BLDS) format.
You can view our updated building permit review application here.
This is a remarkably simple application – built with open source components and hosted on GitHub. But it provides some useful insights into the permitting activities of these four jurisdictions.
For example, while permit issuance in other jurisdictions stayed relatively flat in 2015, Tampa, FL saw a large jump in the number of building permits issued. This could be explained by a surge in new construction in the region or by more vigorous enforcement of permitting requirements.
In addition, while other jurisdictions issued around 20% of permits for buildings, the City of Alameda, CA issued almost 60 percent of its permits in 2015 for buildings (a significant increase from 2014, when permits for buildings accounted for about 46 percent of all permits).
There are additional and deeper insights that we can glean from this data, and we're looking forward to seeing wider adoption of this important standard next year and in the years ahead.
Here's hoping that the year ahead is an even bigger one for building permits and open data.
This post first appeared on the Accela Developer Blog.