When faced with a problem such as a pothole rattling your commute, a pest problem at a local restaurant, or a bus stop that's blocked by snow, you might side-step the matter and go on with your day. Or you might take a beat and promptly report the issue to the city – that is, if it is quick and easy to do. Taking time to make that small report, that gesture of goodwill, weighs greatly on your city and fellow residents. You might be surprised how much potential you have to be a part of the solution with your report! 
That's the feeling of empowerment I'm coming away with from the National League of Cities' (NLC) Capstone Series Challenge, an NLC initiative connecting companies with motivated mayors to solve unique community challenges in just six months. For this project, Accela and the City of Madison, Wisconsin were paired to ideate, develop, and pilot key improvements to the City's Report a Problem website using Accela's Service Request Management solution. 
A site that worked, but with room to improve
First launched by the City nearly 15 years ago, the Madison Report a Problem website was intended as a 'one-stop-shop' for Madisonians to directly report community issues and access dozens of city services; with multiple departments represented across 35 unique forms. While residents could ultimately find these complaint and request forms on the site, the behind-the-scenes processing of Report a Problem submissions relied on human intervention to direct the issue to the appropriate department and keep it moving towards resolution. Residents were also unable to return to the site to check the status of their requests. Madison sought a more modern, efficient, transparent, and user-friendly way to strengthen and facilitate residents' connection with city services. 
For the purposes of this pilot program, the City convened a 12-member cross-departmental and cross-disciplinary team, including colleagues from the mayor's office and the City's Racial Equity & Social Justice Initiative team. Together, the Accela and Madison team selected five of the most used forms to prototype a conversion to Accela's Service Request Management solution, simultaneously creating a repeatable process to upgrade the remaining forms in the future. The Accela platform will automatically feed requests into a predictable workflow for immediate assignment, ongoing status tracking, and reporting (including status updates for the original submitter). To ensure resident awareness of the services, the City and Accela also created a compelling communications kit for Madison, which includes print and social media artwork, as well as a draft blog post and press release to drive more resident engagement with the site when the City officially announces the availability of the forms.  
Download now. The communications kit is now available for any government agency to use to announce and promote new or reimagined citizen services: www.accela.com/NLC-Capstone-Marketing-Kit. 
A 'win' for all involved 
These strategic, data-driven enhancements will deliver several key benefits to multiple stakeholders. City leadership and department managers will gain insights about community issues and be empowered to better monitor performance indicators and shift resources as needed. Automation from Accela's platform will also alleviate staff workload previously spent manually tracking and managing submissions. 
"If we save one minute per submission, with 15,000 or more submissions per year, we will save 250 staff hours," says David Faust, Assistant Director of Information Technology. "That's just on data entry. The ability to perform robust data analysis is priceless." 
Most importantly, an improved and effective Report a Problem service can increase residents' sense of ownership in their community by enabling them to take the first step in addressing issues.  
Accela and Madison awarded for elevating the service delivery experience
This project cuts directly to the heart of what cities do: serve their residents. Services like the City of Madison Report a Problem page are one of a municipality's best opportunities to delight and engage residents and turn a negative moment (making a complaint) into a positive and empowering interaction. 
NLC agreed. Accela and Madison won the Capstone Challenge Series as a premier example of how public-private partnership can transform our communities. This month I was honored to attend the Congressional City Conference in Washington DC (in person no less!) to accept recognition on behalf of the splendid work achieved by our Accela team.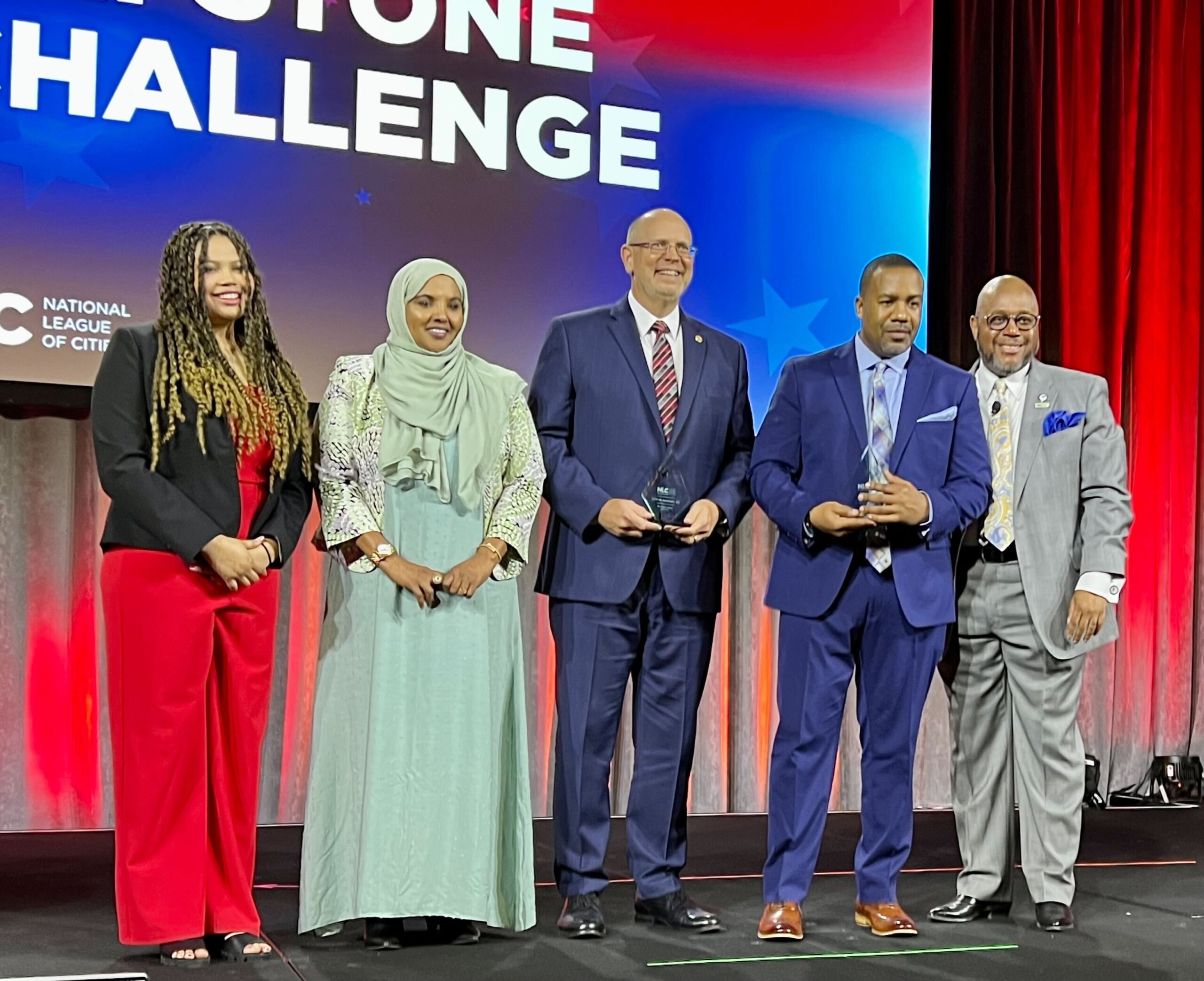 This project is just one example of what's possible when technical and creative talent is brought together to achieve a clearly defined and impactful goal. We learned from each other, from how to use plain language—writing designed to ensure the reader understands as quickly, easily, and completely as possible— to exploring new ways to reach more residents in the community. It was such a great reminder of how our efforts impact real lives in the communities we all collectively serve. We are grateful to the City for their trust and partnership that made this project, and our collective 'win' possible.  
If you are interested to learning a bit more about the project and hear from our colleagues at the City of Madison and the City's Mayor, Satya Rhodes-Conway, I invite you to read our joint press release: Accela and City of Madison, Wisconsin Win National League of Cities' Capstone Challenge Series.