Accela Engage 2014 is less than two weeks away, and more than 550 customers and partners have registered to attend. The office is filled with excitement and anticipation, and we're looking forward to our biggest and best event yet.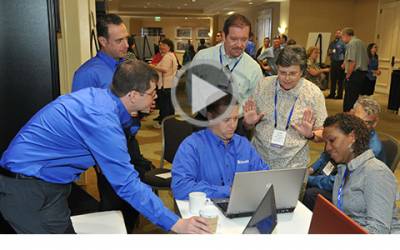 Attendees share what they love most about Accela Engage.
This year we'll be sharing our latest enhancements, from the Accela Civic Platform and our open data portal to our new solution offerings for pet licensing and legislative, resource and recreation, and right of way management. Based on attendee feedback, we're offering even more sessions and hands-on training classes than in years past. This year, we'll have over 60 user product presentations in addition to 50 hours of Accela software training with multiple sessions of our most popular training classes.
We will also have some dynamic keynote speakers:
• Tim O'Reilly, founder and CEO of O'Reilly Media and proponent of civic technology who has been a catalyst for Gov 2.0 "government as a platform" efforts at the federal, state and local level
• Jennifer Pahlka, founder and executive director of Code for America, who recently served as the US Deputy Chief Technology Officer in the White House Office of Science and Technology and is well known for her TED talk, Coding a Better Government
• Greg Martin, Managing Director of Accenture's Global Regulatory Practice with 26 years of in-depth experience in consulting primarily in the public service sector
• Eric Koontz, Project Director of Woolpert with over 22 years of technology experience, with the last six years focused on implementation of Accela Automation
The networking opportunities for attendees at Accela Engage are unmatched. With so many government agencies in attendance, attendees can share best practices and discuss their challenges with their peers across the country and even around the world. With 25 exhibitors and sponsors, attendees can learn about complementary solutions and services during the same event. And as always, attendees will have the opportunity to meet one on one with Accela experts to address their specific technical questions. It is our goal to make this the most valuable and collaborative conference yet.
Most importantly, we're looking forward to engaging with attendees to learn how they are driving change in their communities. Together, we are at the forefront of a new era, where bridging the gap between agencies and citizens means building better communities—ones that citizens love and feel passionate about—and a better democracy.
Let's get ready to engage!