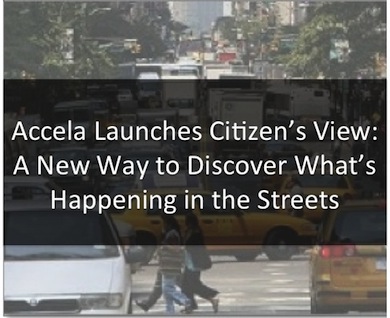 Picture this: you get in your car to go about your day. Maybe you're going to run some errands or heading to work, but the street is blocked and it's a familiar sight—road construction.
If you're like me, you want to pull your hair out. Then, when you calm down you think to yourself: Wouldn't it be nice to know what's happening in the streets before leaving the house?
Enter our new Accela Right of Way Management solution: Citizen's View. With Citizen's View your agency can launch a responsive, configurable website that shows road construction, traffic impacts and community events on a map, calendar, timeline and more to engage and inform citizens.
Show citizens projects on a map
Add a map to your agency website to share right-of-way information 

Upload your project, event, traffic impact and street cut data

Display activities in relation to each other on the map

Publish and expose GIS information (including Esri layers)
Keep citizens up-to-date with a calendar
Add a calendar with important events and project information to your website

Filter and search capabilities to allow citizens to find relevant activities

Customize the layout and color scheme to match your agency website

Keep citizens informed in real time
Allow the public to view your project timeline
Add a timeline to show when road construction and other planned projects are happening and for how long

Allow citizens to understand the scope of your right-of-way projects

Display relevant information to the public to help citizens make informed decisions
Citizens want to know what's happening in the streets and in their community. Giving them access to right-of-way information online allows citizens to have a positive experience, ensuring better government transparency and communication. Read more about Citizen's View here!