We're counting down the days to Accelarate 2022 and hope you are planning to join us—in person once again! Held October 3rd-5th in Salt Lake City, the event will convene Accela customers, partners, and other representatives from the govtech industry. Attendees will hear from Accela executives, product experts, industry influencers, and fellow government peers, and engage in important discussions, learnings, and networking on the topics, opportunities, and solutions that are unifying and driving govtech's influence in our communities. 
Keynotes to Inspire, Demonstrate Outcomes of Unified Experiences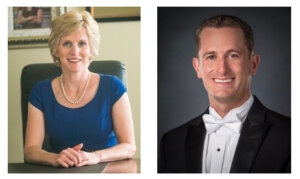 On Tuesday, October 4th, we'll welcome Kristen Cox to the mainstage. Kristen has been inspiring governments through her leadership and results for decades. She is perhaps best known for her work as the former Executive Director of the Governor's Office of Management and Budget (GOMB) for the State of Utah. As an inspirational speaker, her message at Accelarate will focus on system improvement for governments and how to identify what's holding back progress and ensuring it's no longer a limiting factor to the best outcomes. Kristen serves as the Executive Director of the Initiative on Government Improvement for the University of Utah's School of Business and is a Senior Fellow for e.Republic's Center for Digital Government.  
On Wednesday, October 5th, conference attendees will be treated to a high-energy, interactive presentation by Ryan Murphy who is the Associate Music Director of The Tabernacle Choir—which makes him one of two people who direct the world-renowned voices. At Accelarate, he will share how he's seen music create stability during times of transition and will demonstrate—through an activity engaging the entire audience—what is involved in unifying disparate voices and the beautiful "music" that results when individuals work together. His inspirational presentation will be filled with stories and entertainment that is sure to be a conference highlight.        
Customer Voices on Breaking Silos, Data Equity, and Security
This year's General Session presentations will bring more customer voices to the center stage. We kick off our mainstage panel series with a discussion between CIOs from across the country—moderated by e.Republic's Dustin Haisler—on what govtech unified means and ways to bust silos that are blocking IT progress. Then, Day Two's morning session will feature a special panel of equity experts to discuss equity issues such as using government data and analytics to better serve residents through an accountability-driven approach. And, touching on a critical topic that is top of mind for government agencies, we will host a panel of security experts discussing the importance and benefit of partnering with security programs and teams to improve overall security posture, reduce risk, enhance communication, and strengthen agency relationships. 
Connect with the Experts in the Accela Experience Center (AEC)
One of the most popular highlights of Accelarate is the opportunity for conference attendees to engage 1:1 with our experts in product, support and success, training, community and advocacy, solutions engineering, Accela services, and our SaaS upgrade program—all onsite in the Accela Experience Center. Customers and partners can also take part in research with our user experience team. Here's what attendees can expect in each booth:
UX Lab

– Participate in studies to provide feedback on early concepts and designs in flight, sign up for future studies, and see how your past feedback has influenced recent design updates in your products in our "Why we built this" area.

 

Professional Services

– Engage in real-time chat with a member of the Professional Services team, download information about the services available via our in-house Professional Services team, and learn how Accela Services can support you in every step of your journey. 

 

Upgrade to SaaS

– Learn about our SaaS platform, how to get started with a SaaS upgrade Case Studies, and chat with someone who can help guide you.  

 

Expert Desk –

Chat with Customer Support and Customer Success, get an update on a support ticket, chat 1:1 with an expert, and submit any question to Community live. 

 

Solution Station –

Watch product demos in each solution area: Building Communities, Growing Businesses, Protecting Citizens, and Civic Platform; get 1:1 demonstrations of the Accela Solutions you are most interested in; and chat with our Solution Engineers. 

 

Accela U –

See what upcoming courses

Accela U training

is offering and learn how to access them. 

 

Accela Community and Customer Advocacy

– Get support by joining and using the Success Community, discover the benefits of our customer community, and learn about and join our Customer Advocacy programs.
Mission-critical, Top-of-mind Breakout Sessions
This year's Accelarate will feature a greater number of customer-led breakout sessions, sharing valuable product use cases, success stories, and insider tips on getting the most from their Accela investment. Sessions will also be offered by Accela product experts and partners, offering an unparalleled opportunity for attendees to ask questions, meet with the speakers, and dig deeper into mission-critical, top-of-mind topics such as: 
Successfully Moving from On-prem to the Azure Cloud 

 

Civic Applications: Why They Are Great for New Implementations and Existing Customers 

 

Using Accela Mobile to Improve Field Productivity 

 

Going from 100% Paper to 100% Digital Plan Review for All Departments in a Single Implementation 

 

Best Practices for New Release Readiness 

 

Improving Staff Retention Through Digitalization of Plan Review 

 

From Ordinance to Program Launch: Taking a Holistic, People-Centered Approach to Tenant Assistance  

 
For a full list of breakout sessions and additional program details, I encourage you to visit our conference website.  
Celebrating Our Customers
The Fastest Ice in the World 
Our customers are champions at demonstrating resiliency, driving positive change in their organizations, and WINNING with respect to how they serve their residents every day. At this year's customer appreciation event, we will be celebrating the great work they do at the location known for being the "fastest ice in the world," the Utah Olympic Oval—which is also the training site for the US Olympic Speed Skating team! Guests will be greeted by Olympic speed skating gold medalist, Derek Parra, who will narrate a live speedskating competition and be on hand for skating tips and photographs with attendees. The evening will also feature instruction on the very popular Olympic event of curling, and all attendees will have the opportunity to don a pair of skates and get out on the ice themselves! It will be an incredible evening of networking and fun with our community of customer champions, and we look forward to sharing the evening with you. 
Calling All Trendsetter Award Candidates  
Nominations will be open soon for our highly anticipated Accelarate 2022 Trendsetter Awards! Each year, we review dozens of submissions from our Accela customers, partners, and staff highlighting innovative ways agencies and individuals have leveraged Accela solutions or digital strategies to drive efficiency, break down department silos, and deliver excellence in their communities.    
We'll be awarding 10 Trendsetter Awards across a variety of categories, as follows:  
Agency Awards
Ultimate Citizen Experience –

This award recognizes an agency that has radically improved the design and delivery of government services to become more responsive to its citizens. 

 

Emerging Regulation –

This award recognizes an agency that adapts to and embraces the challenges of new and emerging regulations, while promoting innovation within its community. 

 

Digital Service Transformation –

This award recognizes an agency that has revolutionized complex processes through automation within a digital environment to improve efficiency and allow for a proactive approach in the way it serves its citizens. 

 

Next Gen Economic Development –

This award recognizes high-performing agencies that have modernized processes and implemented efficiencies to foster economic development within their community. 

 

Government in the Cloud –

This award recognizes an agency that has made the switch from on-premises to SaaS to better serve its citizens through the cloud. 

 

Connected Government –

This award recognizes an agency that has leveraged multi-departmental solutions to share data and break down organizational silos, ultimately saving the agency valuable time and resources. 

 

Govtech Unified –

This year's themed award recognizes an agency that has used a platform/enterprise approach to tech deployment to enable more efficient sharing of data and workflows.  
Individual Awards
Civic Hero: Building Communities 

 

Civic Hero: Growing Business 

 

Civic Hero: Protecting Citizens 

 
If you know of an outstanding individual or agency candidate for any of these 10 awards, I encourage you to submit a nomination when the submission period opens.. Winners will be announced during our Trendsetter Awards dinner on Wednesday, October 5th and each award category winner will receive one (1) complimentary pass to Accelarate 2023! 
Partners Make it Possible
Hosting meaningful events like Accelarate is only possible with the help of our amazing partner ecosystem. All Accelarate 2022 sponsoring partners will be present and available to speak with attendees throughout the conference, beginning at the Welcome Reception on Monday evening. Our bustling Partner Pavilion will be open for partners to showcase their industry-leading solutions and services to ensure the best implementations and user experiences for our joint customers.  
I want to extend a special thank you to CSG Forte, this year's conference Title sponsor—we appreciate their repeated support of our event. Gratitude also goes to our Platinum sponsors Microsoft and Velosimo; Gold sponsors Avocette, Avolve Software, Byrne Software Technologies, ePermitHub, Selectron, and Visionary Integration Professionals; Silver sponsors CanAm, CityGovApp, RedMark, Vision33, and Vuspex; and Bronze sponsors ACI Worldwide, ePlanSoft, ETech Consulting, Gray Quarter, and TruePoint Solutions. 
Don't Miss the Early Bird Rate
We have extended our Early Bird registration deadline to August 31st so more attendees can take advantage of a reduced rate of $995. Be sure to visit our conference website for information about the agenda, hotels, special evening events, breakout sessions, partners, exhibitors, and more. We've arranged a block of rooms with discounted rates at the Grand America Hotel and the Little America Hotel. Space is limited, so please make your travel plans as soon as possible.    
More Great News
Finally, if you're an Accela Accelarator, please don't hesitate to reach out to learn how you can use Accelarator points for a free conference pass. The discussions and connections that will take place at Accelarate 2022 are too important to miss out on, so we hope you will prioritize joining us in October. 
See you in Salt Lake City!