Approximately 1,000 state and local government staff and technology leaders gathered at Accela's annual customer conference and education event, Accelarate, this week in National Harbor, Maryland, near the heart of our nation's capital.
This year's event was supported by nearly two dozen sponsors from our partner ecosystem, including 4-year-consecutive title sponsor CSG Forte. The conference kicked off with keynote presentations from industry thought leaders – including Dan Tangherlini, managing director of Emerson Collective – who is the former deputy mayor of Washington D.C. and a member of the US Postal Service Board of Governors – city and county CIOs, and Accela executives and solution experts.
During the opening session, Accela shared company milestones and momentum – including the recent announcement of five successful cloud migrations – as well as highlighted the event's theme, "Connected in Purpose", representing the event's unique ability to connect the people and tools at the forefront of govtech growth. Keynote speaker messages were unified in reminding attendees of the power in the privilege of civil service, alongside the need for a deep commitment to building solutions that truly work for constituents' diverse and evolving needs.
Following Tangherlini, Accela Chief Product Officer Troy Coggiola was joined by CIOs from Clark County, NV, Hartford, CT and the Deputy Director of Planning at Shelby County for a live Q&A delving into specific use cases of the Accela Civic Platform to accelerate modernization. Accela Vice Presidents of Product Management Amber D'Ottavio and Cathy Grossi then previewed product proof of concept for leveraging emerging technologies, like AI.
Honoring Accela Customers, Civic Heroes
On Tuesday, September 26, Accela hosted a Trendsetter Awards Luncheon to recognize government innovators and programs leveraging modern solutions to deliver excellence in their communities. Clarence Anthony, CEO and executive director of the National League of Cities (NLC), began the ceremony by acknowledging the purpose of public service and challenging leaders in the room to continue creating the change in their agencies that optimize community impact.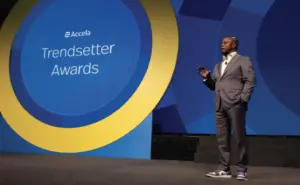 The Trendsetter Awards serve as an opportunity for agencies and individuals to be acknowledged for how they upleveled service delivery for staff and residents. The awards spotlight those who have enriched their service offerings and relationships with their communities through modernization, innovation, and easily adopted new technologies.
This year's award categories reflected the govtech industry's passion for government excellence via collaboration, greater transparency, and a deeper understanding of the needs of its constituents. Accela is honored to celebrate the following Trendsetter Award recipients: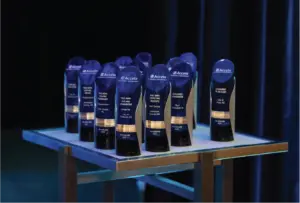 Individual Winners:
Civic Hero: Building Communities | Annie He, Accela Project Manager & System Administrator, Oakland, CA
Civic Hero: Growing Businesses | Benjamin Dunn, Building Division Director – Board of County Commissioners, Polk County, FL
Civic Hero: Protecting Residents | Eric Tenney, Technical Product Manager, Baltimore County, MD
Civic Hero: Lifetime Achievement| Elizabeth Kimmel, Information Technology Supervisor, San Mateo County, CA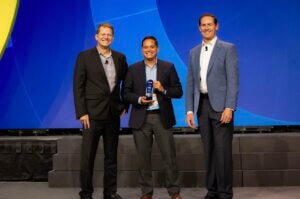 Agency Winners:
Next Gen Economic Development | San Antonio, Texas
Digital Service Transformation | Virginia Beach, Virginia
Emerging Regulation | Portland, Oregon
Ultimate Resident Experience | Moreno Valley, California
Unified Government | Sharjah Prevention and Safety Authority, Sharjah, United Arab Emirates
Government in the Cloud | Pima County, Arizona
Connected Government | Denver, Colorado
Connected in Purpose | Tampa, Florida
Connected in Purpose | Seattle, Washington

An Evening of Customer Celebration
This year's customer appreciation evening event, Accelabration!, honored Accela's valuable customers and partners with food, live music, entertainment, games, and more.
At the event, Accela Chief Customer Officer Jonathan "J.K." Knight announced the purchase and naming of a binary star, "Accela." Binary stars are a system of two stars that are bound to each other and revolve around a common center. Like Accela and our customers, binary stars are "connected in purpose," committed to improving the lives of residents by delivering a better-connected government experience.
"In honor of our conference theme and our customers' dedication to public service – as seen through the leadership of our Trendsetters winners and beyond – we are thrilled to memorialize our shared vision for building safe, resilient communities for all residents," said Accela Senior Vice President of Marketing Heidi Lorenzen. "Our customers are championing the purpose of civil service, leveraging the most innovative solutions at the heart of government to simplify delivery of critical resident services, combat staff shortages and build trust. We can now look to the stars for a reminder of our shared purpose."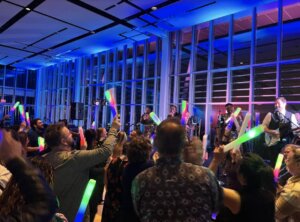 Gratitude to Our Sponsors
Accela appreciates the support of its Accelarate 2023 sponsors who helped create a meaningful event and experience for all attendees.
The conference Title Sponsor was CSG Forte, and the Platinum-level Sponsor was Velosimo. Gold Sponsors included Avocette, Avolve Software, Byrne Software Technologies, Selectron, RedMark and Visionary Integration Professionals; Silver Sponsors were CanAm, CityGovApp, ePermitHub and SEP Technology Consulting; and Bronze Sponsors were ePlanSoft, ETech Consulting, Gray Quarter, TruePoint Solutions, Vision33 and Vuspex. Ancillary sponsors included Carahsoft, Granicus and IK Consulting.
We look forward to continuing the conversation with our customers as we remain committed to developing the best solutions and strategies for championing the purpose of civil service.