I recently had the honor of presenting at the National Association of Counties (NACo) Resilient Counties Forum as part of a keynote session focused around technology. My fellow presenters included Jeff Stiles, Accela's Vice President of Marketing, and Ron Hughes, Chief Deputy State Information Officer for the State of California. The Forum was part of NACo's Presidential Initiative to encourage counties across the country to be more resilient against the many challenges they face. My brief was to talk about how the county I work for, Charlotte County on the southwest coast of Florida, utilizes technology—primarily Accela Land Management on the Civic Platform—to help us become more resilient.
Initially, my thoughts went to resiliency against natural disaster and post-disaster recovery. In August of 2004, Charlotte County took a direct hit from a category 4 hurricane (Hurricane Charley). During our recovery, we identified many aspects of our existing technology that was actually making more work for us and slowing down our recovery efforts—this was our deciding factor to search for a new land management software system that ultimately led us to Accela.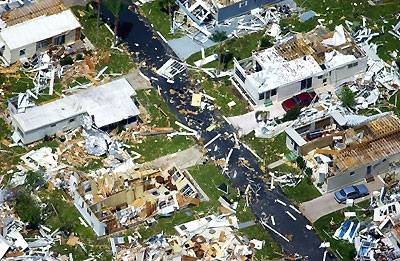 Hurricane Charley left a path of destruction in its wake
During the selection process and implementation, we took the time to reflect on our experiences after the hurricane and use the functionality of the Accela Civic Platform (workflow, mobile component and citizen access) to specifically address the challenges we faced during the recovery period. We face hurricane season every year and are now confident that should we face something like this again, we have the technology and processes setup in such a way that we can rapidly assess the level of damage and move into a quick and efficient recovery phase—something we were not able to do in the past.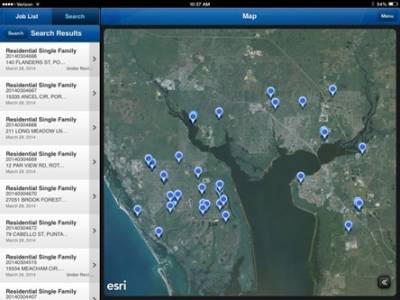 Accela Land Management, integrated with Esri ArcGIS, provides an at-a-glance view of open building permit applications
I then started thinking about all of the other challenges we, as local government workers, have faced over the past few years. If you are anything like me, it has been a roller coaster ride! We have seen a construction boom turn into a devastating recession, a national lack of public confidence in all levels of government and other challenges such as federal reform of the National Flood Insurance Program. "Do more with less" and "Open for Business" have become the mantras of elected officials nationwide as they face the pressures of providing increased service levels with a reduced tax base and intensive competition between agencies for economic development. Governments don't have some of the flexibility that is available in the private sector. We can't simply stop providing essential services because the revenue is not there to pay for them; we have to figure out how we are going to continue despite the challenges we face. Yet we are still here, essential and non-essential services are being provided and we have learned to cope with fewer resources, less funding and increased demand.
Although I have only worked in the public sector for 11 years (and am still considered a newbie in many circles), I can recognize how far we have come. When I started working for the County, there was still a typewriter in my office and a dot matrix printer on the floor, and I was ordering permit cards in triplicate. I am sure some of you reading this don't even know what I am talking about. I am now more concerned with making sure our inspectors in the field have Internet access for their iPads so they can utilize the Accela Inspector app and have FaceTime with each other to share knowledge and expertise.
We are so used to moving forward, adopting new processes and technology when it becomes available, working around problems and coming up with solutions that it becomes second nature for us. As government employees we don't think of ourselves as innovators or at the cutting edge of technology, but when you really take the time to think about it, that's exactly what we are. We are mandated to provide government services efficiently, effectively and at the lowest possible cost, so how do we do that? We get creative; we look at the tools and technology around us and come up with new and innovative ways to expand the use of those tools in a public setting. We identify ways to connect with or engage our citizens in platforms that they are familiar and comfortable with beyond the regular face-to-face or phone interactions. We encourage those same citizens to learn about what we do. What is the result? Governments that are resilient against socioeconomic changes, governments that can react to natural disasters and governments that are flexible enough to take the unexpected in stride.
So what did I learn from this reflection? Governments of all levels have amazing people working for them, we are innovators, we are creative and, most of all, the best interests of our citizens and our community are at the forefront of the decisions we make. It's definitely not all smooth sailing, but we are the people that figure out how to get the job done no matter what is thrown at us. So next time you think about criticizing your local elected official, or a state or federal department, take a second to think about all the good they do, how they accomplish what they accomplish with what they have to work with and what your life would be without those government workers. It certainly gave me pause for thought.