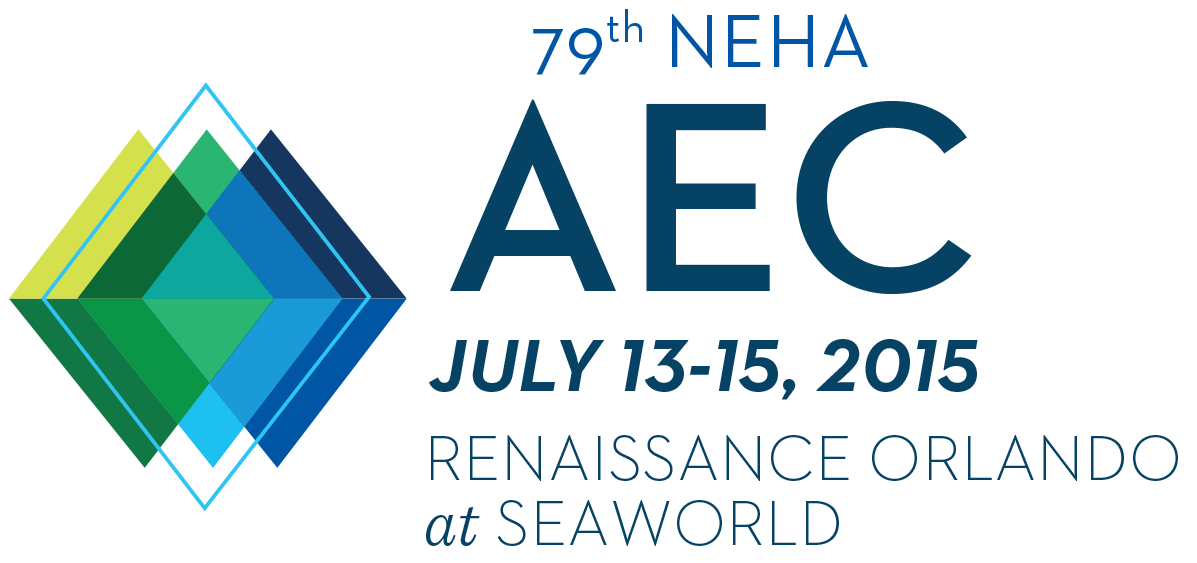 Environmental Health leaders and practitioners convened in Orlando this month to fortify core practices and study emerging public health matters during the National Environmental Health Association (NEHA)'s Annual Educational Conference & Exhibition. Each year, for nearly twenty years, I attend and often bring a new staff member to get a flavor of environmental health and to internalize its mission.
NEHA's new charismatic Executive Director, Dr. David Dyjack, made a splash with his keynote address. Taking a posture reminiscent of President Roosevelt's fireside chats, Dr. Dyjack introduced himself and called upon NEHA leaders, members and staff to embrace a three-point strategy, which included activating environmental health professionals, demanding a seat at the table where EH policy is made and executing on a global scale.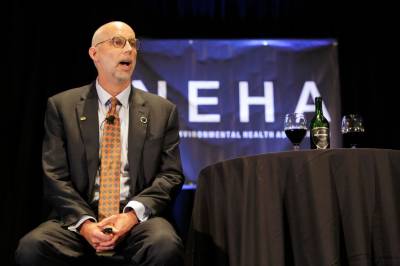 Dr. David Dyjack, NEHA's new Executive Director, delivering the keynote.
In phrasing that was emblematic of the conference vibe, he asserted, "Environmental Health is a contact sport," a turn of phrase that reflects his leadership approach: Dr. Dyjack is well connected. It was great to see attendees accept his call to arms and really collaborate during the sessions and activities offered at the conference.
Model Aquatic Health Code
One example of different groups working together was regulators working with the CDC to discuss the Model Aquatic Health Code (MAHC) for Pools and Spas, which is now available for adoption. The CDC conducted focus groups with regulators to gauge their readiness. It was illuminating to confirm the interest in this new standard. Although the adoption process may take many years, indications are very positive. Works in progress include the Inspection Form and a good solid standard for public datasets – the conduit for making these data (e.g., health department inspections of pools, spas, and water parks) visible to citizens.
Open datasets, civic data created and published by government, multiply the impact of the local services by enabling curation, consolidation, visibility and greater context. Previous successes include the Local Inspector Value-Entry Specification (LIVES) for restaurant inspection scores. The MAHC initiative promises to promote safe/healthy pools and spas for travelers and bathers.
NEHA Industry Affiliate
In another demonstration of reaching across the aisle, so to speak, the NEHA Board voted to reestablish the Industry Affiliate. The Industry Affiliate reflects the NEHA membership who are not regulators. Although the missions of regulator and non-regulator environmental health professionals overlap, the approaches are sometimes different. Shelly Wallingford, Retail Quality Assurance Manager with Starbucks, prompted the action and will work as the chair.
Accela's Involvement with NEHA This Year
Accela (previously Decade Software) is a long-term partner with NEHA under the Building Capacity initiative, so we were excited to participate as a Platinum sponsor as well as through educational sessions, a hands-on learning lab and scholarships.
A few of our experts delivered well-attended educational sessions designed to promote and elevate the profession of Environmental Health by exploring technical solutions ("Telemetry and Remote Monitoring" – presented with Thom Schmitt of ComplianceMate) and advocacy ("Beyond Information and Education – A Marketing Plan for your Health Department" – presented with Accela Marketing Coordinator Kelly Delaney). The promise of remote monitoring shows great potential for modeling and predicting swimming advisories, and the session on marketing your health department prompted some great questions.
In a separate hands-on learning lab, attendees learned how EH plays a role in civic engagement. Accela's Landon Brokaw facilitated the presentation of public-facing dashboards, which correlate health inspections, complaints, plan checks, health permits and online payments.
Each year, Accela extends fifteen Annual Educational Conference scholarships to health professionals who show insight and leadership in the industry. Congratulations to our deserving scholarship recipients!
I was personally honored to receive a Presidential Citation and a special plaque for our role in NEHA's executive search. My small contribution in recruiting NEHA's new Executive Director was among my most professionally enriching and long-lasting contributions to NEHA. And, what a successful outcome!
Congratulations, City of Columbus!
And last, but certainly not least, I must extend a special congratulatory note for our friends and customers with the City of Columbus for earning two prestigious awards. The City won the Excellence in Sustainability Award from UL and NEHA for its Green Community Plan, and the City's Environmental Health Division and Director Keith Krinn won the Dr. R. Neil Lowry Grant awarded by the Association of Pool & Spa Professionals (APSP).
The City supported its Pool & Spa award application with analysis of our environmental health solution's historical violation data. For example, the 2014 pool data pointed to high cyanuric acid residuals as a primary reason for closures. Staff-developed educational materials resulted in fewer closures for the rest of the pool season. The health department will use the financial award to develop a training course, delivered on flash drive, for pool operators.
Director Keith Krinn accepting the Dr. R. Neil Lowry Grant from the APSP.
It was another great event this year and I've enjoyed witnessing the transformations that have occurred in the industry over the past two decades. If you're interested in learning more about how you can transform the way your health department operates, I'd love to hear from you or you can visit our website for more information.