In recent years—and in response to valuable feedback we received from our customers—Accela shifted its product release schedule to deliver two major releases per year, in the Spring and Fall, and service packs about every month. The benefit to customers is they can more easily plan for the releases, ensuring testing and training (if needed) can be scheduled and resourced well in advance.
It is now time for the Fall 2021 major release.
Major releases generally include new versions of the Accela Civic Platform, ACA, Mobile, GIS, and updates and new versions of several of our Civic Applications.
Release Planning to Support Agility and Resiliency
The COVID-19 pandemic forced governments to quickly pivot priorities, modernize systems, and embrace technology in new and innovative ways to deliver services to constituents and keep businesses and communities running. It has been a challenging 18+ months for our agency customers, and Accela was committed to ensuring that the Fall 2021 release reflected many of the 'new normal' requirements introduced by the pandemic. Things have changed, and the two words we consistently hear from customers to meet these needs are agility and resiliency.
The Fall 2021 release was created to:
Continue to help agencies improve operational agility, and ability to adapt to change
More easily derive high quality insights and intelligence from their process data
Provide increased flexibility in SaaS environments to better support agency software development (configuration and reconfiguration) and deployment operations
Help our customers offer the most engaging and useful interfaces for citizens
Civic Platform V21.2: Azure and Self-Hosted
To help with agility, we've introduced a new Configuration Manager for SaaS and self-hosted customers; it is part of the administration tools offered with the Civic Platform to help agencies manage their configurations across environments and projects. It brings many enhancements for the import, export and delete configuration files, which include record types and other configuration settings and information across environments. This new environment replaces Data Manager. And, as it has moved off Silverlight, it can be accessed by various browsers, making it easier for agencies to manage their configurations the more agile they become.
V21.2 Enhancements for SaaS (Azure) Customers
For our SaaS customers, the ability to manage their configurations also is critical, and this means developing, implementing, testing, and training on various configurations in different non-production environments before deploying to users.
For this reason, we have introduced the availability of unlimited non-production environments to help solve the complexities of dispersed IT resources, simultaneous training and configuring operations, multi-phased projects, and other requirements driven by a customer's specific Software Development Lifecycle (SDLC) methodology.
New Features for Accela Insights
Agencies know they get significant amounts of process data from their Accela systems and are looking
for ways to use it to better understand the trends, potential backlogs, operational costs, and other insights hidden in the data. Accela Insights is our advanced reporting and data visualization tool for our SaaS customers, built on Microsoft's PowerBI platform.
With the Fall Release, we are offering pre-built dashboards across our Civic Applications using Accela Insights. This means out-of-the-box data visualization UIs specific for Permitting, Licensing, Environmental Health, or any of our other Civic Applications.
Other New Features in Accela Insights include new utilities to easily move dashboards across all environments, including Test, Supp, and Prod, and a "My Dashboards" feature which enhances the way admins deploy dashboards and reports to end users and how those dashboards are accessed and consumed.
Updates to Accela Mobile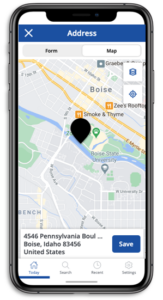 Many customers use Accela Mobile for their field operations such as code enforcement and inspections. With V21.2, Accela has enhanced it with Single Sign-On and Multi-Factor Authentication, allowing agencies to implement the same security capabilities for their mobile users they have for the back-office. It also now includes improvements to how documents can be added or manipulated, including new markup options for photos. Also included is the ability to upload file types aside from images and videos, allowing users to attach PDF and other file types to a record or inspection.
Enhancements to Accela Citizen Access (ACA)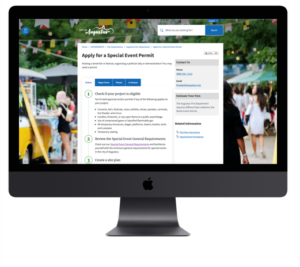 Our agency customers also are consistently looking for ways to improve citizen experiences to make their
online processes easier and more intuitive for external users. To help meet these needs, we've optimized the public user registration process for users on different mobile devices and streamlined the registration process. ACA also now uses our Oxygen design system which includes an updated look and feel and includes accessibility updates to meet WCAG 2.1 guidelines.
Accela's Civic Applications
Finally, our Fall 2021 release brings big news to Accela's Civic Applications—Accela's pre-configured solutions built on the Civic Platform. They help agencies deploy solutions more quickly and cost effectively than custom-built solutions and are easier to support and maintain over time.
For this Fall release, we are enhancing the user interfaces across all Civic Applications with our Premium Citizen Experience. This low-code web development system allows agencies to better provide information to citizens about services offered, create pre-qualification questions, and deploy more intuitive menu-driven and guided citizen experiences.
Civic Application for Environmental Health V3
For the Fall 2021 release, we are extending our Environmental Health Civic Application to support our Decade customers. This includes data and report conversion tools which dramatically speed the time it takes to convert and import existing data from Decade into the Civic Application based on the Civic Platform.
Service Request Management V2 – Essentials and Extended
With the Fall 2021 release, the Civic Application for Service Request Management will include three levels, including Essentials, Extended, and Enterprise versions, each with a different set of capabilities and price points to meet the needs of specific customers. The Extended and Enterprise levels include the rich process automation power of the Civic Platform, to extend an agency's service request (311) system to the Maintenance or Public Works departments for inspection and management of service delivery.
Conclusion
Given the dynamics and uncertainties of the past 18+ months, we understand the reasons our customers are prioritizing agility and resiliency. This release addresses agility directly, but the resiliency is reflected in our cloud infrastructure.
Customers are consistently opting for SaaS provisioning of their software as it removes the resources needed to develop and deploy software solutions from an in-house data center. Accela is always evolving and improving our SaaS infrastructures within the MS Azure cloud so that we can configure and deploy new and modified solutions quickly and efficiently. And for our customers, this means the software is always available, no matter what.
The Fall 2021 Release reflects our new reality, and Accela is very pleased to be able to provide real value to customers in challenging times. For more information on the Fall 2021 release, please contact your Accela Account Executive or visit www.accela.com/latestrelease.