It was a whirlwind week at Accela Engage in Los Angeles last month, with over 800 customers, partners, developers, thought leaders and Accela staff coming together for inspirational keynotes, presentations, sharing of best practices, networking, over 60 sessions to choose from and hands-on training. After a productive first day, during which we announced the 2015 Accela Civic App Challenge winners, we rolled out the red carpet for our customers at Paramount Studios. We held our Customer Appreciation Dinner in the New York Streets Backlot, bringing a little of my hometown to LA (go, Mets!).
I was honored to join Maury this year to announce our annual customer award winners — agencies that are using technology to improve efficiencies and enhance collaboration both within agencies and with their citizens. And what better place to hand out awards than surrounded by a little Hollywood glamour?
We were also delighted to have Julia Burrows with the Governing Institute join us this year to hand out Citizen Engagement awards to four deserving recipients that were recognized for the most innovative and impactful citizen engagement projects and leadership in the country.
And the winners are…
Accela Engage Customer Awards
Mobility Award: Salt Lake City Corporation
Salt Lake City uses the Accela Inspector and Code Officer mobile apps to streamline customer service and enhance civic engagement. The City uses Accela app technology to create on-the-spot responses to community complaints and investigations and records responses in real time. From fires and damaged buildings to abandoned buildings and car/weed control, mobile applications help Salt Lake City respond more quickly and keep citizens informed.
Division Operation Director Alden Breinholt and Building Services Manager Les Koch accepted the award on behalf of the City.
Innovation Award: Cobb County, Georgia
Cobb County issues and renews approximately 20,000 business licenses annually. The County introduced an almost 100% automatic process for renewals with the implementation of Accela's best practice configuration for licensing, and the purchase of a high-speed scanner and image-capturing software. After a batch of mailed-in renewals is scanned and the data is extracted with OCR, the file is sent to document storage software and the payment information is transmitted to the bank via Check 21. Information from the renewal form and check is sent to Accela Licensing and Case Management, via GovXML, which automatically updates the renewal records and prepares the license for staff review and issuance. As a result, the County was able to process renewals much more quickly, significantly reducing the traditional backlog of 4-6 months and increasing total deposits by 54% in 15 months.
Technical Services Manager Don Chwatek accepted the award on behalf of the County.
Civic Platform Innovators Award: Lexington-Fayette Urban County Government
Lexington-Fayette Urban County Government has made a strong commitment to improving efficiencies for both staff and citizens over the past few years. LFUCG brought on Asset Management to improve water quality management and facilitate compliance with environmental regulations, as well as Land Management to allow developers to apply for permits and submit plans online. They also just went live Business Tax, and are looking into bringing on Right of Way Management and Citizen Relationship Management.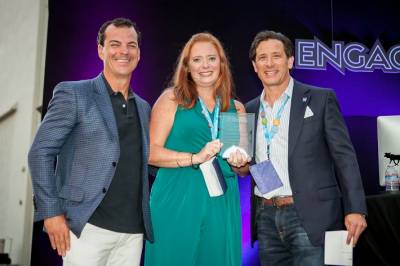 Accela Account Manager Kristin Farmer accepted the award on the agency's behalf.
Open for Business Award: City of Tampa, Florida
The City of Tampa provides a one-stop shop for their citizens to get development services, and worked directly with the Tampa Bay Builders Association to get input for the design as well as test the solution. They held multiple training sessions to help contractors and planners become proficient with the system, even during evenings and over weekends to accommodate their schedules. Since they went live, around 60 percent of all new development requests and permitting requests are coming through the online system.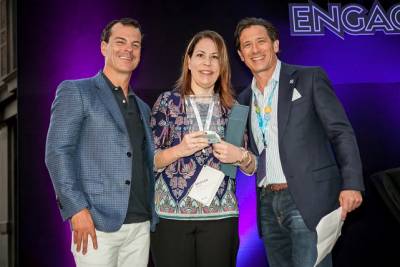 Business Programs Supervisor Melissa Chiong accepted the award on behalf of the City.
Regionalism Award: Cape Cod Commission/Barnstable County
The Cape Cod Commission is a regional planning and land use regulatory agency serving the 15 towns in Barnstable County, Massachusetts. The Cape Cod Commission/Barnstable County brought the towns of Provincetown, Harwich, Chatham and Yarmouth onto a shared regional permitting and licensing system to enhance service and reduce costs with a superagency approach while still allowing each town to provide its own local online portal. The Commission also served as the reference configuration for the State of Massachusetts. The idea for the online permitting and licensing system was developed by Ed Senteio, a technology consultant in Yarmouth.
Application Implementation Manager David Sullivan accepted the award on behalf of the Commission.
Resiliency Award: City of Seattle, Washington
The City of Seattle launched its implementation of the Accela Civic Platform for its Rental Registration and Inspection Ordinance (RRIO) program in 2013. A mandate from the City Council, the program was a new initiative that would require the City's approximately 148,000 rental housing units to be registered, regularly inspected and meet housing safety requirements. Accela worked closely with the City to define the program requirements, and the City successfully launched the use of the Civic Platform for RRIO last fall. Since then, Phase Two — the implementation in the Department of Planning and Development — is well underway and the City is currently considering expanding its use across multiple departments.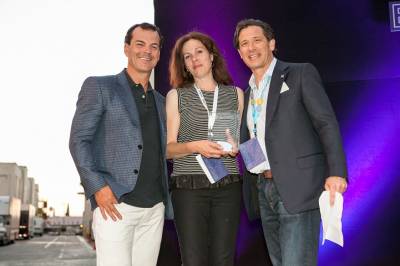 Project Manager Jennifer Hager accepted the award on behalf of the City.
Trendsetter Award: Carolyn Wormser, City of San Diego, California
Carolyn Wormser, Special Events Director with the City of San Diego, championed the introduction of special event permits in her city. With over 550 events held each year, the City of San Diego manages some of the largest and most complex events in the nation, from simple street fairs to citywide events like Comic-Con with over 130,000 attendees. Carolyn and her department manage the logistically challenging process of working with both event coordinators and other departments — including police, fire, development services and public works — to ensure safe events with minimal impact to citizens. She also serves as a reference to neighboring towns and is a thought leader in special events permitting nationwide.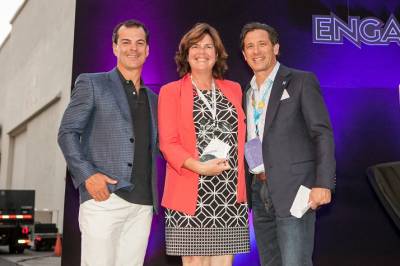 Carolyn Wormser, Special Events Director with the City of San Diego, accepted the Trendsetter Award.
Governing Institute's Citizen Engagement Awards
Citizen Engagement Innovator of the Year: Claire Jubb of Charlotte County, Florida
Business Services Manager Claire Jubb is leading the effort to digitize and make accessible over 40,000 flood elevation certificates, allowing property owners and real estate interests to have any-time access. Claire is also working diligently to provide open data solutions and create accountability metrics in graphic form for the County website.
Claire Jubb, Business Services Manager for Charlotte County, Florida, accepted the Innovator of the Year Award.
Project of the Year: City of Seattle, Washington
The City of Seattle was honored for its outstanding work in open data initiatives. Over 300 data sets have been made available to the public, resulting in a citizenry engaged in civic innovation, economic development, time and cost savings, and enhancement of public trust.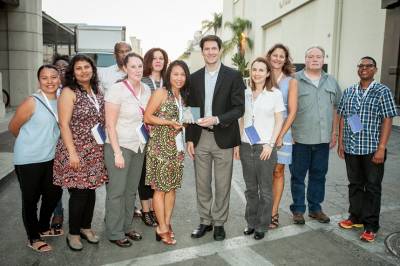 The City of Seattle's Chief Technology Officer Michael Mattmiller accepted the award for the City.
Citizen Engagement of the Year: Avondale, Arizona
The City of Avondale involved the entire community in its identity and branding initiative. Over 16,000 citizens participated online and in person to develop a new logo, tagline and promotional materials. The civic pride continues with extensive social media campaigns and business recruitment initiatives.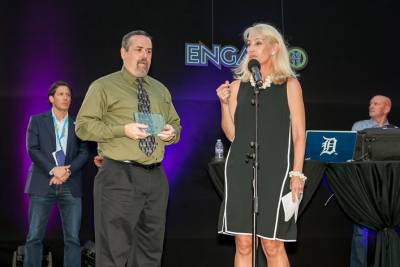 Rocky Medlin, Application Developer for the City of Avondale, accepted the award.
Citizen Engagement Project of the Year: Gwinnett County, Georgia
Gwinnett County was honored for its exemplary work in streamlining its development process using technology. To date, the city has served 45,000 customers seeking permits through online and self-serve kiosks, freeing its staff to better serve customers instead of focusing on data entry. The team also saved more than 80,000 hours in inspection time and reduced errors by using online tools.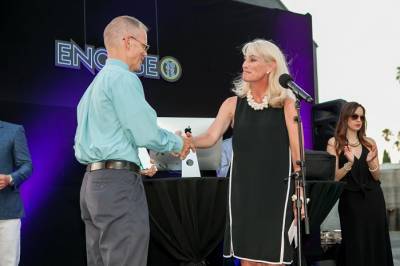 IT System Architect John Cross accepted the award on behalf of Gwinnett County.
For more information about the awards and the winners, read the Governing Institute's press release.