Why do some government agencies resonate with residents and communities, while others have a history of underwhelming scores in satisfaction surveys? US trends show that achieving high satisfaction ratings for government services is a challenge, having reached a record low of 63.4% in 2021, according to an American Customer Satisfaction Index (ACSI) report. And though the ACSI research focused on federal agencies, the issues that left residents dissatisfied may be familiar to all types of government agencies, including:
Byzantine processes and cumbersome tools
Unclear information and lack of status updates
Government staff stretched by administrative tasks, not focused on customers
Outdated and uninformative government websites
Frequently, challenges around resident and business interactions can be traced back to technology infrastructure issues. Traditional onsite or hybrid IT infrastructure that delivers services via different networks and applications leads to inconsistent and inefficient experiences for residents and agency teams. Back-end issues caused by legacy infrastructure often show up on the front lines—as delays, usability issues, outdated and hard-to-find information, and perceived poor quality of online services. These ongoing frustrating interactions drive down resident satisfaction scores.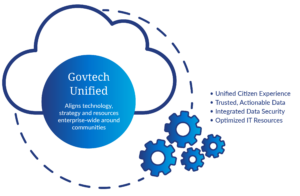 On the other hand, an enterprise approach to technology strategy aims to unify the govtech stack for better outcomes – aligned with agency priorities, projects, and strategies to dramatically improve resident satisfaction. A single, built-for-government platform that delivers a suite of cloud solutions for vital services can empower forward-looking governments to deliver an elevated experience at every touchpoint. Agencies become faster, more responsive, and more transparent to make the most of every resident interaction.
A unified suite of applications delivers trusted interactions
Siloed information presents a challenge to agency staff and end users, making it hard to access and navigate government services. A standardized interface with consistent features, forms, design, and functionality makes it easier to use services and find information. When end users know what to expect and find the answers they need to quickly accomplish their tasks, trust is deepened, encouraging enriched interaction between communities and government.
Multichannel service delivery enables constituents to choose how they interact with government agencies, including email, phone, in-person, and online self-service options. Leading government agencies are prepared for incoming inquiries through multiple channels and ensure that residents receive consistent answers and timely service, through their preferred channels.
Because all resident and business information is stored across applications, including services they use and transactions in process, the duplicate data-entry that happens with siloed data and multiple systems is eliminated. When data entry is simplified and current statuses and updates are instantly visible to staff and constituents throughout the process, satisfaction with government services can soar.
Elevate service deliveries and avoid fractured resident experiences
Government websites that are designed with residents, developers, and local businesses in mind ensure quick navigation and self-service for common inquiries and transactions, from a single destination. It goes beyond savvy brand building for agencies and is rooted in delivering an overall delightful user experience. Some best practices include:
Online access from any device, including secure apps for mobile devices
Ability to submit plans and applications online, track request status, and manage associated documents and images
Templated web pages, content, and forms that are easy for non-technical staff to build and maintain
Seamless integration with applications in your IT environment
A robust government website creates a single front door to all your services, facilitating increased usage and collaboration across agency departments.
An unified approach to end data silos
Data silos are datasets like permit applications and health inspection findings that are accessible by one department but isolated and invisible to others. The ability to share agency data and insights can improve decision-making and interdepartmental relations, as well as adding transparency to current operations and processes. A key benefit of using an enterprise approach with a single platform to address siloed data is data governance—policies and procedures to ensure the availability, usability, integrity and security of your data—which is best managed at an enterprise (agency-wide) scale to help:
Ensure data is consistent, trusted and secured against misuse
Handle shifting regulatory and compliance environments
Allow appropriate access policies, privacy, and security
Support specialized licensing, permitting, and code enforcement needs
Reveal data inconsistencies and errors to improve data quality
Enable better use of business intelligence (BI), analytics and AI initiatives
Harmonize all agency stakeholders, including staff, partners and constituents
Enterprise data governance can help lower costs, while supporting greater interdepartmental collaboration and process optimization by providing all agency stakeholders more timely, accurate and actionable information. This in turn enables agencies to quantify operational and performance improvements that drive better citizen experiences and outcomes.
Overburdened IT resources
IT departments relying on legacy and disparate systems, not to mention paper-based processes, may be overwhelmed by resident demands for quick responses and high service levels — particularly during challenging times such as pandemics or natural disasters.
Cloud-based enterprise platforms take the back-end maintenance burden off IT staff so they can focus on higher value-add activities that more directly impact community services, experiences, and outcomes. Unlike traditional IT business models and infrastructure, an enterprise cloud approach enables agencies to:
Deploy new services quickly and adjust capacity up or down to meet fluctuating demand
Free up IT resources for higher-level tasks and innovation
Deliver and scale multichannel resident services, as with new planning, permitting or licensing processes, or in response to systemic shocks
Meet the demands of seasonal requirements and cyclical events such as open enrollments, emerging regulations, payment deadlines and inspection schedules
In addition, cloud infrastructure that's purpose-built for government enables agencies to extend their capabilities without having to create and maintain proprietary solutions that may be less scalable, flexible and secure.
Data security built into your enterprise cloud platform
Government agencies around the world are prime targets for hackers and bad actors. With more frequent and sophisticated cyberattacks and threats emerging, governments running on disjointed systems find it challenging to secure resources while maintaining operations and service delivery. Besides eliminating concerns with hardware and software maintenance and updates, a unified cloud platform enables IT teams to leverage cloud provider security teams, protocols, and best practices across multiple services.
For example, Microsoft Azure has a number of integrated security tools and services to protect agencies from cyber threats and bad actors. In addition to external threats, agencies must also navigate compliance issues, such as the recent cybersecurity executive order requiring federal agencies to implement more robust security measures following several major attacks on US government agencies.
The enterprise approach enables innovation and resident experience
The responsibilities of government CIOs and IT leaders at all levels are increasing. The stakes are high, yet so is the opportunity to reimagine service delivery for residents and business owners. An enterprise approach to data and services management helps agencies identify inefficiencies, redundancies, and risks—as well as opportunities to improve service delivery and resident experiences.
A comprehensive enterprise view across data types and departments supports better insights and decision-making for your entire agency. Digital, seamless service delivery—powered by a single, unified platform and pre-built solutions for every use-case—is the only way savvy governments can operate today.