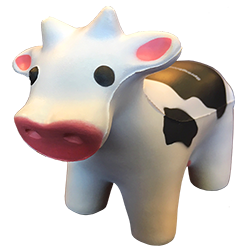 This week, we shared some exciting news with the local government financial community – we're bringing Springbrook back, along with its beloved mascot, Herfie the cow.
We believe that our 900 local government customers, together with many more of their peers across the US, should benefit from a modern, high-performance cloud offering to manage their finances, payroll and utility billing efficiently from coast to coast.
We also believe in citizen-centric government, where communities are empowered by added financial transparency and can offer a seamless payment experience to their constituencies, in line with what they might expect from their everyday interactions with leading consumer brands.
Having had the pleasure of working with our talented team at Springbrook for years, I am thrilled to now help implement new initiatives to engage more intimately with our customers, and invest to grow further together.
We will soon be announcing dates and locations for Springbrook roadshows across the country, where you can engage directly with our experts. Today and going forward, we are laser focused on customer success and committed to providing communities with the tools they need to thrive.
The entire Springbrook team is looking forward to our next chapter, re-energized and revitalized. It's time for Herfie to stand tall again!