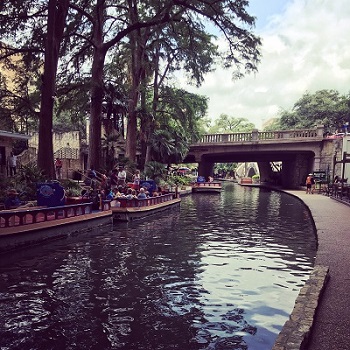 The Accela Environmental Health team recently wrapped up the National Environmental Health Association's Annual Education Conference (NEHA AEC) in San Antonio, Texas, home of the Alamo, the beautiful Riverwalk and Texas barbeque! We're a longtime partner to NEHA and a regular at this event. It's so great to see familiar faces and meet new leaders in environmental health.
We talked with many visitors to our booth about how the right environmental health technology benefits business processes from the back office all the way out to the field. One concept I heard over and over again at this event by multiple NEHA leaders was an increased focus on how data and informatics are helping health departments improve productivity, efficiency and effectiveness; this sentiment was echoed by many of our visitors who are looking to leverage the best data management and reporting technology to allow them to focus on their work.
This was a particularly interesting year because of so many recent environmental health-focused headlines, from the rise of the Zika virus and lead poisoning in Flint to the quality control issues at Chipotle. The opening session featured HUD Secretary Julian Castro, who honored attendees by recognizing the overlapping ideals and dependencies between HUD and local Health Departments. Two follow-on panels drew out professional and not-for-profit stakeholders in public health.
Accela again awarded scholarships to environmental health professionals, asking applicants to respond to the following question: "National EH headlines (think Flint, Chipotle and Zika) raise awareness of EH issues among citizens. How should your agency leverage these moments to advance local/regional goals?"
Accela/NEHA 2016 AEC scholarship winners
Accela studied nearly 200 essays (a new record) and though it was hard to narrow the list down, we eventually committed to 15 promising individuals. They took the stage on the last night to be recognized during an awards ceremony.
This year was also the second year in a row that an Accela health department client won the Dr. R. Neil Lowry Grant, presented to public health professionals or agencies that seek to advance the public's safe use of recreational water through educational, safety, operational and technical programs. Congratulations to Riverside County Environmental Health!
Seattle-King County Environmental Health's Becky Elias presenting
to a packed room at NEHA's 2016 Annual Education Conference.
Darryl Booth, Senior Vice President and General Manager of Accela Environmental Health, moderated sessions on Environmental Health Informatics. And, our friends at Seattle-King County Environmental Health Department presented two well-received sessions on the success of their recent Peer Review Inspection study and restaurant placarding project. We are lucky to be surrounded by so many passionate and talented professionals.
It's always a pleasure to attend the NEHA AEC and we look forward to the 2017 conference in Grand Rapids!