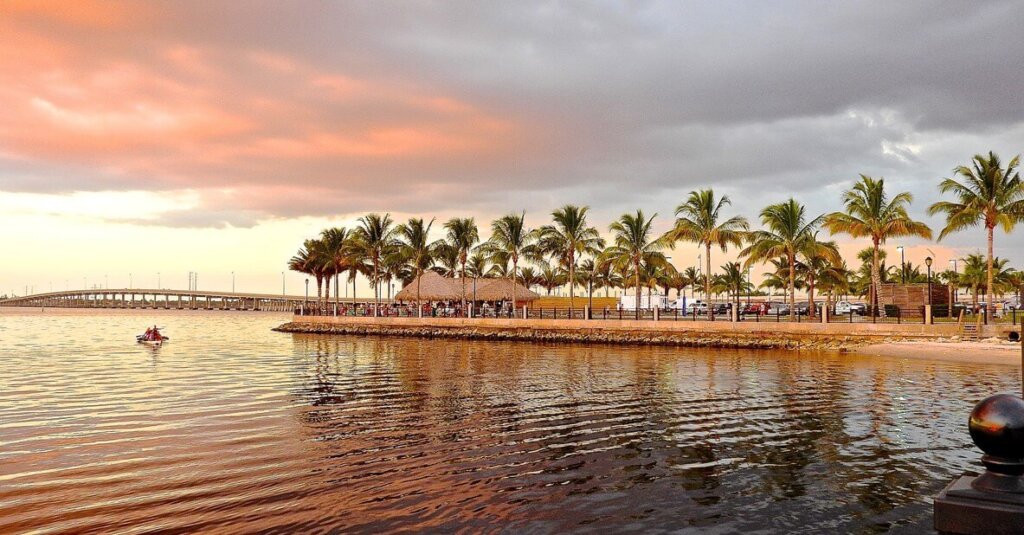 It took a hurricane for officials in Charlotte County, Fla. to realize that their antiquated, paper-based land use processes had to change. When the next big blow came through, they were better prepared.
"One of the important things in terms of economic growth and economic sustainability of a community is how quickly you can bounce back from disaster," said Claire Jubb, the Community Development Director for Charlotte County. Legacy systems made it hard for the county to recover after Hurricane Charlie hit in 2004. By the time Hurricane Irma struck in 2017, it was a different story. "We were ready," Jubb said. "We had done our homework. We had our system in place. We had Accela in place."
In a recent Accela webinar, Jubb described the path to the county's digital transformation and explained how Accela's land use tools have helped the county to meet its most pressing challenges.
Immense devastation
A coastal community in southwest Florida, Charlotte County encompasses approximately 850 square miles, including two rivers, a harbor, nearly 800 miles of coastline and one small city. With a population of 182,000 persons, it's also prone to hurricanes.
In 2004 Hurricane Charlie blew through, a direct hit that left massive damage in its wake. In such times, responsible land management is a critical government function, yet the county was saddled with a legacy land management permitting system. "We really didn't have any processes or defined workflows or anything within it for us to be able to handle this immense devastation and the recovery, with all the permitting that's involved," Jubb said.
In the wake of the storm, inspectors went out into the field with clipboards and filed handwritten damage assessments for every structure they came upon. "And let's put this into perspective: We issued 40,000 roof permits after Hurricane Charlie in 2004," Jubb said. "So, this is not just a small localized disaster. This was a major disaster for our area, with huge numbers involved."
Those paper processes stymied the county's ability to bounce back. In some cases, it could take up to two weeks to get a piece of paper logged into the system. "That holds up somebody who wants to get started on repairs to their home: You can't do one without the other," Jubb said. "So that was really a challenge for us."
A new system in place
When Hurricane Irma landed in 2017, the county found itself in a very different position.
Accela's land use tools enabled the county to respond quickly and effectively to the storm damage. Jubb said, "Within 24 hours of Hurricane Irma passing over our county, we had people out in the field doing damage assessment with the Accela code enforcement application, seeing where our impact was, seeing where the flooding was…so we could get that information not only to get a declaration of disaster — which is important to getting FEMA reimbursement and FEMA aid to our citizens — but also to be able to get our residents and our business owners the information that they needed to be able to get back on their feet very quickly."
The county had begun engaging with Accela in 2009 in support of code enforcement, permitting, planning and contractor licensing. "One of the real things that drew us to Accela was the fact that it was process-driven, it's workflow driven," Jubb said. "There's a process and a workflow to every step of what you do in the system. And it's spatial. Everything is connected to a parcel."
County officials also appreciated the flexibility of the system. Since not every user was ready or able to engage with land use processes online, they wanted a system that would enable automation, but still allow room for face-to-face interactions.
Accela's detailed reporting was another plus. "The metrics are very important, especially when it comes to promoting our services and saying how good we are," Jubb said. "That really helped us sell the system to our commissioners, and sell the system to our public and contractors and get their buy-in."
By the time Hurricane Irma hit, the modernized system was fully in place, enabling the county to respond with far greater efficiency and effectiveness in the wake of the storm. There have been added benefits as well, with Accela's Building and Planning solutions proving an invaluable support to economic development, as it enables a closer collaborative relationship between developers and county officials.
"They know how quick and easy it is to get a permit, how quick and easy it is to work with us," Jubb said. "We sit down with them and meet with them, we walk them through the online services. We walk them through the app so they know how to submit the permit online, they know how to register for their permits."
As a result, "it's really helping attract development. And from our perspective, it's helping us cut costs, it's helping us make sure that the quality of the development is really top-notch and that we're doing everything we need to do to get everything through the system. It's quicker for them, it's quicker for us," Jubb said.
Looking ahead, there's a plan on the books for development of a 350,000-panel solar power facility, a big win that Jubb credits at least in part to the new land management technologies. Accela's solution "has been absolutely fantastic for us and really helped promote Charlotte County as a great place to come and work and grow your business."
How to spark economic development with modernized land use
A modernized land use solution is key for counties and cities looking to drive economic development. How to make best use of these cutting-edge capabilities? Claire Jubb, the Community Development Director for Charlotte County, offers the following tips:
Start fresh. "When you are implementing something or when you're looking at your process, just throw out the old processes. Don't try and take a process that worked on paper and put it into technology or put it into a system. That doesn't work. You have to really start from scratch."
Deliver variety. "We have multiple ways that a customer can interact with us, whether they want to talk and actually have a conversation with us, or whether they just want to go online and do their own research. Make it easy for them to find those answers and get the information."
Enable collaboration. "We couldn't do anything that we do without our interaction with our developers and our contractors. Time is money in construction, so if we can take that permitting or licensing time down and make it easy for them, then it makes them a better business. It gives them a better bottom line. You've got to keep that in the back of your mind with everything that you're doing, that it really is about partnership."
Ponder policies. "You always need to be thinking through your policies and your regulations. If you have a policy that says you have to submit 12 copies of something: Why? Why do you need that questionnaire? Don't be afraid to question things."