I've had a chance to reflect on Accela Engage 2013 and wanted to share a few key takeaways. It was my first year attending the conference, and I was delighted by the energy and level of active participation throughout the week. Over 450 customers representing more than 100 agencies around the world made it a priority to attend to learn about our strategy and plans, to network and to learn.
First, a quick synopsis for those of you who were not able to attend this year. Our CEO, Maury Blackman, opened his keynote by showcasing the power of engagement between government agencies, citizens and businesses. Engagement was a common theme throughout the week, and is the reason we renamed our user conference Accela Engage this year.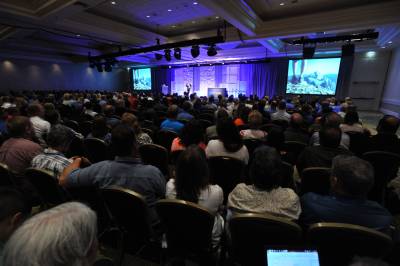 Accela CEO Maury Blackman delivers the keynote address at Accela Engage: 2013 User Conference.
During his keynote, Maury discussed four key trends we've talked about in the past that have quickly become realities—social, mobile, cloud and analytics—and shared some interesting details and statistics around each:
Social Media: With the ubiquitous nature of mobile and social, we're seeing an increase in citizen desire to actively participate in the process of governing and creating legislation. Social media is undeniably an important part of the conversation. There are nearly 850 million active users on Facebook, and an average of 175 million tweets are sent every day.
Mobile: Smartphone penetration continues to have about a 31% growth rate globally with about 58% penetration in the United States. People browsing the internet from their phone surpassed PC web usage this year. We're also seeing the rise of the tablet. This year, three times the number of tablets were shipped versus iPhones.
Cloud: Cloud-based models are now mainstream and cloud-first is taking hold in government agencies. Maury shared how the company is innovating with the Civic Cloud to address the needs of government agencies of all sizes and the citizens they serve.
Analytics: Analytics will drive innovation, and in order to get to it agencies need to embrace the open data movement. First, agencies must decide which data to extract from their systems and make available to their citizens, partners and the developer community.
Our vision is to best use mobile, social, cloud and analytics to help government agencies become more productive and better engage with their constituencies. We realize that as citizens expect more access to services, data and their elected officials, engagement becomes equally important. Today, government needs to help citizens engage in two-way dialogue whenever and wherever and on whatever device they are most comfortable with. Much of that dialogue begins when agencies share civic data, and there's no doubt about it: the open data movement is gathering steam. In fact, according to Data.gov, 42 cities and counties in 39 states in the U.S. have already jumped in. Now is the time to think about opening up your datasets, which types of data to make available, and how to package and standardize that data. Kris Trujillo previewed our plans to make it easy to create and manage open data with upcoming capabilities planned for the Civic Cloud. These datasets will amplify your efforts in interesting and sometimes unexpected ways by enabling developers and partners to build innovative apps that meet the needs of multiple agencies. A great example of this is the Garbage App that CityGovApp collaborated on with the City of El Paso that increases driver productivity while enhancing citizen engagement.
We also made some important announcements at Accela Engage. First, we launched Accela Automation 7.3, which incorporates enhanced communications and search capabilities, productivity tools and streamlined processes related to Asset Management, Reporting and Electronic Document review. For a deeper understanding of the new features of Accela Automation 7.3, I invite you to join us for an upcoming webinar on Wednesday, September 18.
Accela was also pleased to honor five agencies with our Accela Engage Customer Awards in the categories of Mobility, Mapping, Trendsetter, Customer Service and One-Stop Shop.
If you missed Accela Engage this year, you can view Maury's keynote, product demos, our open data panel with Tumml, Palo Alto and Code for America, and the Civic Cloud and Civic Platform panel I moderated with Granicus, Buildingeye and SeeClickFix.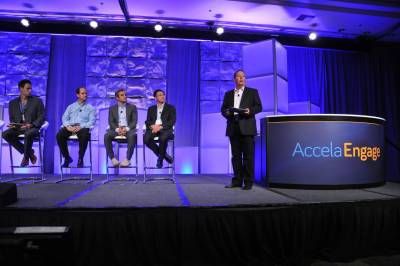 I enjoyed moderating the Civic Cloud and Civic Platform panel with Tom Spengler of Granicus, Ciaran Gilsenan of Buildingeye, Ben Berkowitz of SeeClickFix and Jerald Lo of Accela.
GovGirl also covered the conference and produced a fun wrap-up video of the event that includes what superpower attendees would want to have if they were a government superhero. You can watch the video here.
As I hope you can tell, Accela Engage: 2013 was a great success and we hope that you will continue to engage with us throughout the year. Follow Accela here on our blog as well as on Facebook and Twitter, and please share your thoughts and comments. I appreciated the opportunity to meet and learn from many of you, and I definitely look forward to seeing you at Accela Engage: 2014!