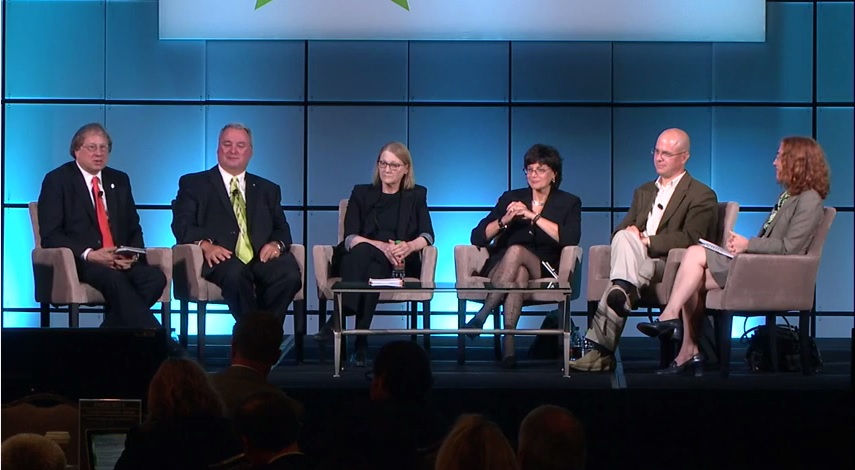 On September 29th I had the pleasure of participating in a panel discussion at the NASCIO annual conference on the value of open data.
Entitled "Open Data: Is the Value Real?," the panel also included:
Dale Hartman, IT Service Delivery Manager, King County Elections Washington

Carolyn Parnell, Chief Information Officer, State of Minnesota

Barbara L. Cohn, Chief Data Officer, New York Office of Information Technology Services

Emily Shaw, National Policy Manager, Sunlight Foundation
During our talk, we had a chance to dive in deep on the real value of open data for governments. One of the most encouraging takeaways for me was that the vast majority of attendees at this year's NASCIO annual conference understood what open data was, and were convinced that it would improve government efficiency and provide value to the people governments serve.
I thought the panel—led by Alan Shark, Chief Executive Officer and Executive Director of the Public Technology Institute—provided an excellent mix of perspectives on this important issue. State, county and local governments were represented, as well as the technology community and non-profits. During the panel, Alan Shark remarked that this was the first NASCIO meeting where the issue of open data was given such high-profile consideration. You can watch a video recording of the panel here.
At Accela, we believe that open data is an important component in making government work better, smarter and more cost-effectively. The future of how we govern and how services are provided to the citizens governments serve will be impacted by open data. That's why we have engineered open data into our product offerings, and why we support the publishing of open data by any Accela customer by offering our world-class open data portal—CivicData.com—free of charge.
We're perennial supporters of organizations that are working to advocate open data and government innovation, like Code for America, and we want to continue to stay in the forefront on this important issue.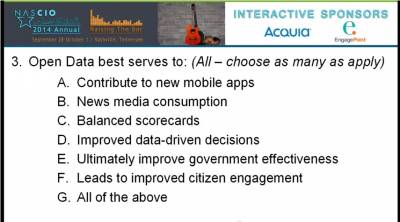 Attendees at NASCIO's annual conference voted on the top benefits of open data during the panel.
Here's hoping we see open data remain a focus of discussion at events like NASCIO. At Accela, we remain committed to supporting the great work on open data being done by government IT leaders across the country.