Q&A with Jack Reid, Accela VP of Technical Support & Training
Top-performing government agencies are relentless in their pursuit of excellence. Believing and investing in their communities is who they are. And, as the industry leader in providing government software, our mission is to help agencies increase resident engagement and empower them with scalable, trusted and secure solutions to help their community thrive – shaping the future of government. It is crucial to have a partner that values agencies' success and supplies the technology to back it up, enabling them to provide services to their communities.
That's why we recently sat down with Jack Reid, Vice President of Technical Support at Accela. He shared his ingredients for customer success, what he thinks sets Accela apart, his career advice and how modern technology can help agencies succeed.
Accela: How did your career journey lead you to Accela?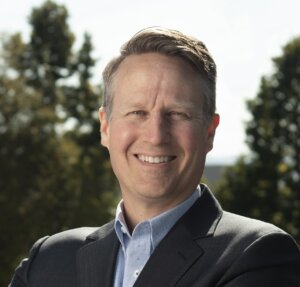 Jack Reid (JR): I started my career writing code as a software engineer. Little by little, I was drawn into interactions with customers and discovered that there was magic there. Talking to customers allowed me to see our software solutions in action – how customers used the product to reach their business goals. As an engineer, you're hidden from that to a degree.
Now, I enjoy sitting right in the middle between our customers, product teams and engineers. At Accela, we are students of our customers. We work together to understand their needs, and this helps us create solutions that accelerate their success.
Most of my career has been in software and the SaaS world. I enjoy working at nimble, fast-moving and innovative companies like Accela. It's thrilling to help government agencies move to SaaS and become more efficient in meeting the changing needs of their communities.
Accela: What does a day look like in your role as the VP of Technical Support & Training?
JR: I'm responsible for the support and training experiences we deliver to our customers and partners. Our mantra is frictionless support. We want our customers to be able to engage with us easily.
I lead a team of remarkable people who care deeply about our customers. When a customer calls our support team, we know they are experiencing a problem and need help. We want it to be a frictionless experience for them. We look at these interactions and ask: "How can we do this better?" We value our customers' points of view and want to hear from them. After every interaction, we asked our customers to rate us on a scale of 1-5 on this statement: Accela made it easy for me to get the help I needed. Our average score hovers around 4.5. We're pushing hard to continue to improve that number.
Another aspect of my job is working with our product and engineering teams. We're part of a three-legged stool made up of the customer-facing organizations I run that represent the needs of our customers in every decision, our product teams who set strategy and direction for the future of our products, and our engineering teams who build and maintain the solutions we provide. The tight collaboration between these three groups results in exceptional technology and support for our agencies.
Accela: What are some of your guiding principles at Accela?
JR: Frictionless support is a big part of our strategy. Our goal is to provide our customers with the help they need when they need it so they can get back to business as quickly as possible. We want this to be easy. One of the ways we do this is by empowering agencies to solve their own issues. We've taken an entirely new approach to training, offering courses that agency team members can take on their own time, in any order, on any device. We know our customers' time is valuable, and we've created role-based learning paths so our customers don't waste time on content that isn't relevant to them. And we continuously ask ourselves, is there a way to make our products more intuitive, and can we make a change to help our customers avoid issues entirely? That's important to us.
Another guiding principle is proper investment in our people and technology at Accela. We set aside dedicated training time for our support team members so they can keep current on everything Accela. We ask our team members to identify friction points in their day-to-day work. As a leadership team, we prioritize fixing issues in our tools and processes that prevent our people from doing the very best work of their careers.
Accela: What else sets Accela apart?
JR: Accela has an incredible history in this space. We're laser-focused on helping government agencies build communities, grow businesses, and protect their residents. We service government agencies, and we do it very, very well. We view Accela as the heart of government and our customers' ongoing support and training as the heart of Accela.
We also do a great job of retaining talent. The wealth of experience our team brings to the table ensures an unmatched focus and commitment to the future.
Our ability to innovate is second to none. I've spent my career at cutting-edge, high-tech companies with global operations. We have exceptionally high expectations for ourselves at Accela, and we execute on par with the best organizations in the world.
Lastly, we recently launched our Preferred Support program. We recognize that one size doesn't fit everyone. This optional, premium offering provides customers with a named Technical Support Engineer who intimately understands their business and every aspect of their software configuration. With Preferred Support, a named Technical Support Engineer can answer questions, help customers see around the corners and stay ahead of upcoming releases. 24x7x365 access to our live support teams is also included.
Accela: How does Accela's modern technology help customers achieve success?
JR: Government agencies are under immense pressure, maybe more so than at any other time in their history. The world is changing rapidly, and expectations are rising. Successful government agencies can react quickly and deploy new strategies seamlessly. Accela makes that possible.
COVID was massive – it changed things permanently. Previously, things that could only be done with pen and paper across a desk in a physical space are now being done via mobile, web, touch, remote; you name it.
While some forward-thinking agencies were already doing that, many weren't. Other demands are driven directly by residents and business owners who want an Amazon-like experience from the government. They want services that are quick, easy and trackable.
We're here to help our agencies succeed and relieve their pressure. Our platform empowers them to do more with what they have. What excites me most is our impact on the lives of people in our communities. Our work with our agency partners touches the lives of our friends and neighbors. With Accela, government agencies are helping people do things faster and easier than ever before – starting businesses, building communities, and protecting the safety of their communities. This is meaningful work!
We have a mission and believe we are at the heart of government. Our support and education groups are focused on the success of our agencies. When a customer calls support, our job is to get them back in the fight as quickly as possible, helping their residents get things done, and our cutting-edge technology helps them do that.
Accela: Can you share recent customer success stories demonstrating your philosophy for great customer results?
JR: Accela, like most companies, has always delivered training and education to our customers. Our goal is to empower our customers; historically, we've done that through in-person training.
We're constantly asking ourselves: "How can we innovate to serve our customers better?" During last year's Accelarate (our annual customer conference), we announced MyTrailhead offered through Accela University. This is an entirely self-paced experience. Customers are taking these courses on their phones while on the train to work. Sitting at a desk isn't necessary; learning can happen anywhere.
The courses are broken down into bite-sized chunks, so instead of sitting in a classroom for three days, customers can learn on-demand, on their schedule. Customers earn badges as they go, so they have a tangible way to track and demonstrate the knowledge they're gaining. To date, we've had over 4,000 badges earned!
Accela: That's great. Let's end with a few quickfire questions. What hobbies do you enjoy when you're not helping Accela customers and partners succeed?
JR: I'm a doodler. I like to draw and doodle and paint. It's a great way for me to decompress. I also love to read, so I typically read a book or two at any time. I'm also an active dad. My wife and I have three children, and we love to travel. As a family, we enjoy being active in Utah. It's a 10-minute walk from our front door to our favorite hiking trail in a nearby canyon. We regularly rub shoulders with the deer and mountain goats that live there. We love that adventure!
Accela: Last question. What's the best book you've read recently?
JR: I've read a couple of great books recently.
Into Thin Air: A Personal Account of the Mt. Everest Disaster by Jon Krakauer. This had been on my list for years. The human stories are simultaneously heroic and gut-wrenching. I respect the 'no holds barred' approach to assessing a terrible tragedy and the resulting changes that have improved the safety and success rates on Everest.
Eight Dates by John Gottman. My wife is a marriage and family therapist, and our walls are lined with amazing books to help build lasting relationships. This book helps couples on the make-or-break issues: trust, conflict, sex, money, family, adventure, spirituality, and dreams. There's hope for people like me who aren't that in touch with their emotional side.
The Book of Three by Lloyd Alexander. I picked this up again recently with fond memories from reading it as a youth. It's book #1 in a series based loosely on Welsh mythology. I'm very much enjoying the adventures of Taran, the Assistant Pig-Keeper and his friends in their epic battle against good and evil—many wonderful lessons to be learned here.
Thanks to Jack for speaking with us!
—-
Learn more about Accela's Technical Support here.
Learn more about Accela's Training Program here.