Ted Rubin is an influential guy in social media circles and his recent book, Return on Relationships, is based on the idea that relationships represent the most important currency in business. Ted focuses on relationships created through social media interactions, but, as I've come to realize, the concept is extraordinarily important in our industry in the bigger context of seeking out, investing in and building lasting relationships that ultimately drive success.
I had the chance to participate in two marquee industry events over the past several weeks: the Public CIO Summit in Washington, DC, and the Center for Digital Government Industry Summit in Jackson Hole, Wyoming. It's very clear how tight-knit the community of public CIOs is. And, these were some of the highest quality industry events I've personally participated in, with real dialogue both amongst the CIOs as they shared best practices and approaches, and with those of us in the private sector as we discussed their key business and technical issues with real depth and candor.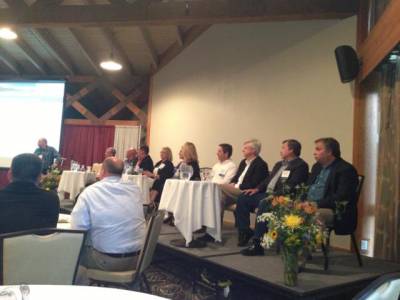 The Public CIO panel at the Center for Digital Government Industry Summit in Jackson Hole, Wyoming.
During the events, we had open dialogue around the importance of civic engagement, which was a top priority for each of the participating CIOs. We talked about how to effectively engage citizens in agency-specific processes and services—but also the importance of intra-agency cooperation to provide relevant information services and cyber-risk mitigation across regional boundaries. In addition, there was a lot of discussion around cloud, mobile and social technologies as well as open data, and even shared purchasing approaches/vehicles. The events also afforded the opportunity to speak 1:1 with many of the CIOs in attendance and learn more about their unique challenges and how Accela can help (and in many cases, how we are already doing so).
The next big event on my calendar is Accela Engage next week in San Diego, where the focus will be on our customers. This is a great opportunity to better understand our clients' everyday challenges and opportunities for improvement. If you're going to the conference, I would love to meet you (or please seek out your Account Manager) and have an open conversation about what we're doing right and what we can do better. This is the most important opportunity we will have all year to get in-person feedback from our clients and then turn that knowledge into real solutions to serve government agencies and their constituents. This is where we can strengthen our return on relationships, and it's a two-way street.
I can't wait to learn what's on our customers' minds and how Accela can strengthen civic engagement in our communities. Join the conversation next week at #accelaengage on Twitter and let us know what's on your mind, too.