While in Fort Worth, Texas, for the inaugural Accela Asset Management User Group (AAMUG) meeting last month, the Fort Worth Stormwater Management Division invited several Accela employees to participate in a ride-along with their Field Operations work crews. As an Accela Product Manager, I was looking forward to observing how a work crew uses Accela Mobile Office to document work performed in the field and create new work orders, as needed, without returning to the office. I was prepared to observe a totally automated and paperless process, leveraging technology as an alternative to common "old school" techniques.
Part of the City's Transportation and Public Works Department, the Stormwater Management Division implemented Accela Asset Management with Accela Mobile Office last year for work order management and to document infrastructure asset condition assessments. Among the Division's primary objectives were to realize time savings and provide a better method of documenting work on assets. Today, crew leads can download assignments, create new work orders, view attached documents and images and enter time, mileage, status and accomplishments—all from the field. Supervisors can then review, update, distribute costs and close work orders back at the office. In the area of vegetation maintenance, for example, the team saw paperwork reduced by more than 90% and a time savings of at least one hour per day.
I had the good fortune of being assigned to a work crew headed by Scott, a seasoned  veteran responsible for documenting and supervising the work crew, and Sammy, a capable technician responsible for performing the "dirty work" (literally and figuratively).
Fort Worth regularly inspects Stormwater inlets for potential blockage, identifies any visible damage and arranges for cleaning and repairs to prevent floods. The City is divided into several map sheds, which can be thought of as mini-watersheds. Each contains dozens of Stormwater inlets, miles of sewer mains, channels and other infrastructure assets. Our assignment (translation: Sammy's assignment) included inspecting 119 separate Stormwater inlets that are associated with a designated map shed and identifying which inlets contained debris or visible damage. Scott's assignment included documenting the condition of the Stormwater inlets, creating work orders to clear debris from inlets that were partially or completely clogged, and creating work orders to repair inlets with visible damage.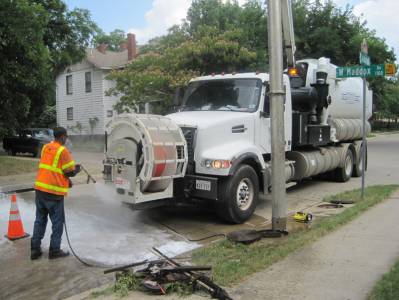 Fort Worth's Stormwater Management Division is responsible for regularly inspecting Stormwater inlets for potential blockage, identifying any visible damage and arranging for cleaning and repairs to prevent floods.
It was a typical winter afternoon in Fort Worth, TX, with gray skies and temperatures in the 60s. Equipped with hard hats and safety vests (safety first!), Scott, Sammy and I hopped into a white, standard Government Issue pickup truck equipped with a Motion Computing tablet that was attached to a bracket in the cab and ready to go with Accela Mobile Office. To my surprise, Scott also had a clipboard with a hard copy printout that listed all 119 Stormwater inlets that would be assessed as part of the work order. As the day progressed, I learned that this combination of paper-based techniques and automated technology used Scott and Sammy's time most efficiently.
Scott was well-prepared with Accela Mobile Office, which was setup with a work order containing the 119 Stormwater inlets displayed as assets on a map. Each of the assets had an associated condition assessment with an information field to record whether the inlet was free of debris ("clean") or contained debris ("dirty"). For dirty inlets, additional information was recorded, including the level of debris (¼ full, ½ full or full) and the type of debris (organic material such as leaves or twigs, dirt or man-made material such as bottles, cans or plastic bags). The condition assessment also recorded information if the inlet had any visible damage, although none of the inlets observed that day were damaged.
With Accela Mobile Office (AMO), work crews can view the location of all Stormwater inlets that need to be assessed on a given day on a map.
Scott used the map in Accela Mobile Office to identify the location of the first inlet that needed to be assessed. He parked the truck near the inlet at a location where Sammy could safely get out of the vehicle. Sammy quickly removed the manhole, inspected the inlet, replaced the manhole and reported his observations using a combination of verbal updates and hand signals. It was obvious that Scott and Sammy had gone through this process together many times.
Then the unexpected happened. Even though Scott had Accela Mobile Office queued up and ready to enter Sammy's observations, he grabbed the clipboard and quickly jotted down Sammy's observations for the inlet using a type of shorthand ("c" for "clean," "d" for "dirty," etc.). With a surprised look on my face, I asked Scott why he didn't immediately enter the observations in Accela Mobile Office. Scott explained that while he could enter Sammy's observations in Accela Mobile Office in less than a minute, Sammy was so quick that he could inspect each inlet more quickly than Scott could document the observations and create the work orders on his tablet. If a work order were needed to clean debris from the inlet, then the work order could be created in Accela Mobile Office from the field in approximately one minute. To make the best use of their combined time, Scott enters the observations in Accela Mobile Office later in the day instead.
While most work orders take more than a minute, this specific work order type involves spending less than a minute at each Stormwater inlet. The City of Fort Worth Stormwater Management Division has done a great job of finding the optimum combination of manual and automated techniques, and this creative approach results in a more efficient process than either approach could provide separately. It was a great day being out with the Fort Worth crew, and the ride-along resulted in the identification of ways future product enhancements will bring more efficiency to the field. Thank you, Fort Worth!
If your agency has come up with unique or unconventional ways to use Accela in the field, I'd love to hear from you. You can comment on this blog post or send me an email at cspink@accela.com—and perhaps invite me to participate in a ride-along in your community.
Interested in learning more? Accela customers can visit the Asset Management Forum on Accela Community to engage with agencies currently using the Accela Civic Platform for infrastructure asset management. Or, you can contact us directly for more information.