The following blog is part of a new 'futures' series authored by Remo Prinsloo, a Lead Solution and Futures Architect for Accela in the Asia Pacific region.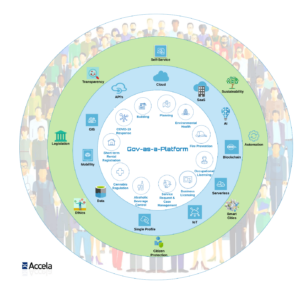 Do we trust business more than we trust government? According to the Edelman Trust Barometer in 2021, we do! Results revealed in the report's surveys indicated that business was most trusted, and as of 2022, when compared with business, media and NGOs, government ranked the lowest for trust.  The most important question here is why do we trust business more than institutions of government? The answer largely lies in the fact that with business you mostly get what you pay for, but with government the return on your investment may be less tangible.
Government is a community establishment, and this community is turning digital. The banking sector is proof of how a large institution can fail if it does not pivot to accommodate our appetite for conducting business with our mobile phones. Increasingly, people conduct financial transactions online or from a mobile device versus entering bank branches, and similarly, few residents and business owners visit local government offices unless there is a very good reason. The cornerstone of providing Government-as-a-Platform (GaaP) is the establishment of a digital community while ensuring democracy and privacy. 
E-Estonia identified 6 principles in achieving the goal of being the most digitally advanced society, where almost every bureaucratic task can be done online: legislation, privacy, international cooperation, democracy, technology and cyber security. Their liberal approach to regulation and legislation promotes innovative experimentation while protecting the fundamental principles of the underpinning technology, encouraging community involvement and promoting development and community service.
Government Transformation
Changes to the banking sector the last few years acts as a harbinger to government. Big transformative changes are inevitable as residents become more aware and expect more from the institutions they engage and transact with. Residents and business owners expect pleasant consumer-like experiences at every touch-point—from instant, online service, to unrestricted access to our data, to a single view of our account profiles. In the same way that digital banks and neo banks—a type of direct bank that operates exclusively online without traditional physical branch networks—transformed the banking industry, unified govtech solution providers will transform the government sector, providing platforms, integration services, security, user experience and trust for the benefit of residents while transforming service delivery and better serving their communities.
Benefits of Government-as-a-Platform
State departments, councils and government agencies have an unprecedented opportunity to reimagine their licensing, permitting and code enforcement processes and modernize the way they deliver critical services to the communities they serve. One of the many benefits of government-as-a-platform is the ability to leverage the combined knowledge of the communities it serves and provide this wisdom to the rest of the tenants on the platform without compromising security and privacy. The platform creates a collaborative ecosystem, encouraging community between previously independent entities. Processes and functions can be shared for the common good, enhancing sibling communities and improving outcomes for users and staff.
As more agencies start introducing open API interfaces and having businesses provide tools, apps and functions for the management and augmentation of government services, public-private partnerships between business and government will be formed and will thrive. Sharing of analytics and pre-vetted data between agencies also becomes easier providing a single source-of-truth for analytics and AI platforms to consume.
Advancements in technology automatically uplift the whole ecosystem and ensure no agency is left behind in the journey to modernize. In addition to freeing up valuable staff time and resources to focus on other critical projects and maximize efficiencies across departments, agencies can leverage any product upgrades or security  enhancements made to instantly secure all the agencies on the platform, negating the need for expensive patch rollouts and risking gaps from agencies slower to the line.
The public is demanding more from government agencies. Instant access to government services is essential in driving this demand forward and allowing for services to be provided in the way users want. This requires a high-availability, highly integrated, automated platform making use of cloud services AI and open government initiatives.
Conclusion
For governments to be effective decision makers, they need to be informed accurately with all noise removed. This will require reliable, accurate and timely data, analyzed and presented situation-appropriately and delivered securely, but this is only the first step. Executing and actioning these decisions will be reliant on a unified, flexible platform that can meet the ever changing demands of residents. This platform needs to be transparent and secure enough to maintain the privacy of the whole community including the public and the public servants.
The success of this environment ensures equity and inclusion for its residents and encourages engagement between residents and government agencies. Communities need the assurance that they are being served and not governed, respected and not ruled, included and not ignored. A successful platform augments and amplifies human empathy, increasing trust and harnessing the power of true democracy.