This post is the second in our two-part series based on roundtable panel discussion that took place as part of the recent Govern the Future Academy virtual event by Accela.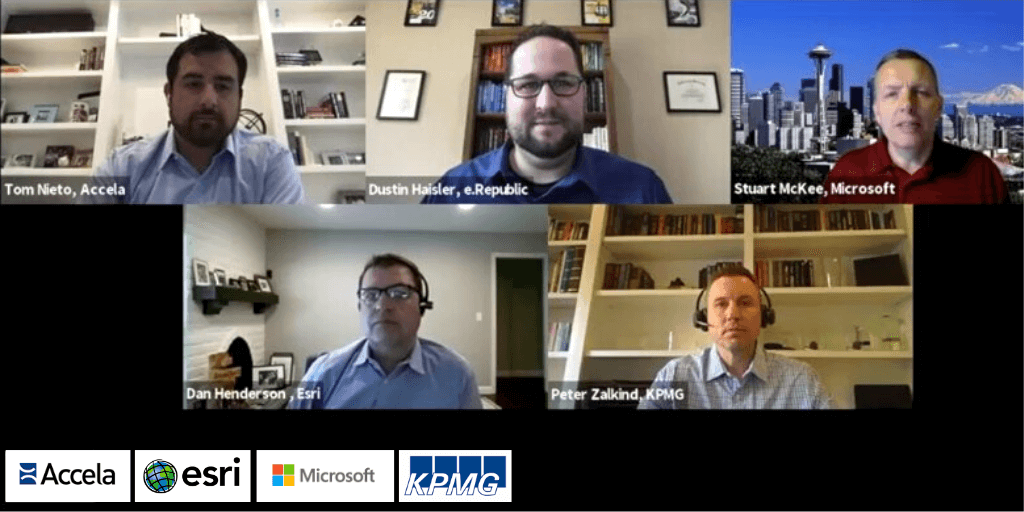 In Part 1, we featured ideas and insights around digital transformation myths, accelerating collaborations, and the role of trust in government. if you missed Part 1, check it out here.
Part 2 of the discussion features a deep-dive on cloud infrastructure and government crisis response, some unexpected benefits of cloud services, and insights on which technologies help governments drive innovation today. These conversations on digital transformation and innovation in government services feature some of the leading voices in govtech, including:
Dustin Haisler, CIO, e.Republic & Moderator
Dan Henderson, Esri, Regional Sales Manager
Stuart McKee, Microsoft CTO, State and Local Government
Tom Nieto, Accela COO
Peter Zalkind, KPMG Principal, State and Local Government
Cloud infrastructure and government crisis response
Dustin Haisler: How are you seeing cloud infrastructure impact the government's ability to respond to any type of crisis? 
Peter Zalkind: The real change we see today is a move away from ROI focus to speed of deployment. When people are thinking about the cloud they're not sitting there having the same debate that we were having just two years ago, all around money. I think people understand the potential ROI. It's pretty obvious when you move to cloud there's a high probability you can reduce your costs, especially if you're moving from an on-prem solution you're supporting all the infrastructure and all the components of that solution. Today it's more about speed, and the pandemic is an obvious use case for that. Moving to cloud services for remote access, I saw all of my customers move from in buildings to home offices in two weeks — something we couldn't have imagined in the past. Now we're seeing that with enterprise-wide solutions, a quick move is to take a paper-based process tied to a mainframe to the data store and move that entire workflow to the cloud. These projects are short and the payback is very quick.
Dan Henderson: We were talking about being able to do more and maintain service levels with the same tools, which is another reason for investment in technology. For example, I'm working with the assessor's office. There are appraisers who go out in the field and they're actually using our software to do neighborhood analytics to route more efficiently and eliminate the need for them to come in the office. It's important to consider the total cost of ownership. I think people forget that. I think they look at the line item on the servers, and they forget how much time and full-time employees it takes to support the different pieces of tech infrastructure that are on-prem and how much procurement time is spent on it.
Tom Nieto: The point about speed really resonates with me. There are really three areas around speed: First, speed to scale. A lot of our customers were able to handle unprecedented digital engagement from their constituents very quickly. Second is speed to upgrades or improvements, which is how fast you can actually deploy something that needs to be done quickly under current conditions. The third was speed of access, and I think that's something some of our customers struggled with — The right people don't have VPN access? Where do I find those licenses? If you have the ability to access that data in a much more efficient way, then you're not scrambling in those environments from a security perspective. You make sure that you can quickly get the right access to the right people without having to go through multiple weeks of process, from procuring to setup and provisioning. Those three things are certainly areas where speed has come to the forefront in our customers' minds.
Unexpected benefits of cloud services
Dustin Haisler: Speed is now an expectation that things will be not just available, but with zero latency. Clients want services to be rendered fully online from end to end, without elements of manual signatures in the process. As some of your clients moved services online, were there any unexpected benefits? 
Stuart McKee: I think we're past talking about cloud or not cloud, and I think most people would say a huge benefit was that it worked — and how fortunate workers were that infrastructure companies like Microsoft and others put in place worked, and we were actually able to continue to function. The other benefit that people are starting to recognize is the mobile workforce. There's been an unbelievable amount of work happening and people are recognizing the ability for people to be productive wherever they are. I've heard a number of governments across the country acknowledging that the future state isn't necessarily employees back at a single place. In fact some of these remote workforces will continue, which can translate into huge benefits such as attracting remote talent. The technology's great, we're going to talk about the wonderful stuff we're bringing to market, but at the end of the day, people are absolutely critical and important. And frankly, as we continue to bring more people into the workforce from different geographies and different locations because we're these tools, fantastic. I've had an opportunity to do some similar events with a group called Our Ability, which helps people with disabilities get work. It's a population of the workforce that's usually at 70% unemployment. Turns out, technology helps them become part of the workforce and what a great thing that is not only for individuals with disabilities but also for the agencies and organizations that they will serve. We hope that will be a lasting benefit from that.
Dan Henderson: I recently spoke to the City and County of San Francisco, and they're telling employees that they're not coming back to the office until next July. Some clients did not expect to be ready for remote work so quickly. The other thing that was unexpected for our clients is that there's a disbelief that people can deploy services so quickly. They say, my gosh, it worked and it worked the first time out of the box. There is a disbelief that people can deploy that quickly. The City of West Sacramento went from paper to digital a digital format with their weed abatement program. They moved it from the guys driving the mowers to an admin group. And they went from week to do this project to literally hours to identify those places that need weeds abated. That's off the charts and just one of probably hundreds of examples we've got.
Peter Zalkind: Most customers that I speak to are considering not going back into buildings for some of their workforce. They're looking at that as cost savings that they need,  based on, lower revenues. Today everyone's looking for cost savings, and some of those are just going to be in real estate. Most of my government customers are really doing that analysis right now, thinking of how much they can save by not sending people back into the buildings. Stuart made a comment that the City of San Jose estimated the cost of cleaning and disinfecting their buildings at $100,000 a day. The cost of keeping it clean outweighs the benefits of sending people back into the buildings. The cost savings of people being home and the fact that productivity has not dropped are unexpected benefits.
Stuart McKee: I would add that it's not just scale, but access to services. Before you had to build these services, or you had to take a chance at trying something new. Today, there are 400-plus advanced services available to you at your fingertips. Now available for you to plug and play. So what I'm seeing is customers are more willing to take a chance and they're interested in integrating leading-edge services sooner rather than later.
Dan Henderson: Jack Dangermond is our founder and still runs a company today. He made a statement recently that "We are ready for that shared geospatial infrastructure." For example, counties record homeless point-in-time counts every other year. Why not every year? They leverage the help of cities and volunteer organizations but it's paper-based. HUD already has that data, but the state was not aware of it. There's shareable data that is not being shared, so having the infrastructure to support that is important. You've got to have trust that government agency's information is authoritative and complete.
Dustin Haisler: We still have data silos in government, and while we do have new technologies like AI that we can leverage, we have to get that data infrastructure and foundation in order. We have to really start breaking down some of those barriers and those silos. Then there's the human element. The work that Microsoft's done around chatbots, during the pandemic is great. In this case, technology is not replacing people. It's amplifying and augmenting people. And it's giving them the ability to plug into new use cases and enabling people to connect in new ways. Dan, you were talking about location services and getting into geospatial. Location is key to every consumer experience we have, whether you request an Uber or whether you're getting food delivered during the pandemic. Location also plays a really important role in government. So how does mapping and location intelligence really play into all of this?
Dan Henderson: Location is everything, right? We've been working with government agencies since the inception of our company. Starting in about 2007, everyone's got an iPhone or a smartphone in their pocket, so they are now carrying a map with them everywhere they go. When that happened, we knew we needed to develop tools that allow people to leverage location information. Again, not a new technology, but new, useful applications. Location isn't something you have to explain to people now. And humans are inherently spatial, right? Now, location isn't just dots on the map. Now I can actually go places and determine the best route, with our partner Waze. And similar applications are out there that allow you to use routing technology in government to optimize your workflows so that you're driving less, miles spending fewer hours, and using less gas. Those are all great things for us, our customers, and our taxpayers. It's so much embedded that the majority of data that every government agency collects has a location component. There's a geography related to all financials. Every city council person wants to know how much has been spent on infrastructure improvements in their council district. So I can find a way to put a location on anything, any piece of data you've got.
Peter Zalkind: I think every solution I build has geospatial data today, including 311 solutions, permitting solutions, licensing solutions, even grant management solutions. If you're going to dispatch people to do some remediation using some sort of field services app, all of it is geospatial and it's becoming the norm. Before people used to ask, what are you using for the location component of your solution? Now it's just expected that the geospatial data will be there because it's so valuable. You can't do a 311 solution and report an incident without geospatial data. Where did it occur? What was it? You need those layers on a map. We're integrating Esri location data into just about everything we do because it's expected.
Stuart McKee: Dan's been modest about the importance of location data during the pandemic, The source of truth that people trusted was the virus tracker that Esri created. It's been amazing to me to watch this map evolve over time. It is important to bring together data and watch that map evolve over time as better data becomes available. People want to see what's happening with the pandemic in their own locations, and all over the world. To see Accela and other organizations continue to deliver new applications taking advantage of these technologies in ways that help people feel confident about interacting with government is very significant.
###
We hope you found value in Accela's 
Transformation, Technology, and Trust in a Reimagined Government 
Panel discussion. We would love to hear your thoughts and insights in the comments below. If you missed Part 1 of this series, you can check it out
here.
You can also catch the original panel discussion from the event in the
 video
here.