Accela Engage 2014 is almost here! Here's a quick guide to some can't-miss activities for those of you still planning your schedule:
Keynote Speakers: We are fortunate to have some innovative and dynamic keynote speakers, including Tim O'Reilly, founder and CEO of O'Reilly Media and proponent of civic technology, Jennifer Pahlka, founder and executive director of Code for America, Greg Martin, Managing Director of Accenture's Global Regulatory Practice, and Eric Koontz, Project Director for Woolpert focused on Accela implementations.
Over 60 sessions: Peruse our online agenda to plan which sessions you would like to attend. Be sure to check out the State of the State of Open Data session with Tech Evangelist Mark Headd and Director of Solution Architecture Seth Axthelm to learn how easy it is for your agency to get started publishing open datasets, as well as the How to Protect Your Infrastructure with Accela Asset Management panel with representatives from Fort Worth, Texas, Westminster, Colorado, Woolpert and Accela.
Accela Expert Desks: Get hands-on product support, demos and answers to all of your questions. Drop in or schedule time with an Accela Expert in the Exhibit Hall and Harbor Island Foyer. The Expert Desks are open during Conference hours and closed during General Sessions.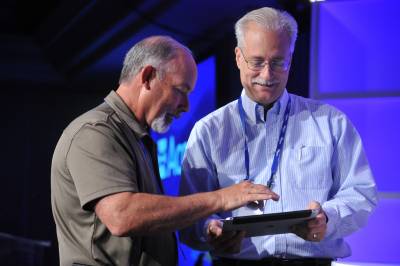 Product Manager Chuck Spink demonstrates Accela Work Crew on the iPad to an attendee at Accela Engage 2013.
Demo Theater: Accela staff and partners will provide demonstrations of existing and prototype solutions, including Legislative, Recreation and Resource, and Right of Way Management, that integrate with your Accela Civic Platform. Each demo will run for 15 minutes in the Exhibit Hall.
Exhibit Hall: Learn about complementary services and solutions from 25 exhibitors and sponsors, from civic apps to mobile printing to electronic payments solutions, on Monday, Tuesday and Wednesday.
Networking and Getting Involved
Regional and International User Group Meetings: There are plenty of opportunities to meet attendees from other agencies during the conference. Join one of the Regional User Group Meetings on Monday to make the acquaintance of other agency officials in your neck of the woods. Want to learn what government agencies are doing overseas? Attend the International User Group Meeting on Tuesday.
Birds of a Feather Lunch Tables: Keep the networking going at lunchtime. Choose from one of our topically themed lunch tables to discuss topics that matter to you with your peers and take ideas back to your agency.
Networking Social and Raffle: Stop by the Exhibit Hall for the daily raffle and a chance to win prizes donated by our exhibitors.
We've worked hard to create interesting educational and networking opportunities on top of interesting keynote speakers and general sessions, fun activities like the Customer Appreciation Dinner and more sessions than ever before. Take a few minutes to plan your agenda so you can be sure to get the most out of Accela Engage!