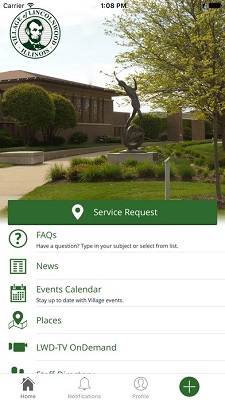 Doug Petroshius is the Assistant Village Manager for the Village of Lincolnwood, IL, where he has been since 2004. This year will be his first time attending Engage, and he's looking forward to it!
What are you most looking forward to at Engage 2016?
I work for the Village of Lincolnwood, which has been a Springbrook customer since 2003. Recently with Accela's acquisition of Springbrook (now Accela Finance and Administration) and Lincolnwood's implementation of Accela Citizen Relationship Management (CRM) earlier this year (and recently executed contract for Accela Land and Licensing and Case Management), my community is investing in the Accela Civic Platform. I am looking forward to understanding more about the Accela approach to software and previewing other software systems.
What do you hope to learn at Engage 2016?
The "big picture" outlook for Accela and their plan to merge them together into an enterprise system, specifically pertaining to Accela Finance and Administration.
What are you presenting on this year at Engage?
"GIS Consortium: Local Governments Unite!" The presentation will show how the Village of Lincolnwood and 14 other communities, working with Municipal GIS Partners, Inc., joined together in a collaborative environment and selected Accela CRM to create a Citizen Request Management Consortium.
What interested you about presenting at Engage?
The opportunity to share ideas and experiences that may improve service delivery abroad.
What do you hope attendees get out of your session?
To learn the benefits of inter-community partnerships and how even small communities can accomplish greatness while working together.
How does your presentation reflect this year's tagline of "Where Civic Tech Connects?"
The CRM Consortium is all about connecting with the public, connecting with communities and integrating with different software systems to enhance service delivery for other communities.
What are your top challenges right now?
We struggle in figuring out how to tell the story to residents that their money is spent wisely and defending the common criticism that Information Technology is a "black hole" and demonstrating the cost-benefit.
Every department is its own business and has unique needs. There is no off-the-shelf solution that meets everyone's expectations. While at the same time our residents expect software solutions with contemporary design and easy-to-use interfaces that provide similar customer service experiences that they receive with retailers like Amazon.
From a financial perspective, we experience regular budget challenges. We all exist in an uncertain economy and Lincolnwood's revenue stream is reliant on sales tax revenue. Further, the State of Illinois is undergoing a budget crisis and is considering cutting our share of income tax revenue and potentially putting a freeze on property tax increases. We are always seeking new ways to reduce expenses while keeping up with our residents' expectations for enhanced services. We are always doing our due diligence and seeking ways to collaborate with other units of government to increase the value of what we purchase and achieve the economies of scale to reduce pricing.
What initiatives are you focused on in the next year?
Implementation of Accela Land Management and Accela Licensing and Case Management, intergovernmental service delivery (combined communications), migration of recreation software, improving asset management and inventory control software.
How is technology changing the way Lincolnwood does business and engages citizens?
It is providing them with a closer look at how the "sausage" is made. With Accela CRM, residents are informed at every step in the process for resolving a service request. They can also see all service requests in the public right of way on a map (even those that have been submitted by others). They can take a picture and submit the picture with their request using the mobile app, instead of having to describe the problem by email or over the phone. Similar functionality will be available for the license and permitting processes with Accela Land Management and Accela Licensing and Case Management.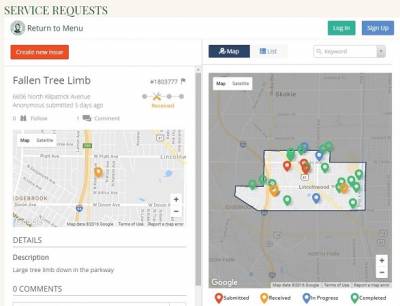 Citizens can view all open service requests in the public right of way on a map.
Given that the public is kept up to date on their request in real time, our staff is now being forced to spend more time documenting each of the steps in the process. Simply pressing the "complete" button is no longer sufficient. The reason why it is complete is equally important. They have to figure out how to work this into their daily workflow. Further, with the Accela software, staff are doing more work electronically and in the field using tablets or laptops, instead of in the office. This allows them to receive and complete requests more efficiently. In one case, an employee was able to complete a service request on the way back to his department for lunch. Before Accela, the request would not be given attention until the next business day.
For more information about Accela Engage, visit the conference website.