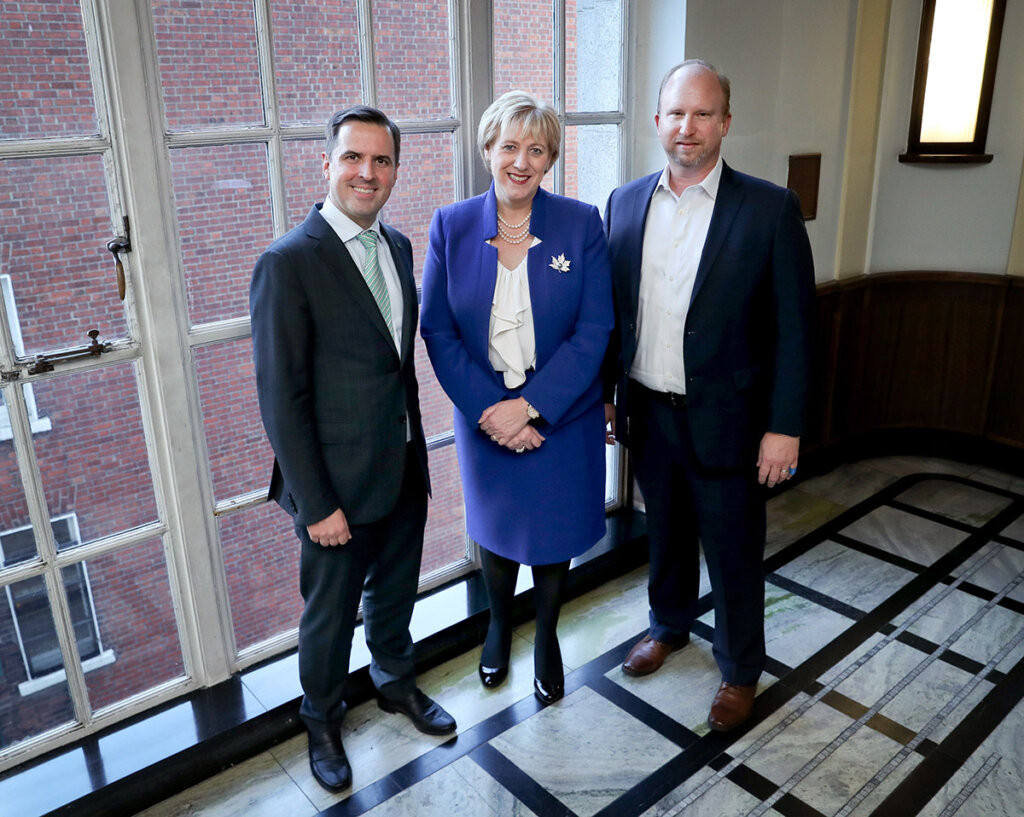 Last week, we were proud to announce the opening of our Dublin, Ireland office and our plans to double our staff in the city. We had the opportunity to sit down with a technology journalist from the Irish Times before our announcement and shared the importance of the announcement with her. Accela is committed to making investments in areas that we believe can help us attract the best talent and accelerate smart government solutions worldwide.
Our expansion in Dublin and planned job growth in the region is done with the full support of IDA Ireland — a state agency funded by the Irish government that works with the world's top technology companies and new investors that choose Ireland to base their international manufacturing, services, and R&D activities.
Minister for Business, Enterprise & Innovation with IDA Ireland, Heather Humphries, said this about the announcement, "I warmly welcome this expansion and additional job creation by Accela, which builds on and enhances Ireland's capability in the software sector. The Government continues its work to enhance our competitiveness and attractiveness for cutting-edge businesses like Accela, and welcome the additional high-value R&D jobs which will be created here over the next three years."
At Accela's Dublin office open house last week, IDA's Donal Travers, the head of its Enterprise Technology Group, underscored the significance of Accela's impacts to the region, both in terms of technology and in cultivating its high tech labor force.
"Ireland's population is expected to increase by approximately 1 million people. Growth and strength of communities is very important as we get more diverse, and so the work that Accela does with enterprise software and civic engagement solutions is very important as communities grow, but it is also important as they are a company providing jobs for the people of Ireland," Travers said.
Through the partnership, Accela plans to double our world-class research and development team focused on modernizing government technology solutions, so governments can better manage new regulatory environments, deliver more effective services, and serve a greater number of residents. We are starting with a foothold from an engineering perspective and will build-out additional capacity as demand evolves.
For nearly 20 years, Accela has been on a steady growth trajectory – from point solution acquisitions, to domestic office expansion, to international development, to a growing customer base. This momentum and international footprint empowers us to cultivate smart city growth, so governments can manage new regulatory environments, deliver more effective services, and serve a greater number of residents and businesses.
The new initiative will expand Accela's presence in Dublin from 26 employees to 50 plus, with a primary focus on hiring experienced software, site reliability, QA engineers and data scientists. The R&D team will focus on the next advances in Version 10 of Accela's Civic Platform, a cloud service that houses an array of modern government solutions in areas like public safety, land management, citizen service requests, business licensing and others. Our end goal at Accela is to develop technologies that let leaders focus on government instead of the technology that runs it. To do that, we need to recruit and retain the best, most innovative talent and we are thrilled to be immersed in Dublin for that purpose.
If you're interested in seeing the latest opportunities available, please visit our Career page at https://www.accela.com/about/careers/.