Over the past 18 months, our customers have shown admirable resiliency during unprecedented disruption. This year, Accela's virtual annual conference, Accelarate, convened 1,800 govtech industry changemakers—IT managers, city managers, CIOs, staff, Accela partners, product experts, thought leaders, and media—to celebrate these accomplishments, and discuss the opportunities and technology solutions that are paving our best path forward. By reaching beyond old ways of thinking, prioritizing innovation and partnerships, and tapping into the possibilities of the cloud, government agencies are revealing new resources and revenues, ensuring delightful experiences for residents and staff, and creating an extraordinary tomorrow.
The conference offers attendees a robust line-up of two days of keynote presentations, more than 70 breakout sessions, and live chat and networking opportunities with peers from other agencies, partners, product experts, and customer support with a goal of helping agency leaders create vibrant communities.
The first full day of Accelarate programming included several keynotes and important updates about what lies ahead for Accela.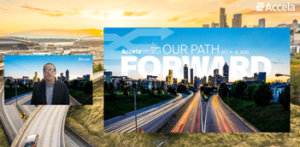 Accela Chief Customer Officer Jonathan Knight kicked off the conference with a warm welcome and a tour around the remarkably immersive online environment. He recognized this year's conference Title sponsor, CSG Forte; Platinum sponsors, Microsoft, Symbium and Velosimo, and the dozens of Gold, Silver and Bronze level partner sponsors—all critical contributors to the Accela ecosystem.
Our Path Forward: Going Beyond What's Possible, Together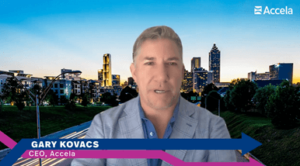 Gary Kovacs, Accela's CEO, brought the conference theme to light by sharing examples of agility and resiliency from our customers, like Suffolk County, NY and Weston, FL who demonstrated how quickly pivoting to embrace digital service delivery enabled them to keep the doors of government and local businesses open during months of disruption brought about by the pandemic. He outlined the steps that Accela is taking in response to customer input and feedback, and underscored that the bedrocks of our path forward are security, data, and cloud, and through these we can adeptly both plan for disruption and rapid change, while also building increased resilience in our communities.
Empowering Citizens to Lead Better Lives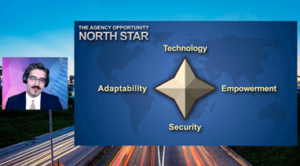 Amin Toufani, CEO of T Labs and Founder of Adaptability.org, served as this year's inspirational keynote presenter, sharing thought-provoking perspectives on "Adaptive Governance: Future-Ready Agencies in Times of Accelerating Change." Amin highlighted that while the pace of change is accelerating at an exponential pace, human adaptability isn't keeping pace. Thankfully his research shows that adaptability can be improved … and that "agencies have agency" to shape their future. The Agency Opportunity North Star represents the biggest opportunities – and threats – for government leaders: adaptability, technology, empowerment, and security. He also emphasized how we all can put the customer back at the center of our work to maximize everyone's success. He acknowledged that while there are many daunting demands on govtech professionals, in Nelson Mandela's words, "It always seems impossible until it is done."
Driving Innovation Over Process
Accela Chief Product Officer Troy Coggioa shared how agencies are "Empowering a Return to Better Than Normal." He discussed how a focus on iteration, instead of perfection, will boost innovation and help us address whatever challenges may come next. Additionally, Troy highlighted how agencies' response to COVID-19's impacts is helping governments to improve accessibility and engagement for the long haul and creating positive effects that will extend long beyond the pandemic. As agencies look ahead to their recovery, Troy detailed our work to partner with governments to modernize essential processes and minimize the impact on citizens.
Resident-Focused Approaches Build Community Trust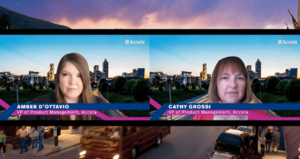 To wrap up the day's keynotes, Amber D'Ottavio and Cathy Grossi, Accela product management VPs, painted a vision for how agencies could be "Leveraging Accela to Pave Your Community's Path Forward." Amber and Cathy explained that Accela's cloud and mobile solutions are improving how services are delivered and reducing response times to residents. Utilizing cloud-based solutions can boost citizen engagement and play an important role in addressing ongoing community challenges, like blight. And, as leaders look to accelerate their own recovery efforts, Amber and Cathy demonstrated how data provides valuable insights to help governments maximize opportunities and revenues, and create more vibrant communities.
Empowering Agency Leaders Through Information Sharing
Following the morning's General Session mainstage presentations, attendees joined more than 70+ breakout sessions on customer successes, product tutorials, new funding opportunities or innovation sneak peeks, including:
A look at the future of Accela's Product Roadmap
Q&A with product experts at the Accela Success Community Live panel discussion
Review of how ARP and Stimulus Funding may be used to help improve citizen services
All that's new with Environmental Health with the Environmental Health Live Session
The latest on cybersecurity with our experts in Agency Security in the Age of Ransomware
What's coming with Accela mobile in Using Accela Mobile to Accelerate Digital Transformation
The second full day of Accelarate will bring additional keynotes and breakout sessions, along with the highly awaited announcement of Accela's Trendsetter Awards winners! Click here to register for Day 2, and check our next blog for Day 2 highlights and insights.