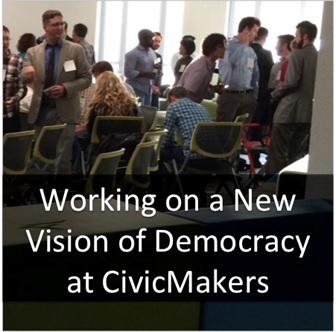 In a world of civic cynicism and disconnection, a surprising group of people came together to discuss a new vision for democracy. The first Inaugural CivicMakers Salon was held this week at the Runway Incubator in San Francisco. The challenge posed to event attendees was to answer this question: What should real democracy look like and how can technology help us get there?
A new conversation about the opportunity to use technology to bridge the gap between government and citizens is being encouraged by events like this. To kick it off we heard from one of the event organizers, Lawrence Grodeska, Director of Nonprofit Community at Change.org, "I'm so inspired by the 125 people who came together to share their vision for how technology can help improve democracy. It's clear that people want to talk about this, and I hope CivicMakers can help bring this conversation back to every tavern, Public Square and startup incubator across the country."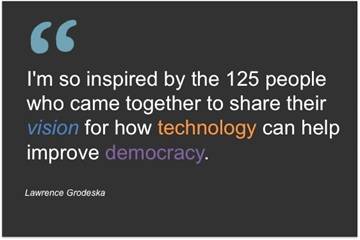 Lawrence turned it over to a lightning round of presentations from people in the private and public sectors looking to make positive changes in our communities.
Allen Chen of Accela talked about the upcoming Accela Civic App Challenge to help find the next great civic startup. Learn more about our app challenge here!
Milicent Johnson, from the member-driven organization Peers, spoke about how they have found a way to support an evolving sharing economy movement. She shared examples of how people have been able to benefit from coming together and sharing what they already have—cars, homes and skills.
David Chiu, President of the San Francisco Board of Supervisors, spoke about the need for public and private sectors to work together to do great things for our city and community. He encouraged us to get involved by leveraging technology to tackle the important issues of education, housing, transportation and employment.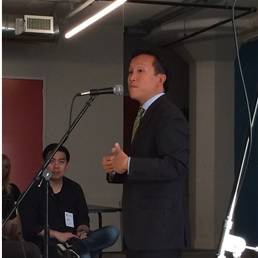 David Chiu on the intersection of government and technology
Christina Gagnier, candidate for California's 35th Congressional District, discussed how not only has technology helped make government more accessible, but it's also important for her to have discussions in person to easily identify how she can help her community.
Nolan Love, founder of PollVault, showed us how his team is simplifying democracy by allowing voters to select people and publications they trust to give voting recommendations.

Nolan Love on how PollVault helps citizens with informed voting
Jay Nath, Chief Innovation Officer of the City and County of San Francisco, shared the technology challenges the Mayor's office faces. His team works directly with the startup community to bring innovation and transparency to the City government.
Debra Cleaver, founder of Long Distance Voter, is making it easier for citizens to vote by mail. By removing the obstacles associated with voting in person, her organization is helping more people cast their votes.

After the presentations we broke into groups to have an inspiring discussion. Armed with Post-it notes, each attendee wrote two definitions of democracy. We came together to combine our definitions, forming a new single vision for democracy. So rather than giving you our definition, I will leave you with the same challenge we were charged with: How do you define a new vision of democracy and how can technology help? I'd love to read your ideas in the comments section!
RELATED POST:
Looking for the Next Great Civic Startup: The Accela Civic App Challenge