A new foundation for efficiency, agility, and trust
 Digital advances are driving the future of government. But what does this mean in practice?
In a recent panel at Accela's Govern the Future Academy |Western Region moderated by Accela SVP of Marketing, Heidi Lorenzen, govtech leaders laid out a vision for how an IT strategy grounded in a vision of connected government can help improve citizen services and business operations alike.
Panelists included:
Celina Patterson, ePermitting Manager, State of Oregon 
Jennifer Ward, Innovation Team Lead, City of Tacoma, Washington
Luke Norris, SVP Government Relations and Growth, OpenCities 
Michael Mattmiller, Director of Government Affairs, Microsoft 
All expressed a strong commitment to a digital future that connects agencies more closely with their residents, employees, other departments, and other jurisdictions. As Ward with the City of Tacoma put it: "Connected government is something we keep in mind for every project we work on, no matter how big or how small. We want to leverage technology and data to the greatest degree possible."
Patterson of Oregon represents the consummate in connected government because her state agency oversees all building departments within the state of Oregon, with Accela as the enterprise technology. She says, "enterprise-wide efficiency allows them to connect together to create more consistency between all of the cities and counties within our state. It also gives the customers a more consistent experience as they move from city to city or county to county. When they go to login to the system it's familiar to them throughout the state of Oregon."
The panelists agreed that while modern technology solutions benefit both citizens and government workers, they need to first be driven by the citizen journey.
"How do you help them find the information they're looking for? How do you make sure that the information is understandable? How do you help them get things done?" asked Norris of OpenCities, a US and Australia-based technology firm that provides modern governments with the forms functionality they need to transform their digital customer journey. "Making sure that you have the right technology for the right job is really important."
For Ward, that means using a variety of tools. In the midst of the pandemic, "email and phone calls just are not cutting it for a lot of our customers," she said. "Some are using mobile devices. Some are using computers, and some still want to walk into the office. We need other ways to connect with them."
Mattmiller – currently Director of Government Affairs with Microsoft and previously the City of Seattle's Chief Technology Officer – meanwhile pointed to chatbots and other automation tools as a key driver of citizen engagements. "Part of providing great service is having the capacity to actually respond," he said. Automation can help with that.
Greater agility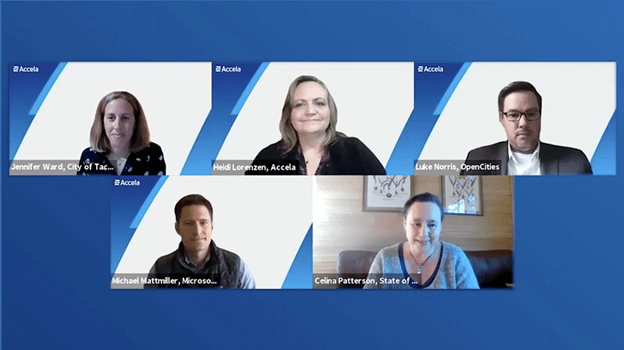 The panelists discussed how the tools of connected government can make state and local agencies more agile.
Norris pointed to no-code and low-code strategies as a way to spin up citizen services more quickly. With these tools, those on the front lines of service are empowered to respond to specific requirements. "Those are the people that know the user needs," he said. With low-code and no-code tools, "they're able to much more quickly push something live and then also have the agility to constantly update it."
For Patterson, agility comes from considering the IT implications early on, any time a new rule or law is being formulated. By doing that, "we don't end up with convoluted processes that are really difficult to implement," she said.
Ward for her part drives agility by embedding IT staff within the departments they serve. Because those embedded staffers can make quick adjustments to systems, "we can work at the speed that our staff expect and our customers expect," she said.
Improved efficiency
In Tacoma, as elsewhere, there's an urgent need for improved efficiencies. City staff "keep getting new tasks and new items put on their plate," Ward said. "It can be draining."
Automation can lessen the burden. Panelists pointed to the proliferation of software tools during the pandemic. To take advantage of such tools, Norris said, it makes sense for IT staffs across multiple jurisdictions to share best practices. "Most cities do very similar things," he said. By sharing lessons learned, state and local IT leaders can work together to move the needle.
"You know that change can always be a difficult thing," said Patterson, "but it's also an opportunity. In government, we have to be willing to say, 'Hey, you know this process or this thing is not working and here's a new way to fix that.' You can't get stuck in the old way of doing things. I think as we move forward our mission has to be to keep ourselves informed about the new things that are coming down the road."
In seeking improved efficiencies, Mattmiller said it's important that government keep equity issues front of mind. Not everyone has access to devices or connectivity. When leveraging digital tools to make government more efficient, he said it's important that decision-makers don't leave anyone behind.
Rebuilding trust
The panelists also talked about trust as the cornerstone of a connected government. "The pandemic, outcries for social justice, economic instability – they've all challenged local governments like never before," said Accela's Heidi Lorenzen, who introduced the topic.
"This shared struggle between local governments and their constituents is an opportunity to build trust," she said. "When things are so unstable for people, they really want to know what they can count on."
Ward agreed and said that transparency and reliability form the bedrock of trust. "When our customers connect with us, they expect a platform that's available 24/7," she said, adding that Accela has helped to deliver that high level of functionality, along with transparency into service levels.
"It's no longer this black hole: 'I submitted an application, I have no idea who's reviewing it.' Now they can go online, they can find the name of the plot, the staff reviewing it, they can access their phone number and email to contact them," she said. "That's helped to build a lot of the trust."
Patterson described a similar experience in Oregon. "There's more and more of a push from the public to be able to know what's going on, to [understand] how long a plan review is going to take and what is the service level that they can expect from you," she said. "That's definitely an important piece of building trust."
Going forward
In order to make the most of connected-government tools, "cities are going to have some choices to make about what their future looks like," Mattmiller said.
As cities look to rebuild post-pandemic, "it's a great time to be thoughtful and start thinking about a plan that implements the building blocks," he said. "What are those common platforms that enable the agility to move quickly? What are the right types of common digital identity that build public trust, so that [citizens] know they are working with their government in a way that is secure?"
Norris likened the present situation to a three-legged stool supported by processes, technologies, and human behaviors.
"How do you improve the process? How do you procure the right technology?" he said. "And how does the technology help enable the right 'people behaviors'? Really I don't think you can accomplish connected government if you don't solve that three-legged stool."
Governments can best pursue that journey in incremental stages, he said. By starting small and landing quick wins, "that shows everyone that this isn't scary, that it's not difficult," he said.
Small successes help to build trust and can lay the groundwork for more expansive connected-government implementations going forward.
Conference attendees and government leaders registered for the Govern the Future Academy – Western Region event can view the full keynote panel session and other conference content on demand through June 30 here.