This is the third article in a 3-part "Trends in Permitting" series authored by Accela's Building and Planning solution team.

The sun is shining on the U.S. solar industry. Not just in the literal sense in which photovoltaic (PV) panels convert sunlight into electricity,  but in the sense of real economic growth, with more than 10,000 U.S. solar companies in operation. Rapidly advancing solar technologies combined with significant Investment Tax Credit (ITCs) have driven adoption to unprecedented rates, as solar power has become more affordable and accessible than ever before.
As we approach Earth Day 2020, it's worth noting the various ways in which solar adoption can contribute to fighting the acceleration of climate change. Technical improvements, coupled with increasing production of solar equipment, are driving costs down for solar to comparable or lower levels than fossil fuels in many parts of the world. However, this growing trend does not come without its own inherent set of permitting and inspection challenges.
 The forecast for U.S. solar growth is positive: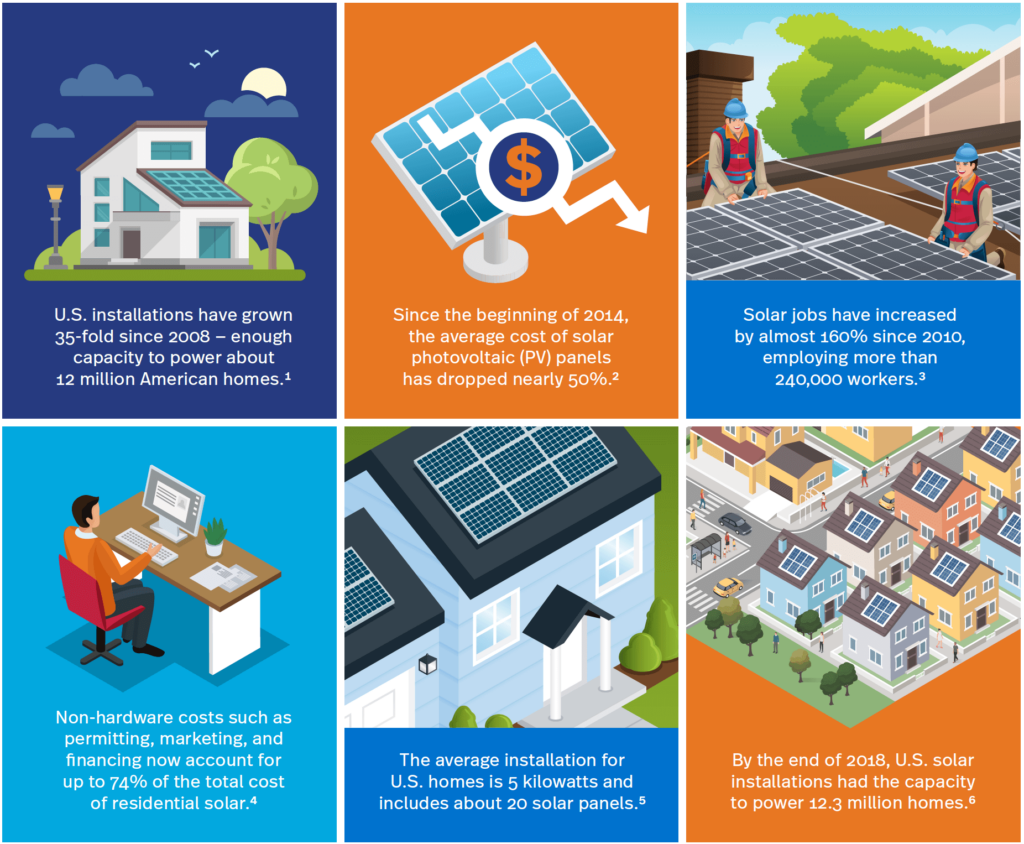 Solar growth and pressure on government
Solar is growing in popularity for a number of reasons:
As costs continue to fall, solar power reaches a tipping point when it becomes more economical than fossil fuels. The efficiency of solar panels has advanced far more quickly than most people expected, prompting many homes and businesses to consider going solar sooner than later.

Governments at the national, state, and local levels have begun to offer solar incentives to encourage citizens and businesses to take advantage of clean solar power. This trend also encourages solar industry employment growth at local levels.
Some governments are encouraging the use of solar as a way to deal with population growth and aging infrastructures. When residents and businesses can generate their own power and contribute clean power to the grid, it relieves some of the burdens on aging power grids and infrastructure — while contributing to a cleaner local environment.

States including New York, California, and Massachusetts have significant solar incentives in place, and other states, such as Florida, are rolling out more solar-friendly policies.
Today's solar permitting and inspection complexities
Despite the many potential advantages of expanding the use of solar power, the practical aspects, including electrical and construction work, naturally involve safety concerns that government agencies must deal with.
Regulatory activities for solar involve separate permits for electrical, construction, and photovoltaic (PV) panels. The situation may be further complicated due to the many types of homes and businesses in which solar panels can be installed. Local zoning laws will likely treat ground-based solar panels differently than roof-mounted panels.
Solar sites also require inspections both before and after equipment installation. Additionally, a roof-mounted system will require a pre-inspection to ensure the roof's structure can safely accommodate solar equipment, while electrical systems must support a safe connection to local electrical grids. Throw a worldwide pandemic into the mix, and government agencies may find themselves overwhelmed with new, unprecedented challenges and complexities within their solar permitting processes.
To streamline solar permitting and inspections during times of shelter-in-place and social distancing mandates, many government agencies are considering ways to automate the process and move their services online. With digital technology supporting agency solar permitting processes, cities, counties, and states can keep critical services up and running and operate effectively and efficiently no matter the situation. Agencies like San Diego County, California have successfully followed this model and fine-tuned their workflows to speed up application, approval, and review processes and help their customers install solar technology more easily.
The Accela Civic Application for Building is a flexible, pre-configured solution designed to accommodate emerging regulations and new permit types quickly and efficiently. These efforts help accelerate community development, even during times of crisis like the COVID-19 virus outbreak. Many state and local agencies are considering cloud-based software solutions that automate solar permitting to eliminate paper-based, labor intensive processes, while slashing turnaround times and providing online services amidst social isolation mandates. The solution removes physical barriers in the permitting process and enables project owners to submit solar permitting applications, request inspections, view status updates, and pay outstanding fees remotely through an online portal. Agencies can also conduct mobile or virtual inspections to ensure the safety of both field workers and solar panel installations.
Contact us to learn more about the Accela Building Civic Solution. To learn more about other up-and-coming trends in permitting, read our blogs on 5G here and tiny homes here.
Infographic Sources:
 National Renewable Energy Laboratory. Solar Industry Update Q4 2018/Q1 2019.
 The Solar Foundation. National Solar Jobs Census 2018.
 National Renewable Energy Laboratory. https://www.nrel.gov/docs/fy19osti/72399.pdf