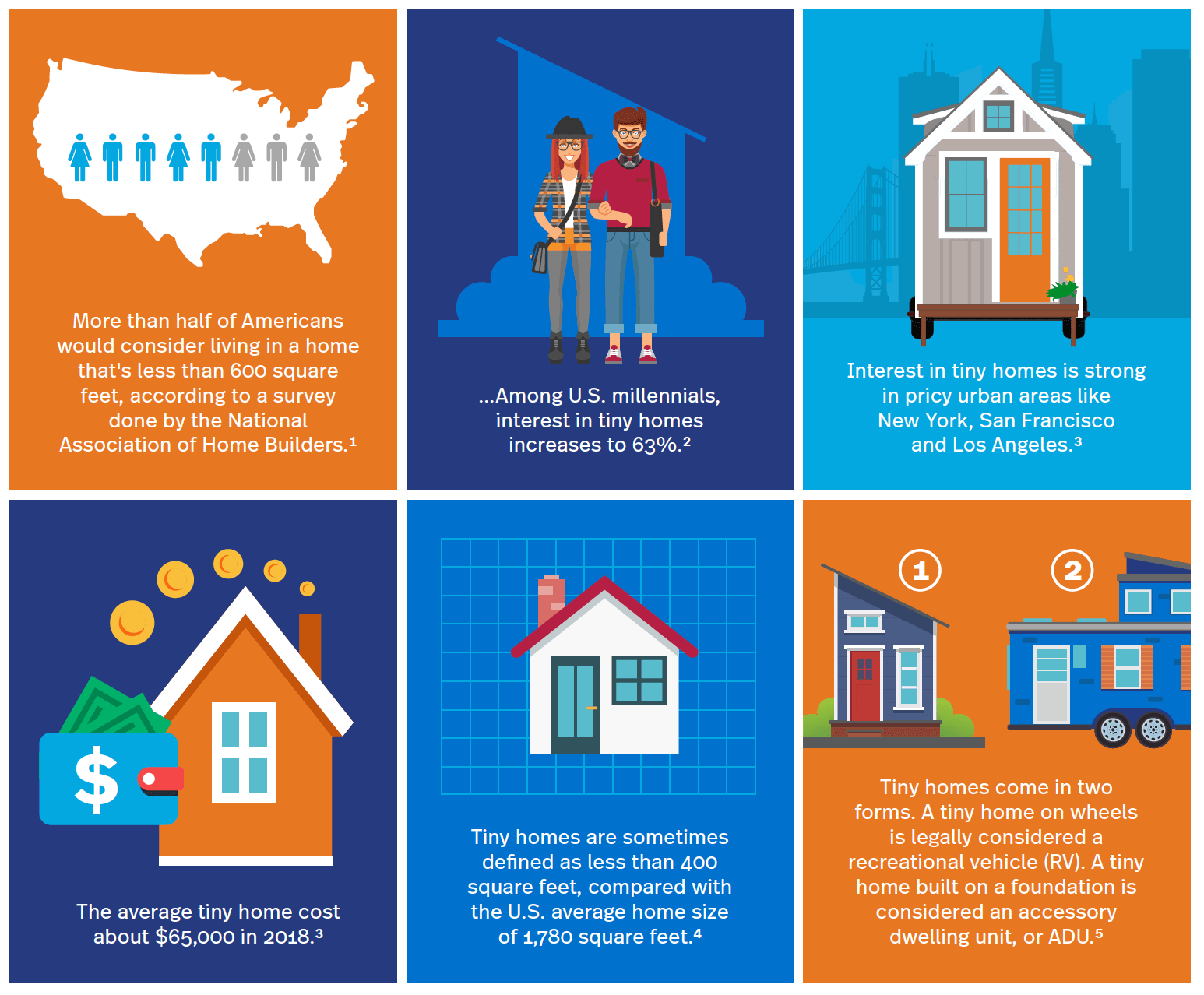 This is the second article in a 3-part "Trends in Permitting" series authored by Accela's Building and Planning solution team.
"They're everywhere across the nation, and a lot of municipalities are trying and wanting to do tiny houses. But cities don't know what the heck to do with these things." — Robin Butler, CEO of the National Organization of Alternative Housing
From millennials looking to own their first home in high-priced urban centers, to empty-nesters and retirees seeking financial freedom and independence, interest in tiny homes has grown steadily in the past few years. And though it's estimated that there are now more than 10,000 tiny homes across the U.S., the reception from government agencies has been mixed. Since tiny houses are usually portable and often lack the same certifications as traditional housing, agencies and developers alike have run into challenges within zoning rules and building codes.
Some states, including California, Colorado, Florida, Massachusetts, Michigan, New York, Oregon and Texas have been quicker to embrace the tiny homes trend than the rest of the nation. These states are among the first to consider and plan for the zoning, building regulations, permitting and other considerations involved in accommodating tiny homes.
U.S. leading the tiny homes movement include:
Spur, Texas bills itself as the "nation's first tiny-house-friendly town" and encourages those interested in the tiny home lifestyle to move to Spur to set up tiny housekeeping. The town of less than 1,500 residents offers inexpensive prairie land, Texas sunshine and an actively expanding group of tiny home owners, who assist those interested in relocating to join the community.
The City of Brevard, North Carolina has partnered with the United Way to create a guide for tiny house living. Tiny homes in Brevard are defined as built on a fixed foundation and must not exceed 800 square feet in size. Brevard's guidelines include steps for permitting and building secondary dwellings on existing properties.
The City of Rockledge, on Florida's Space Coast, first approved its Rockledge Tiny House Regulations in 2015. The city's planners worked with residents to create a policy that allows both tiny houses on wheels and on ground-based foundations within two zoning districts called pocket neighborhoods. These districts are planned communities of smaller residences, often surrounding a shared park or open space to foster a sense of community.
Popularity and growth of tiny homes
The popularity of tiny homes sometimes outpaces local governments' ability to regulate the growing trend. Tiny homes often don't conform to existing building codes and regulations that were written for larger conventional homes.
For example, while some tiny homes are built on permanent foundations, tiny homes on wheels are often classified and licensed as RVs and thus subject to different regulations. In other cases, tiny homes are permitted as accessory dwelling units (ADUs) that can be built on the property of an existing home.
City planners are also challenged to define proper zoning for these types of dwellings. Cities are concerned about maintaining the integrity of their neighborhoods, property values, and ensuring safe building standards, while avoiding transient populations. By zoning and regulating areas for tiny homes, cities protect themselves and are able to accommodate a growing demand.
Tiny homes are growing in popularity for a number of reasons:

Affordability: Tiny homes can enable residents to achieve significant savings on typical homeowner costs, including building, heating, cooling, maintenance, repairs, taxes and insurance.
Eco-friendliness: Many tiny home residents cite environmentally conscious designs that promote sustainability as a reason for minimizing. Homeowners seeking self-sufficiency often find it easier to build and maintain a tiny home off the grid than a larger residence.
Granny flats: Homeowners with aging parents are becoming interested in building tiny homes to house extended families, guests or as rentals to generate extra income.
Downtime: Getaway has built its business by building tiny cabins in wooded and remote areas, and renting them to city dwellers looking for a respite from urban life.
Taming the tiny home permitting process
While tiny homes may never go mainstream, the growing interest in tiny living is driving governments to pay close attention to the trend. Now it's up to government agencies to meet the regulatory challenges of quickly and efficiently finding permit solutions for tiny homes.
Accela's Civic Application for Building is a flexible, pre-configured solution that's designed to help government agencies accommodate emerging regulations and new permit types — such as those required for tiny homes — quickly and efficiently. Agencies such as Manatee County have added workflows to speed the tiny home review and approval processes.
To learn more about cloud-based software solutions that automate the permitting process to eliminate paper, manual errors and slash turnaround times, we invite you to check out the Accela's Civic Application for Building.