From how you can utilize ChatGPT to an open call for Accelarate 2023 breakout session content, this month's roundup is filled with information on ways to continue maximizing the value of your Accela software.
ChatGPT is dominating recent headlines. It's poised to define the future of search and work, driving thousands of companies to reexamine their strategies and approaches to generative AI, and your city should be too.
In a recent blog post, we shared a human take on ChatGPT and what mayors and managers must know. For example, did you know there are free and paid versions of generative AI chatbots? The paid versions can be further trained with your data and configured to reflect your voice and policies. Both are useful.
Keep reading to get more tips on ways to discover how you can best utilize generative AI like ChatGPT. (And we promise every word was written by a human.)
And let's dive into other exciting announcements and upcoming events…
Accela Product Training: V23.1.2 Spring Release 
The Spring Release incorporates valuable customer input and updates to provide ways to make it easier to administer and extend SaaS solutions, reduce administration costs, increase leverage of process data and continue tech modernization with new interfaces and UI frameworks. Now available: V23.1.2 Training of the Civic Platform for both SaaS and self-hosted customers, and numerous enhancements and updates to Accela Mobile, Accela Citizen Access, and Civic Applications. Watch Now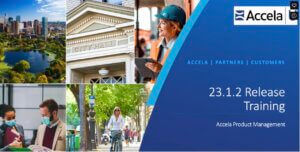 Please join the Accela Community to view.
Accelarate 2023 
Registration is open, and we're accepting submissions for breakout session content! This year's conference is an opportunity for attendees to network and learn from each other, connect with Accela product experts, and engage with Accela's robust partner ecosystem. Don't miss out on the Early Bird rate that was just extended and is now available through June 23rd! Register Here & Submit Your Presentation Idea Here.
Legislative Backing for SolarAPP+ is Furthering the Clean Energy Transition 
With cost reductions, supportive policies and large-scale electrification, solar could account for as much as 40% of the nation's electricity supply by 2035 and 45% by 2050. In order to incentivize solar adoption and advance our clean energy goals, in our latest blog see why states must pave a runway that allows for its widespread adoption.
Meeting Customers Where They Are: How TN ABC Streamlines the Verification Process 
Did you know Tennessee is one of 17 states that requires a permit for serving alcohol and until recently, bar and restaurant owners had to verify permits were valid directly with the Tennessee Alcoholic Beverage Commission (TABC)? See how TABC uses the Accela Civic Application to manage operations easily and securely.
Building Safety, Technology and You – How Coordination is Key to Keeping the Public Safe 
Building safety is a crucial part of our communities. Whether at home, work or the places we go for fun, we rely on structures to provide shelter, safety and comfort. Explore what building safety means, how technology solutions can help, and what residents can do to support those efforts.
Upcoming Training Dates
Citizen Access Administration 
June 20-21
Learn how to configure and maintain Citizen Access for your agency.
REGISTER NOW
Ad Hoc Reports 
June 22
This training provides participants with the skills and knowledge to use the Ad Hoc tool to prepare, manage and deploy low to medium-level reports.
GIS Administration 
June 23
This course is designed to prepare you to configure and maintain Accela JavaScript GIS maps in the Civic Platform and Citizen Access.
REGISTER NOW
EMSE Scripting Level 3 
June 27-28
In this final scripting class, learn to troubleshoot common scripting issues and develop non-event script scenarios.
Accela Certified Professional Level 1 Test-out 
June 27
The ACP Level 1 Test-out option is available for Agency Administrators who meet the ACP Level 1 requirements.
REGISTER NOW
Accela Certified Partner Level 1 Test-out: Citizen Access Implementation 
June 27
The ACP Level 1 Citizen Access Test-out option is available for Accela Partners who meet the ACP Level 1 requirements.
REGISTER NOW
Civic Platform User Experience Administration 
June 28-29
This course prepares you to configure and maintain the user experience for the Civic Platform.
If you want to learn more, please visit the Accela Success Community, your one-stop-shop for all communications, resources, support and peer exchange.