Several of my Accela colleagues and I recently spent the better part of a week in Nashville, Tennessee, for the annual National League of Cities conference. Compliments to the staff at NLC and the Nashville Host Committee for throwing a fantastic conference, and to the City of Nashville for being such a welcoming place to spend a few days in early November.
It was a busy conference for Accela, with numerous presentations to give, an expo booth to run, educational sessions to attend, perhaps a few honky tonk bars to check out… but most importantly, thousands of customers to speak with. Here's a quick run-through of Accela's high points for the week.
Reinventing the Business of Government panel
Maury Blackman, our President and CEO, joined Stonly Baptiste, co-founder of Urban.us, Peter Pirnejad, Palo Alto's Development Services Director, and moderator Aimee Rawlins, Startup & Innovation Editor for CNN Money, to discuss the current and future state of government technology in front of a large audience of City officials and staff on the main stage. Based on numerous conversations in the following days, Maury's message of reengaging citizens and government through technology really resonated. He also discussed the power of a software platform with a purpose designed specifically for governments to do more with less and break down silos between departments.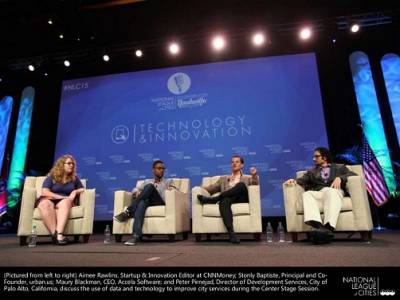 The Reinventing the Business of Government panel with (l to r)
Aimee Rawlins, Stonly Baptiste, Maury Blackman and Peter Pirnejad.
As any of our customers know, City leaders aren't easily enamored by the latest technology if it doesn't drive results that they can see on the streets or contribute to better lives for their citizens. Maury and everyone at Accela is focused on that, and we think it's one of the secrets to our success as a government-focused software company. We understand that at the end of the day our technology has to drive results on issues like public health and safety, resiliency, sustainability and economic development.
Startup in a Day panel
Speaking of economic development, next up was Rob Cassetti, our Senior VP of Sales & Marketing. Rob hosted a fantastic session covering online business licensing and permitting with special guests Peter Koht, co-founder of OpenCounter, and Peter Pirnejad, Director of Development Services for the City of Palo Alto, California.
NLC has partnered with the White House and Small Business Administration to promote the modernization of cities' permitting and licensing technologies through a Presidential initiative called Startup in a Day. This effort recognizes that the technology that cities use to engage new entrepreneurs and process their business regulatory requirements are an important piece of a city's economic development strategy. We wholeheartedly agree and have heard this over and over again from customers that have combined the right technology and business process improvements. If you're interested, we conducted this recent webinar that was similar to the live presentation that Rob hosted at NLC.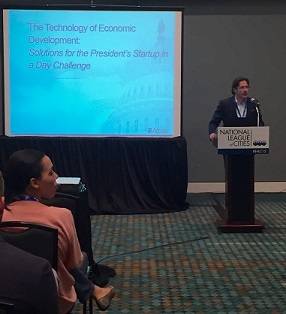 Rob Cassetti kicks off the Startup in a Day panel.
Data-driven government in 20 minutes
In addition to these great presentations from Maury and Rob, I had the honor of presenting for the NLC Advisory Committee as they kicked off their 2016 research focus on the issue of data-driven government. My job was to jumpstart the Committee's discussion of the various government data topics. I did my best, plowing through topics such as open data, data standards, APIs, Data Visualization and Analytics, Business/Government Intelligence, Big Data and the current hype cycle leader – the Internet of Things – all in about 20 minutes. Nobody fell asleep, which I'll take as a small victory.
Once NLC's Advisory Committee sets a course, NLC's Center of City Solutions and Applied Research will spend the next year investigating this topic and developing a report that will be made available to cities across the country. Looking forward to seeing the end results.
Opening up building data with a new standard
I shared the podium with Ciaran Gilsenan, CEO of buildingeye, to give the members of the NLC's First Tier Suburb Committee an overview of the new BLDS open data standard. As Ciaran and I grabbed morning coffees, and hustled to the 8 am Committee meeting on the final day of the conference, we shared a quick laugh that attendance might be a little light. Not so…the mayors and council members of our nation's major suburbs take their committee assignments seriously and we delivered our presentation to the well-attended meeting.
If you haven't read up on the new BLDS data standard (Building and Land Development Specification, pronounced "BuiLDS"), check out this recent blog post from my colleague Mark Headd.
Honoring this year's Digital Cities award winners
And last but certainly not least, we joined our friends from e.Republic's Center for Digital Government (CDG) to help honor their Digital Cities Survey winners. For the past 15 years, the CDG and its Digital Communities program has recognized innovative cities improving services and efficiencies through the use of technology. The survey covers four categories: citizen engagement, policy, operations, and technology and data. CDG Executive Director Todd Sander applauded this year's winners for using cloud services, data analytics and mobile apps to increase citizen engagement, improve transparency and open government, and enhance cybersecurity. Congratulations to all of the winners who are making a difference in their communities!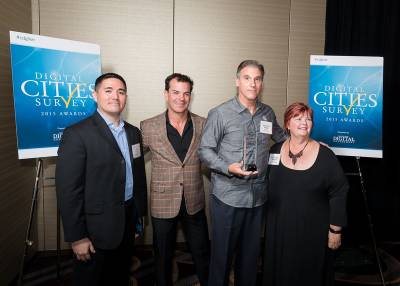 Maury was on hand to congratulate Avondale, Arizona, represented by
(from l to r) CIO Rob Lloyd, Mayor Kenn Weise and Vice Mayor Stephanie Karlin.
Thanks again to all the folks who attended sessions, stopped by our booth or said hello at the coffee station. It was a great week and I'm looking forward to next year in Pittsburgh.