The COVID-19 pandemic compressed a year's work of tech acceleration into a matter of months for agencies across the nation. Now, as local governments seek to reopen and recover financially, they need to take stock of the transformative experience and re-imagine how they will continue to deliver services to residents.
On May 5, at Accela's Govern the Future Academy | West Region virtual event, we welcomed agencies from 12 states to discuss the challenges and opportunities that lay ahead as we reimagine governments of the future. One theme kept surfacing: the government agency of tomorrow will be completely connected — to those they serve, to volumes of new data, and across communities and jurisdictions — in ways we are only beginning to imagine. During the 1/2-day conference, we discussed how partnerships and modern technology make this all possible.
Digitizing is not digital transformation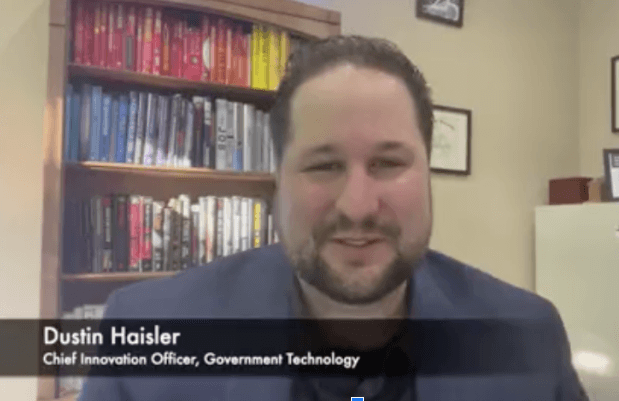 e.Republic's chief innovation officer, Dustin Haisler, kicked off the event with a keynote presentation that offered a deep dive into how agencies can build future-proof foundations capable of adapting to whatever challenge comes next. Dustin shared that those foundations must be laid with scalable technology, engaged partners, modernized processes, and data-driven decision-making.
"We're in this period of rapid change," Dustin said. "But it's an exciting time to be a public servant because we can now reimagine and rapidly accelerate and adopt things that will have a major impact on the citizens that we serve."
One point Dustin emphasized was that, contrary to what many think, digitization is not the same thing as digital transformation. Merely putting things online for a shiny front-end where governments interact with citizens does not mean an agency has created a foundation of processes, technology, and mindsets that can scale for whatever comes next. We need to remove outdated bottlenecks — like fax machines for data collection — and connect disparate information silos for a seamless end-to-end system.
Changing priorities
As the cutting edge of gov tech is expanding, the top priority remains the same: cybersecurity. But new solutions are also surging up the list.
Cost control, an ever-present concern for local governments, became an even more urgent and important priority as the pandemic impacted budgets. Agencies are working to stretch and maximize their resources — and meet constituents' growing appetite for on-demand service — within their municipality's financial constraints.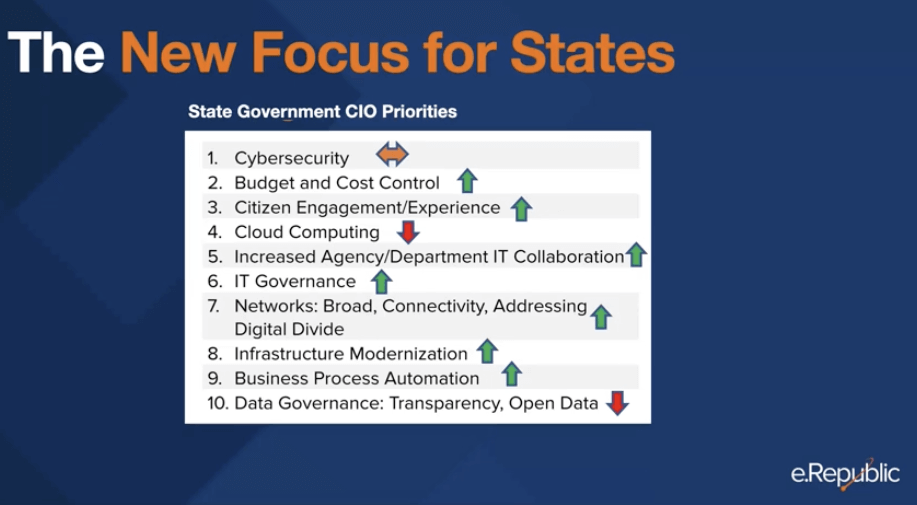 Citizen engagement is also a more pressing priority as people flock to all levels of government in search of vital information they need to stay safe. Even at the state level, where agencies are often a bit more removed from daily interactions with citizens, governments are looking to create the best possible experience for each citizen that seeks their services.
As Dustin pointed out, govtech leaders now more than ever must tackle these pillars simultaneously, leveraging existing resources to deal with cost control challenges, navigate the uncertainty that lies ahead, and unlock new operational benefits.
Predictive, edgeless, experiential
What will the government agency of tomorrow be?
"It's predictive, it's edgeless and it's experiential," Dustin said. "It's all of these things, connected together."
In practice, that means an agency that provides real-time feedback, removes the edges from a citizen's encounters with their local government, and connects back-end and front-end systems so that each interaction easily flows, beyond just a sleek website.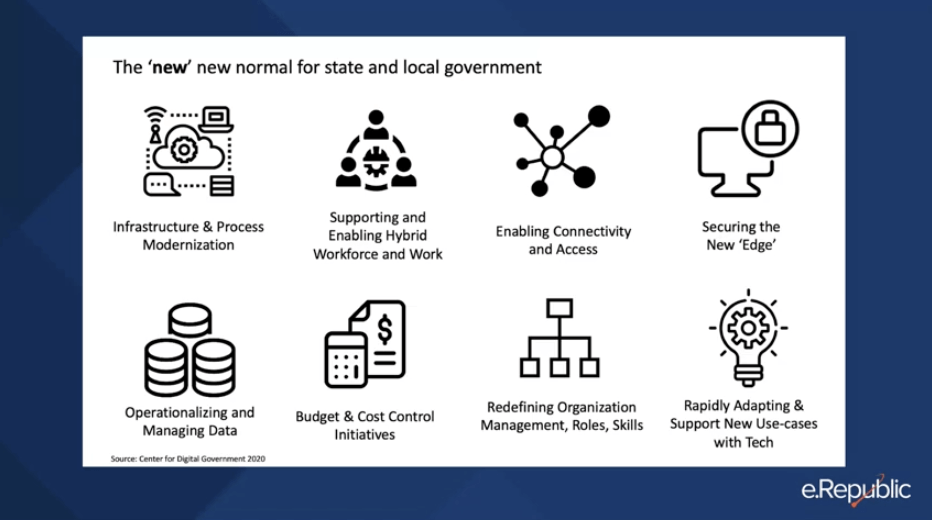 Take, for example, a citizen who needs to fill out an application for services or for a new building permit. Right now, outdated processes often result in a person filling out the wrong form, the agency gives them feedback, then fills out the correct form with the wrong information, then serves up more feedback.
The agency of the future, however, will be able to meet that person at the outset, nudging them toward the correct form and information with clear communication that builds off the inputs they provide. It will also use voice assistance and chatbots to make government data accessible as a consumer needs it. A consumer buying a shed on Home Depot's website would find, at checkout, whether the shed met the compliance requirements for their address — and a completed permit.
Governing for the future
Dustin closed his vision by noting that the full set of stakeholders, the entire partner ecosystem, must be brought to the table, educated about the new processes, and understand that the agency of the future must be in a continuous state of improvement.
"Lastly, I just want to remind you that the best way to predict the future is to create it," Dustin said.
Unlike some businesses, the work of government agencies is never "done." There will always be residents to serve, and there will always be new challenges arising. It is up to agencies to rise to the challenge and keep reinventing themselves.
Conference attendees and government leaders registered for the Govern the Future Academy – Western Region event can view the full keynote presentation and other conference content on demand through June 30 here.