The pandemic may have presented one of the greatest challenges ever faced by local government, but it accelerated the digitalization of services. With citizens now accessing seamless processes and real-time information, their expectations have risen dramatically. They now demand accessibility from every encounter and are placing these same stipulations on all public sector services. 
A Deloitte survey from 2021 revealed citizens who are pleased with a state governments' digital services, tend to rate the state high in measures of trust and satisfaction. With expectations high and trust on the line, the challenge for local government is not only implementing change but keeping up with the constant rate of digital transformation and innovation. 
Evaluating 'the before' 
Forward-looking governments must focus on the capabilities that will truly enhance citizen services. Jurisdictions reviewing new opportunities, need to identify the technology that will have a positive impact on the efficiency of service. 
When agencies modernize, a clear and compelling vision is critical. Simply put, you cannot begin the journey without a clear destination. 
They should also consider any limitations in their current practices, i.e., silos that have been built, so the same inefficient processes are not replicated. Redesigning the entire organization is too large of a task, so ensure the focus is concise and achievable, such as improving turnaround times for permit issuance. 
Data silos impact on technology evolution 
Often overlooked, data silos in an organization hold back digitalization. New systems can be implemented, but unless you have an overall strategy with interoperability between technology, then the efficiency of service will be impacted. 
Departments may be unwilling or unable to effectively share knowledge and collaborate. Many departments work in physically separate areas, with their own processes, goals, and vernacular. This occurs when organizations haven't established the right systems or communication tools to let teams effectively work together. 
As a result, these siloed teams end up working in isolation from the rest of the organization – often losing sight of the bigger picture and focusing on the best outcomes for just their department. We have seen time and time again that productivity is impacted, and tasks or requests for information are conducted more than once. 
The cost of data silos is felt by citizens, developers, and employees. Incomplete information causes delays in project or permit review times, development approval, and project start dates. Interruptions such as these are expensive for the developer, it wastes employees' time and organizations may not receive their expected revenue.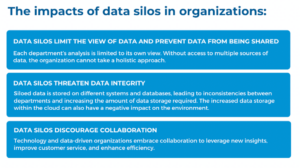 To work in harmony, local government needs to guide the evolution of technology. The solution is not to radically reinvent the structure but provide an accessible gateway to it. 
By implementing the right tools, such as a fully integrated electronic plan review, all departments gain access to centralized data. This will allow for efficient analysis and retrieval of information – a single source for truth, no matter where the data is being used. 
Governments will benefit from increased productivity, improved issuance time of permits, and enhanced citizen experience.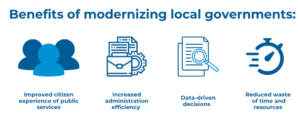 Reducing the risk of new technology 
The rate of innovation is changing fast, so one of the biggest hurdles is to continually keep up with the emerging technologies – easier said than done. But if you look to peers, those with experience of delivering change, they can help with the decision-making process. This will lower the risk involved with implementing new technology as they will have the knowledge of issues that may arise, feedback on the technology they have purchased, as well as insight into the change and deployment process. 
Recently we shared a stage with Nidia Logan Robinson, Division of Planning and Development of Memphis and Shelby County, TN, to discuss their five-year road map to digitalization. They navigated a dense regulatory environment, making significant changes to their business model to improve administration of land and building development. Learn more about their journey. 
Trusted technology partnerships will also bring opportunity and growth to local government. At DigEplan we're here to support our customers journey to modernization – helping agencies improve productivity, make faster strategic decisions, and enhance the citizen experience. 
By partnering with leading permitting providers like Accela supported by our expert implementation partners, our network has a broad range of expertise to help you enhance plan review processes as part of an overall modernization strategy. And it doesn't stop there. Together with our partners, we actively look for emerging innovations to further help support our clients and their citizens in the continuous technology cycle. 
DigiEplan is one of Accela's Technology Alliance Partners. Contact DigEplan to learn more.