This article may be the 500 millionth thing written about the American Rescue Plan Act of 2021, yet there is still so much confusion and so little clarity around how to define, access, and maximize this once-in-a-career prospect. For starters, is it ARP or ARPA? It seems that today both acronyms are used interchangeably.  
The Least You Need to Know
To figure out if this article is for you, here's the least you need to know and consider. 
Do you work with, or for, a city, county, village or state? 
If yes, your city, county, village or state (we'll just use 'city' here on out) was likely granted millions of dollars in 2021 and 2022. Maybe tens or even hundreds of millions. But you probably know that. 
Ideally, your city constructed a plan, and that plan shapes how the ARPA funds will be spent in your community. 
No plan? Ask around. Let's believe that a plan exists. 
I chose to frame your journey in the context of the quirky book Zen and the Art of Motorcycle Maintenance, a 1974 best seller by Robert Pirsig. 
Pirsig's day job was writing computer manuals, instructions on how to complete tasks. Interestingly, his book took four years to complete and was rejected by 121 publishers before it went on to sell millions of copies, establishing its author as a modern philosopher of sorts.  
While Pirsig narrated a 17-day journey to San Francisco whilst weaving his insights, we're going to compress our ARPA journey into just five ARPA funding waypoints.  
Waypoint 1: Grab a Map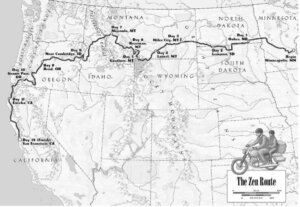 Whether an elected official, a department head, a businessperson, or an interested resident, you'll want to take a measure of what you know today. This is your starting-off point and your destination. This is your map. 
Different from other pandemic stimulus efforts—like the quick-response CARES and the longer-term Infrastructure Investment and Jobs Acts—ARPA funds are directed at literally every city of every size and pre-suppose that local governments know best what recovery is needed. The fund created by ARPA is called the Coronavirus State and Local Fiscal Recovery Fund, or SLFRF for short. 
Accela published an easy overview here and the US Treasury published their overview here. And, the last little bit of knowledge you should bookmark is the US Treasury's Final Rule, the set of official clarifications—all the edge-case questions. At this point, it's probably good for Control+F (search), just to see if the analysts mentioned your idea by name. 
From the documents cited above, you now know that your city likely already requested funding, not a very difficult task, and then worked out a plan. 
Search the allocations earmarked for metro Cities and Counties and fill in the worksheet for Waypoint 1. 
Waypoint 1 Worksheet 
  SLFRF Funds Allocated to My City

 

  $

 
Waypoint 2: Get to the Plan
"If your city doesn't have a plan, that's probably not a city you want to be working with." – Unnamed US Mayor speaking to a group of government & vendor leaders 
Your city has probably already planned for this. After all, the first tranche of funding should have arrived in Spring 2021. Ideally, those funds are half spent and the balance is neatly collecting interest! The second (and last) tranche of funds should be available now (Summer 2022). 
So, let's find that plan. You can search the Internet (as I have done – and collected for you here). But to get to the nitty gritty, I suggest you find the approved plan on your network. That is, dig-in… ask the budget officer or your mayor's chief of staff and find that plan. 
As mentioned above, I've already collected a library of plans from across the US. Also, the Brookings Institute, a non-profit working with the National League of Cities and the National Association of Counties just recently published, "How cities and counties are putting American Rescue Plan dollars to work," an informative overview of the landscape. 
Waypoint 2 Worksheet 
  Our Plan For ARPA Coronavirus State

  and Local Fiscal Recovery Fund 

   

c

Intranet

 

   c Internet 

   c Other URL

 

Other Plans We've Reviewed

 

 

 

  Plan Last Updated

 

 

   __/__/__
Waypoint 3: Work the Plan to Highlight Your Projects
We worked hard to get here together, and we have miles to go. We know how much money is allocated to the city's SLFRF. We know that the plan must be executed by December 2024 (maybe even earlier if your city demands it). And we know a lot about the city's plan so far. 
Is your data project in the plan? If not, your project is almost certainly eligible for ARPA funding. No matter what others may have told you, there are ways to get your project funded through ARPA. In light of this matchless moment for you to flex your leadership and to leave a lasting mark, you must engage in working the plan. Remember that projects (or the portion of a project) must be booked by December 31, 2024. 
Know also that eligible projects must meet categorical reporting requirements. The category with the widest possible entry is called, "Revenue Replacement: Provision of Government Services." This category exists to "make the city whole" following pandemic restrictions. There's either a formula or an automatic $10M standard allowance. 
Here are the other reporting categories which likely apply to data projects. 
Public Sector Capacity: Administrative Needs

 

Public Sector Capacity: Effective Service Delivery

 

Aid to Impacted Industries: Aid to Other Impacted Industries (e.g., Building)

 

Administration: Administrative Expense

 
Public Health: Other COVID-19 Public Health Expenses (including Communications, Enforcement, Isolation/Quarantine)

 

Administrative: Evaluation and Data Analysis

 

Public Sector Capacity: Administrative Needs

 

Public Sector Capacity: Effective Service Delivery

 

Aid to Impacted Industries: Aid to Other Impacted Industries (e.g., Building)

 
Administration: Administrative Expense

 

Public Health: Other COVID-19 Public Health Expenses (including Communications, Enforcement, Isolation/Quarantine)

 

Administrative: Evaluation and Data Analysis

 
The complete list is long (see Appendix 1: Expenditure Categories), but the list is also broad, reflecting the fact that Congress intended to give cities maximum flexibility. 
Waypoint 3 Worksheet 
  What Data Projects are Critical

  to You? 

 

  Are Your Critical Projects Listed

  by Name or by Broad Goals? 

 

  In What Reporting Categories

Might

  Your Critical Projects be Reported? 

 
Waypoint 4: Getting to No (if we must)
If your critical project was never considered or considered and then dismissed, it doesn't mean that opportunity has passed. In these plans, initiatives get reprioritized and plans change. We may be working with a timeline that may extend beyond, for example, the original leadership. It's a long trip, in other words. 
Remember that our author, Pirsig, got 121 no's before publishing his best-selling work. 
In your ARPA plan research, you should have a sense of who architected the plan and what criterion they applied. Be wary of projects broadly announced through public channels. Instead, look for stated and implied goals and build a case within that framework, if possible. 
Consider these advocacy strategies: 
Look for parallel examples. There exists a

Local Government ARPA Investment Tracker

where locals have explained their projects and plans. Having a similar plan on the fast-track helps.

Hire some help. If your city needs more expertise or, frankly, bandwidth for determining how to use the funds or the execution of the project itself, then the ARPA funds can be used for additional assistance. From the Final Rule, Section E. Administrative Expenses:

 

"…recipients may use funds for administering the SLFRF program, including costs of consultants to support effective management and oversight, including consultation for ensuring compliance with legal, regulatory, and other requirements…"
Make your project more "shovel ready," in the sense that research, candidates, RFP requirements, and more should be assembled before pitching it.
Waypoint 4 Worksheet 
  My Project Should be Funded

  Because It Achieves What Goals? 

 

  Which People or Groups

  Must be Aligned to this

  Project and its Goals? 

 
Waypoint 5: We've Nearly Arrived
Among the concerns expressed by the law's architects is the worry that cities might be slow to spend the money— a slow spend-down undermines the desired stimulus effects. There's a real concern that, if not spent, Congress may "claw back" the funds for other spending priorities. A city's best defense? Commit to spend the funds and do so in good faith. It shouldn't be difficult to argue. 
The SLFRF spending must be reported according to Treasury rules. Per this site, the guiding principles are: 
Accountable: The SLFRF requires program and performance reporting to build public awareness, increase accountability, and monitor compliance of eligible uses. Recipients are required to account for every dollar spent and provide detailed information on how funds are used.   
Transparent: Large recipients will publish a detailed Recovery Plan each year so the public is aware of how funds are being used and outcomes being achieved; Treasury will provide comprehensive public transparency reports each quarter across all recipients.   
User-friendly: SLFRF reporting has improvements requested by recipients of CARES Act funding, including deadlines 30 days after the close of the reporting period (versus 10 days in CARES), streamlined requirements for smaller funding recipients, and increased availability of bulk upload capabilities.  
Focused on Recovery: The SLFRF reporting guidance addresses priority areas for a strong economic recovery, including provisions that prioritize equity, focus on economically distressed areas, support community empowerment, encourage strong labor practices, and spotlight evidence-based interventions. 
Meet the reporting requirements in good faith, and you've been part of something special, a trust extended to all cities by Congress to help this country emerge from the COVID-19 pandemic. A notable journey. 
As you embark upon your own exploration will you record your progress and inform your colleagues? Good, bad, or otherwise, we are interested. And this, among all endeavors, cannot wait. Post your anecdotes and tips to our LinkedIn Group.