Nearly 1,000 govtech industry innovators convened in Salt Lake City, Utah, October 3-5 for Accelarate, Accela's annual conference for customers, partners, and other govtech industry leaders. During the event, we celebrated the progress and innovations of the last year, with an emphasis on reimagined service delivery built on unifying constituents and technology for important community outcomes.
Government agencies are pushing the envelope on what it means to create accessible, truly innovative services for residents and staff. And through innovation, they are helping create more streamlined processes, increased departmental collaboration, and greater resident engagement in communities across the globe, from DuPage County, Illinois to Abu Dhabi, and beyond.
The 3-day conference offered attendees a robust line-up of keynote presentations, breakout sessions, 1:1 chat and networking with peers, partners, product experts, and Accela customer support – all with the shared vision of creating a more unified government technology experience.
Mainstage Speakers Highlight the Value of Unified Government Experiences
Accela CEO, Gary Kovacs, led the event with a keynote message focused on how technology and partnership can be the great unifier between governments and communities. He emphasized Accela's role and focus on listening to our customers and partners and how that input has helped shape the company that Accela is today. This is our focus even in the most challenging of times or circumstances.
To help our customers and communities affected by Hurricane Ian in September, he announced the availability of Accela's Hurricane Response solution. For those impacted customers, Accela is offering free access to our Rapid Damage Assessment (RDA) Cloud Service. This solution streamlines the inspection efforts necessary to help displaced residents return to their homes quickly and safely. It can be used immediately for windshield survey inspections necessary to expediting FEMA relief, and for full property and infrastructure assessment. Learn more about how Accela is helping, here. Gary also shared a new video that demonstrates the role of Accela in the customer ecosystem, placed squarely at the heart of our customers' communities and success.
Following Gary's presentation, Kristen Cox – executive director of the Initiative on Government Improvement for the University of Utah's School of Business and formerly with Utah's Governor's Office of Management and Budget (GOMB) – motivated attendees to think differently about government systems, humanize government by identifying who the primary customer is, and overcome progress stop-gates. As a blind person, Kristen's messages of the importance of pushing through the unknown – and the unseen – to keep learning and discovering truths resonated with the audience and underscored the impact that clear goal-setting and intent have on the success of any project.
Another keynote highlight of the conference was provided by Associate Music Director of The Tabernacle Choir Ryan Murphy. Ryan brought the event's Govtech Unified theme to life by directing the audience of nearly 800 in song to show the power of unification and collaboration. He shared how music creates stability during times of hardship and demonstrated how powerful it can be when individuals are unified by one common cause.
Mainstage Panels Address Priorities for Govtech Professionals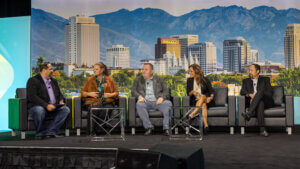 In addition to keynotes, this year's general session presentations also brought customer voices and learnings to the center stage an
d challenged attendees to contemplate what it means to advance a more unified government that works for all residents. Accela's CIO Roundtable series continued at Accelarate – this time focused on the value of "govtech unified" and how to break cross-departmental silos blocking it. Moderated by e.Republic's Dustin Haisler, the panel featured CIO perspectives from Salt Lake City, UT and Leon County, FL, as well as Accela CTO Renato Mascardo and Former State CIO/CTO for Arkansas Yessica Jones, now at Microsoft.
In response to the increasing prioritization of advancing equity in service delivery, we also curated a panel that I moderated on operationalizing equity priorities and tapping technology to create more inclusive communities. I was joined by Dana Moore, Baltimore's Chief Equity Officer, and Cathie Rigby, an ARPA expert and economic development program manager from Salt Lake City. They each face very unique realities, but are united in their vision for communities and residents reaching their fullest potential.
Lastly, Accela's Vice President of Security Dale Wilhelm held a fireside chat with Giget Schlyer, IT Services Director for Michigan Department of Licensing and Regulatory Affairs. Moderated by Accela's Chief Operating Officer, Tom Nieto, the discussion was a a case study in improving security posture and communication, reducing risk, and emboldening agency relationships with their IT partner.
Customers Led Over 70 Mission-Critical Educational Breakouts
Accela's customers are the champions of unifying govtech and each year at the conference we prioritize showcasing their perspectives and success stories in breakout tracks on wide-ranging topics to help them be more successful in their jobs. Customers, partners, and Accela experts shared best practices on using Accela solutions, migrating to the cloud, and technical deep-dives. These 70-plus breakouts are where the crux of the learning and progress at Accelarate happens.
Customers Collaborated and Learned with Accela Experts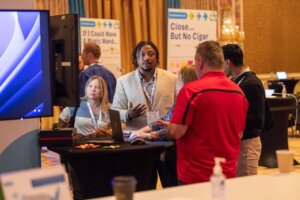 One of the most popular areas during Accelarate conferences is our Accela Experience Center (AEC) where attendees saw demos and learned tips from Accela solution and services experts, heard about the new self-paced training courses offered by Accela U, offered input on product and early design concepts, received individual guidance on upgrading to SaaS, learned about our customer advocacy program The Accelarators, and much more. The user experience feedback given directly informs Accela's future innovations, for which we are grateful.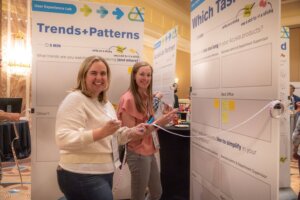 The AEC UX Lab also allowed attendees to see how past feedback directly informed current design choices and could sign up for future studies. At the Professional Services booth, Expert Desk, and Solution Station, attendees got to see firsthand how specific solutions operate, receive updates on support tickets, chat 1:1 with experts, and receive personal demonstrations of how solutions help agencies meet their residents' specific needs. The AEC's Upgrade to SaaS stations made it easy for attendees to learn more from SaaS upgrade case studies, and see how Accela's Civic Platform can best be used by their agency.
Accela Celebrates Our Champion Customers on the "Fastest Ice in the World"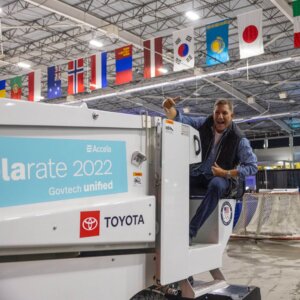 This year, we celebrated our customers at the Utah Olympic Oval – home to the fastest ice in the world and the training site for the US Olympic Speed Skating team.
Accelarate attendees had the opportunity to meet Olympic speed skating gold medalist Derek Para who emceed races and exhibitions from award-winning ice skaters. It was an incredible evening of fun and networking as customers, partners, and Accela staff braved the ice themselves, either to skate or learn curling! We hope our customers and partners felt our appreciation.
Govtech Leaders Recognized with 2022 Trendsetter Awards
The conference wrapped with a special evening honoring individuals and government agencies worldwide raising the bar on government excellence by leveraging technology. Attendees were treated to an opening act by engineer-turned-comedian and America's Got Talent Finalist, Don McMillan, whose material spanned everything from Accelarate breakout session titles that stumped him, to an outsider's potential interpretation of industry terms such as 'digital transformation', which he joked could be a reference to a manicure.
On a more serious note, we were beyond proud to recognize the following Trendsetter Award winners at this year's ceremony:
Individual Winners:
Civic Hero: Building Communities, Anthony McPherson, Chief Information Officer, DuPage, IL
Civic Hero: Growing Businesses, Thomas W. Kirby, Chief Law Enforcement Officer, Virginia Alcoholic Beverage Control Authority
Civic Hero: Protecting Residents, Jim Egan, Fire Plan Review, Captain, Section Manager Gwinnett County, Georgia
Agency Winners:
Govtech Unified: Anne Arundel County, Maryland
Government in the Cloud: Salt Lake City, Utah
Connected Government, Denver, Colorado
Ultimate Resident Experience: Shelby County, Tennessee (a two-time winner!)
Emerging Regulation, Department of Cannabis Control: State of California
Digital Service Transformation: Louisville, Kentucky
Next Gen Economic Development: Clark County, Nevada
Government Innovation: Abu Dhabi Customs Administration
Our Partner Ecosystem Made it All Possible
Hosting meaningful events like Accelarate is only possible with the help of sponsorships from our partner ecosystem. The bustling Partner Pavilion showcased partners' industry-leading solutions and services to ensure the best implementations and user experiences for our joint customers.
We extend a special thank you to CSG Forte, this year's conference title sponsor for the third year in a row. Gratitude also goes to our platinum sponsors Microsoft and Velosimo; gold sponsors Avocette, Avolve Software, Byrne Software Technologies, ePermitHub, Selectron, and Visionary Integration Professionals; silver sponsors CanAm, CityGovApp, RedMark, Vision33, and Vuspex; and bronze sponsors ACI Worldwide, ePlanSoft, ETech Consulting, Gray Quarter, and TruePoint Solutions.
An Industry Unified
We're grateful for all who joined us for this year's Accelarate, and share a special thank you to the speakers, sponsors, partners and staff who made this event possible. We look forward to seeing the govtech ecosystem continue to unite technology and talent for better community experiences in the year ahead,