As government leaders work to put their communities on a stronger path forward, now more than ever is the time to use data and cloud-based solutions to accelerate our recovery. But a recent KPMG report surveying local government leaders found that only 38% respondents said that their organization is good or excellent at data collection, enrichment and transfer, and only half believe that their customer experience is meeting customer expectations. With this in mind, much of today's Accelarate programming focused on how communities are using these and other tools to improve their resident and agency staff experiences.
Building the Platform that Will Grow With You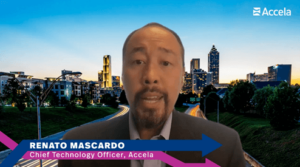 Renato Mascardo, chief technology officer for Accela, started things off on the second day of mainstage presentations with a keynote on "Building Blocks to a More Connected Government." Renato discussed Accela's recent tech successes, including completing Azure updates, migrating more customers to the cloud, preserving security and compliance, and deploying 130+ changes to improve quality. Renato described Accela's belief in partnership with a quote from Teddy Roosevelt, "The government is us; we are the government, you and I."
Tom Nieto, Accela's chief operating officer, followed with an update on Accela's partners and welcomed CSG Forte, Accelarate's 2021 Title sponsor, to the virtual stage. CSG Forte's Hunter Menton, head of payments revenue, and Sukanya Madhavan, head of product management, joined Tom and Accela VP of Product Management Cathy Grossi to share how an expanded payment ecosystem increases speed to revenue for communities of all sizes. This also makes payments more convenient for residents and maximizes agencies' financial resources.
Data as a Driver for Change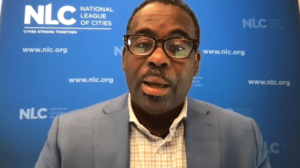 Next, attendees heard a keynote presentation by National League of Cities' Dr. Robert Blaine. Formerly the chief administrative officer for Jackson, Mississippi, Dr. Blaine shared how the American Rescue Plan and other funds offer a once-in-a-lifetime opportunity for government agencies to create significant impact and change in communities. He also spoke to the ways data helps to identify residents most in need to ensure that government services are reaching those in need of assistance.
Data's Role in Better Outcomes and Greater Equity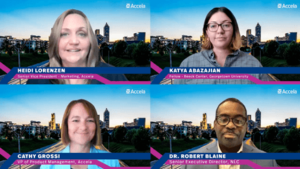 Dr. Blaine was joined by Katya Abazajian, a fellow at the Beeck Center for Social Impact at Georgetown University and one of the nation's foremost experts on urban innovation, economic inclusion and shared growth in cities; and Cathy Grossi on Accela's data team, for an engaging panel conversation moderated by Heidi Lorenzen, Accela SVP of marketing, on how data can empower government agencies to deliver more equitable outcomes for residents. The group highlighted how a culture shift to more collaborative data sharing and use is critical to better serve citizens, and how breaking down data silos accelerates positive impacts for residents and staff, especially as communities remain focused on recovery. As Katya explains, "…just making that connection with the community partner or going out of your way to include a feedback group or creating some kind of opportunity for our community members to provide feedback is really an operational shift that has to happen in the day to day work of public servants."
Connecting with Experts, Partners and Fun!
Throughout the conference, attendees took advantage of unique opportunities to expand their knowledge. At the Accela Experience Center (AEC), attendees learned tips and tricks from members of Accela's Product, Support, and Success teams, and heard about the latest training courses Accela U is offering. Attendees also engaged with each other and the Accela team by sharing questions for our Community Live session, and providing feedback on early concepts and designs in flight at the UX Lab.
In the Partner Pavilion, attendees connected with govtech's leading technology and implementation partners—including CSG Forte, Microsoft, Velosimo and Symbium—who had experts on-hand to help agencies better market, sell and deliver solutions to constituents. Guests were also entertained by music from singer/songwriter Chris Weaver, who took song requests in real-time.
The conference concluded with the Accela 2021 Trendsetter Awards. These awards celebrate the individuals and government agencies worldwide raising the bar on government excellence and leveraging technology to anticipate and meet challenges head-on. We are proud to recognize the following winners at this year's ceremony:
Agency Winners:
Ultimate Citizen Experience: Fort Worth, TX
Emerging Regulation: Shelby County, TN
Digital Service Transformation: Pima County, AZ
Next Gen Economic Development: Fort Lauderdale, FL; and Wine Australia
Government in the Cloud: Suffolk County, NY
Connected Government: Huntington Beach, CA
Our Path Forward: Pinellas County, FL
Individual Winners:
Civic Hero Building Communities award: Melissa Chiong of Hillsborough County, FL
Civic Hero Growing Business: Robert Martin of Montgomery County, OH
Civic Hero Protecting Citizens: Benny Thottam and Jon Paul Augier of New York, NY
Continuing On Our Path Forward
We're grateful for all who joined us for this year's Accelarate, and a special thank you to the speakers, sponsors and staff who made this virtual event possible. All registered attendees will be able to access the conference's robust content offering on-demand through December 31.
Save the date! We're excited to see you in-person (fingers crossed!) for next year's event on October 3-7, 2022.