At the Accela Engage User Conference in San Diego, many of us heard Accela software referred to as the "Civic Platform." What does it really mean to be a software platform?
For us at CitySourced, as a strategic development partner for Accela, we believe the platform provides the back-office foundation on which our solution can thrive. We've created a citizen engagement platform that serves as a municipality's "mobile City Hall." Through our solution, a resident can get easy access to such services as reporting a pothole (asset management), submitting overgrown brush (fire code enforcement), purchasing a fishing or pet license (licensing) or paying a parking ticket (finance).
Our audience is your organization's public-facing community, and our development strategy is a mobile-first, responsive approach. What that all means is that we don't personally want to build the code enforcement system or the licensing system. However, without these important underlying systems and business logic, our communication layer wouldn't be possible. It is this foundation layer in which Accela serves as the platform.
The Civic Platform in Action
Here's another way to think about the platform.
For the citizens of Salt Lake City, when they need to get a service on the go they pull up the "SLC Mobile," powered by CitySourced, on an iPhone, Android, Windows Phone or BlackBerry device. From there, the citizens can:
Pay a water bill

View a calendar of city events

Read the job board

Access interactive Esri GIS maps

Report a code enforcement issue
In all these cases, the resident is interacting with the CitySourced solution. However, once a resident submits a code enforcement issue, city staff follows the same workflow and process they've already learned and been trained to undertake inside Accela. At each step along this process, CitySourced is able to detect the updates made by city staff and automatically send alerts to keep the resident notified and in the loop.
Citizens can access Salt Lake City services using SLC Mobile, a citizen
engagement app that interacts with the Accela Civic Platform
Whether it's the resident using our smartphone application or the city staff completing daily tasks inside Accela, the interaction between the two systems is seamless to both groups. So how is that all possible?
The Power of the Accela Construct API
CitySourced can push in new data and pull updates out of Accela because of the Construct API. This component standardizes the way in which we interact with the system; it also provides a layer of protection and security for the entire system. Just about any two modern software systems can be setup to "talk" to one another. An API or an accessible web service by itself doesn't create a platform.
Going Beyond the API
To create a platform also requires an open philosophy. There are software vendors out there who take the opposite approach. They believe in having a closed system; they have control over the fiefdom and the only way something new is introduced into the system is if they directly build or sponsor it.
In the long run, this is a limiting approach and an unwise mindset. No matter the size of the company, it's not possible to be the best developer for any and all apps or products.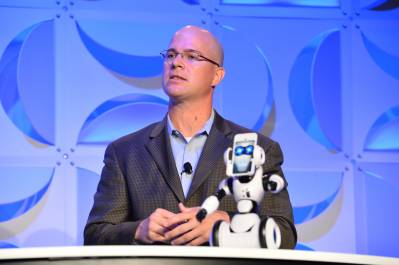 Technical Evangelist Mark Headd introduces Inspector Buddy at Accela Engage 2014
There has to be room for specialist developers like us who create communication tools for citizens, or even the "Inspector Buddy" (an affordable telepresence robot for property inspectors) developers of the world who push the innovation boundary. This ecosystem of specialist developers and innovators doesn't form if you don't have the supportive, open approach in addition to the thriving software platform.
What the Platform Means for Government Agencies
The platform provides several benefits for customers:
Best-of-breed apps can be built on top of your existing software systems: Opening the platform and its community to outside developers attracts the best and brightest to build amazing tools.
Toolkit to fail fast: By providing robust tools on which to develop on top of the platform, both external and internal developers can build quickly, fail fast

and iterate to make something better.
Commitment to innovation:

Think about this concept: The sought-after applications that you will see over the next few years of Accela Engage probably haven't been built yet! By investing resources in building a robust software platform, creating easy-to-use tools and harnessing a strong customer base, innovators are attracted to jump in and make amazing new tools.
We're excited to continue building on top of the platform and also see the new innovations that will be introduced. What questions do you have about a platform software system? Leave those or comments below.
RELATED POSTS:
Changing Civic Engagement for Good: Accela Construct App Challenge Winners
What Does the Civic Platform Mean to Me?