Accelarate 2020, Accela's annual conference and training event, took place this week for all changemakers, leaders, and learners in the govtech industry. For the first time ever, Accela reimagined the conference and delivered all content in a robust, highly engaging,100% virtual environment. This year's theme of "Meeting Our Moment" highlighted how state and local governments today are coming together and bolstering industry partnerships and the value of innovative cloud technology to overhaul traditional workflows and make effective strides against the COVID-19 crisis, evolving citizen demands, and beyond. 
Here is a glimpse into some of the inspiring and insightful presentations from govtech luminaries, city leaders, and technology experts throughout the conference. 
"Different can be an opportunity for better."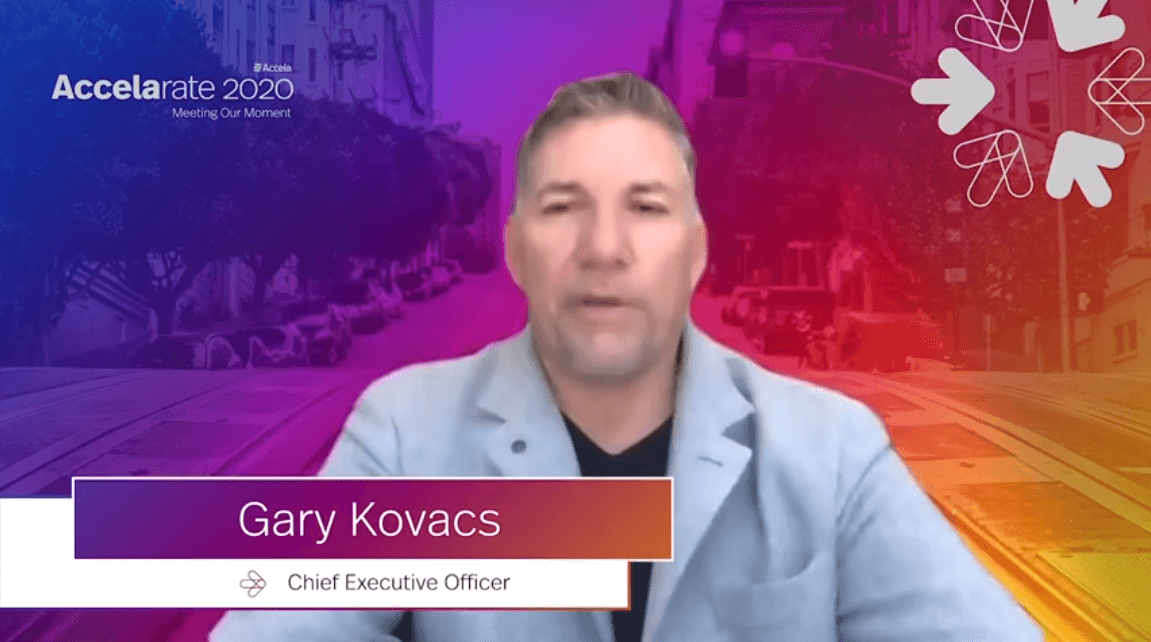 To open the conference, Accela CEO Gary Kovacs reflected on govtech's pivotal year, the extraordinary resilience and agility that was demonstrated in communities around the world, and how the COVID-19 pandemic has presented the opportunity to create not just a new normal, but a better normal. Kovacs highlighted how partnerships, people and innovation together enabled the govtech industry to go farther and achieve milestones beyond what could be achieved working in silos. He reflected on the "gift of the moment" and the obligation of governments and technology providers to reimagine what the future of government can be, in order to produce the best outcomes for all. 
"We are confident things will never go back to 'normal."
Also on Day 1, Microsoft Executive Director of State and Local Government Solutions Kimberly Nelson spoke with Accela's Vice President of Marketing, Heidi Lorenzen, about the changes fueled by the pandemic and how technology can help sustain critical services when resources are tight. She emphasized how with the pace of technology accelerating rapidly and the democratization of access to cutting-edge tools, technology is no longer the sole responsibility of the IT department. This reality creates the foundation for a concept referred to as, "tech intensity," where technology moves to the center of everything we do. The discussion touched on how every part of an organization will need to build and embrace their own digital capabilities to meet the demands of the future. 
Connected Government and the Next Frontier of Digitization
Looking toward the future of government technology, Accela Chief Technology Officer Renato Mascardo spoke on the importance of connected government — a network founded on partnership, collaboration, and trust. This new model of connections with residents, connections across jurisdictions, and connections with technology partners, is critical given the current atmosphere of global events and has pushed agencies outside what they can accomplish on their own. Renato laid out four key ways Accela's cloud technology can support the dynamic needs of government leaders in creating a connected environment:
Brilliant Basics:

Accela is relentlessly focused on ensuring its technology solutions work effectively, securely, and compliantly. 

Scalability

: Accela offers a platform designed for extensibility and meant to grow alongside customers' evolving needs.

Time-to-Value Civic Applications:

Accela's Civic Applications are pre-built for different needs that provide faster time to market, increase reliability and performance, reduce risk in implementation, and are configurable without the need for custom code.

Cloud as Cornerstone of Architecture:

Within Accela's best-in-class cloud architecture, agencies can take advantage of multi-tenant setup with single-tenant database isolation — the power of true cloud scale and isolation at the same time.  
"Leadership is about being present, not perfect."
On Day 2, Acclaimed documentary filmmaker Brett Culp presented on "Seizing the Possibility of Our Moment," and how true heros consist of everyday individuals finding new ways to overcome adversity within communities. His keynote featured several Accela customers who had leveraged their partnership with Accela to help them navigate the challenges posed by  the COVID-19 pandemic. Manatee County, Florida, for example, only had two hours after "shelter in place" orders hit to pivot to remote work and successfully did so without missing a beat, processing an unprecedented amount of permits in the month of March. San Diego, California continued construction projects, permit processing, and safety protocols virtually. Things that might have taken years in "normal time" were completed within just a matter of days. Brett's message was inspirational and affirming that there is light, heroism and the  ability in all of us to make a difference.
How Local Agencies Have Stepped Up to the Plate
Throughout the conference, civic leaders shared the innovative ways they have adopted technology to improve citizen experiences. One session with the City of Seattle's Daniel Nelson, Brandon Cummings, Jeffrey Chen, and Angela Spencer discussed "Continuity in the Age of COVID,"which outlined the challenges, solutions, and lessons learned as they overhauled processes for virtual inspections, remote team meetings regarding land use services, and online payments via customers' trust accounts. Across the board, the team felt prepared at the start of COVID-19, because they had already been utilizing Accela and could quickly pivot, intending to keep these new processes for the long run.
In another session, Tom Nieto, Accela's Chief Operating Officer, was joined by Jack Belcher, Chief Information Officer at the Department of Technology Services in Arlington, Virgina, and Enrico Gradi, Director of Planning and Development Services Dept at Bernalillo County, New Mexico. Both Belcher and Gradi pointed out how COVID-19 has upended the rate at which government has been known to work, opening up new possibilities for a higher speed of services out of necessity. Belcher and Gradi emphasize how the transition to remote work hasn't disrupted business, but rather improved customer service, accessibility, and morale, challenging their basic assumptions about how quickly government can operate.
2020 Trendsetter Award Winners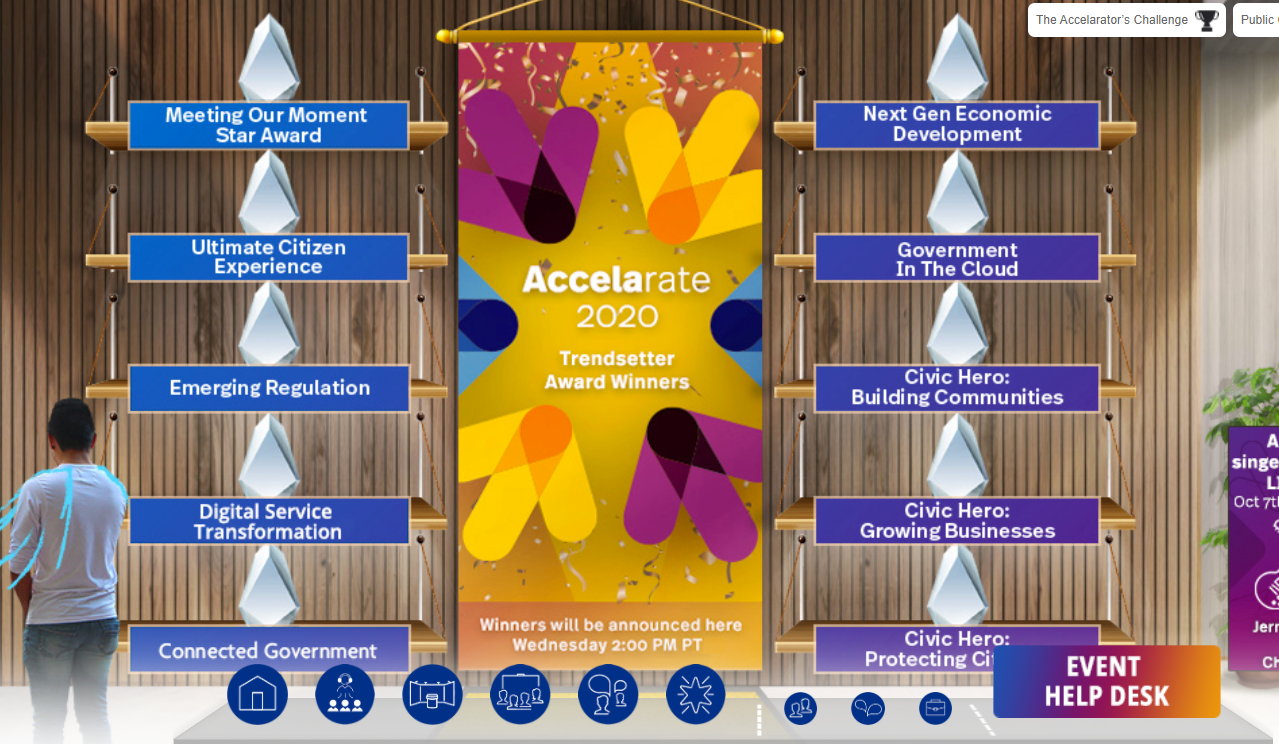 The event wrapped on Wednesday afternoon with a ceremony acknowledging this year's Accela "Trendsetter Award" winners, which highlight agencies and individuals who are leveraging technology to reimagine the citizen experience and enabling more efficient processes. This year's themed award, the Meeting Our Moment Star Award, went to Baltimore County, MD, recognized for being a government agency who has become a beacon of change and innovation to help constituents and/or staff navigate new norms and demands of today, while working to anticipate both future challenges and opportunities. Congratulations to all of the Accelarate 2020 Trendsetter Award winners: 
Agency Winners:
  Ultimate Citizen Experience, City of Boise, ID

  Emerging Regulation, State of Michigan Marijuana Regulatory Agency

  Digital Service Transformation, City of Rochester, MN

  Next Gen Economic Development, Greater Amman Municipality of Jordan

  Government in the Cloud, City of Fremont, CA

  Government Connected, Suffolk County, NY 

Meeting Our Moment Star Award, Baltimore County, MD
Individual Winners:
  Civic Hero: Building Communities, John Barnott, Director of Building and Development Services, Manatee County, FL

  Civic Hero: Growing Businesses, Edward Oswell, Program Specialist, City of Sacramento, CA

  Civic Hero: Protecting Citizens, Thomas Cirimele, IT Manager, Sonoma County, CA
Thank you!
Accela expresses gratitude to this year's sponsors, including Accelarate 2020 Title sponsor, Forte – a provider of innovative and flexible payment solutions – Platinum sponsors, Microsoft and ePermitHub, and all additional partner sponsors at the Gold, Silver, and Bronze levels. 
Accelarate 2020 may have wrapped up, but you can still gain full access to all content, including breakout sessions, keynotes, and more, through the end of this year by registering here. For details on Accela's latest technologies, visit our solutions page here.