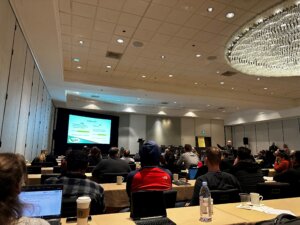 Last month, I had the opportunity to attend the 25th California Unified Program Annual (CUPA) Training Conference in Anaheim, CA. In a few words, the experience was incredibly valuable. I've been a member of Accela's Product Marketing team for about a year and a half, and my primary areas of focus are on our Environmental Health and Fire Prevention solution efforts. At the conference, I met individuals from various agencies throughout California and learned what they do, how they do it, and the daily challenges they face. There were endless educational opportunities, with training and informational sessions across a variety of tracks which attendees took full advantage of. Looking over my notes from the week, I wanted to share some key takeaways from the perspective of a first-time attendee.
Honoring the Past, Embracing the Future
This was the conference theme, and it fit perfectly. Across every session and in each conversation, I felt this idea resonate: make use of what we've learned up to this point, while recognizing that the future will bring changes.
The CalEPA Unified Program has been around for 30 years, and local agencies have had years of experience implementing the standards and enforcing programs around hazardous materials, underground storage tanks, fire code, and more. So much of what I learned at the conference came from first-hand experiences, lessons learned, and established best practices – this is valuable stuff. At the same time, the future is going to look quite different and CUPAs are having to adjust because of it. What is causing these changes? Several things.
First, new California and federal laws are on the horizon. Gary Lucks' (Bay Law Group LLP) session on this topic was eye-opening and amazing to hear how many regulations our local agencies must take into consideration. Many of the new laws, as you may suspect, are related to the changing climate, but they spanned an array of areas – electric vehicles, safe cosmetics, sea level rise, and more.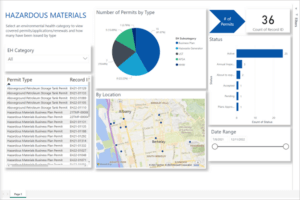 Another source of change is unpredictable events, whether that be natural disasters (wildfires, earthquakes, etc.), a global pandemic, or something else. Each of these requires adaptation, as does new technology – better ways to conduct inspections in the field, improved methods for effortlessly sending data back to California's Environmental Reporting System, CERS, and more effective tools for reporting status and progress.
There was a lot of talk about new systems being put into place for use by CUPA employees and how, while such technology updates will require adjustments and training, they will ultimately lead to increased efficiency and compliance.
What Goes on Behind the Scenes
I live in San Bernardino County. As a resident, I fill my car up with fuel from the local gas station, take my daughter to a local school, and buy my groceries from the market around the corner. I do all these things with the expectation that the environment around me is safe – that I won't be exposed to harmful fumes, that my daughter's classroom is equipped with the required fire sprinklers, and that hazardous materials are stored and recycled as they should be. For the most part, I'm not overly worried about the safety of my environment when it comes to these everyday habits. What I realized from my week at the conference was that much goes on behind the scenes for me to feel this way.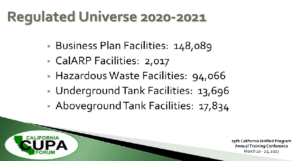 The San Bernardino County Fire Department (a CUPA) is responsible for regulating 7,000 facilities in my county. As Kristen Ward (Interim Deputy Fire Marshal) highlighted in her CUPA 101 presentation, the collective 81 California CUPAs are responsible for thousands more. It was fascinating to gain insight as to how big the scale of compliance really is and to recognize what goes in to regulating each of these facilities – applications, permits, inspections, workflows, etc. across openings, closures, and if necessary, rebuilds. How do we manage fire code in relation to building code? Where do we have single wall storage tanks that need to be removed? How quickly can we remove hazardous waste after a wildfire? What systems do we have for monitoring our underground storage tanks? And so much more. The work of CUPA regulators is by no means a glamorous job, but it's what protects me and my family.
How the Unexpected Impacts the Work CUPAs Do
As mentioned above, you can have all the regulations you think you need, helping to guide daily processes, but unexpected events are bound to throw a curveball. In the session titled "When a City Burns Down – The Tragedy of Paradise," given by Thomas Parker (Butte County, an Accela customer) and Tom Henderson (CA State Water Resources Control Board), the reality of this possibility came to life for me. The 2018 Camp Fire, one of the state's deadliest and most destructive wildfires, caused much disruption and ultimately rallied a somewhat small CUPA organization to manage repopulation efforts.
I remember when the Camp Fire happened and, as somebody living several counties away, I saw only what was on the news – how many buildings were lost, how many residents were forced to evacuate, how much smoke filled the sky above the area. What didn't I see? The information packets given to residents as they returned to their homes, warning them of hazardous materials, puncture hazards, and toxic particles in the air; how much debris needed to be removed from the affected areas and how long this would take given the resource constraints; the six gas station facilities that were destroyed, two of which were permanently closed, and how many years it would take some of the others to rebuild and reopen. All these efforts managed by the Butte County Department of Public Health and requiring adaptation and issue resolution along the way. Pretty amazing work if you ask me.
Inspired—that's how I'm feeling after the event. It was a great opportunity to meet people and learn some of the basics of CUPA, but I've only scratched the surface. I'm looking forward to seeing the CUPA community at other upcoming events and at next year's conference!